Summer is the perfect season to try new make-up, especially a new eyeliner or shadow. But why not be bold, try something really new, and use an eyeliner that's bright, glittery, and colourful? Here's my list of 7 knockout coloured eyeliners...
---
1

ELF Liquid Eyeliner in Silver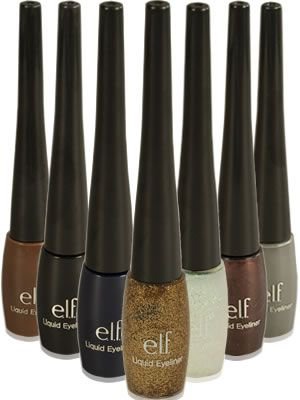 Price: £1.50 at eyeslipsface.co.uk
I love this amazing liquid eyeliner. Not only is it a gorgeous silver colour, but comes at the unbelievable price of £1.50. No, that isn't an editorial error or typing mistake. At that price, I think I might treat myself to the plum shade as well... and maybe the gold... or green...
---
2

NYX Double Ended Eyeliner and Pencil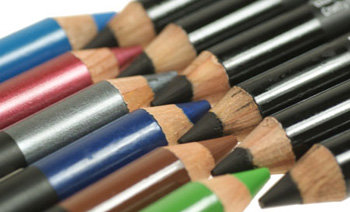 Price: £2.25 at love-makeup.co.uk
If you do like your black liner, then why not try this double ended pencil by NYX? Another bargain at £2.25, it comes in a variety of colours with black at the other end. So two in one! I particularly like the baby green … and the copper … and the purple …
---
3

W7 Neon Lights Liquid Eyeliner in Neon Yellow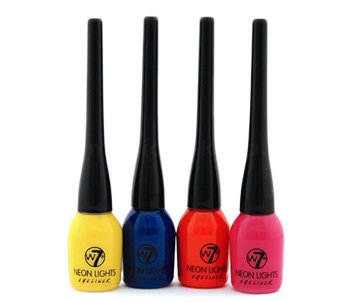 Price: £2.50 at magicmakeup.co.uk
Wow and wow again! Is neon yellow bright enough for you? This would add a real punch to a neutral shadow – but do be careful not to overdo it. Unless, of course, you do favour the Coco the Clown look.
---
4

W7 Glitter Eyes Gel in Ocean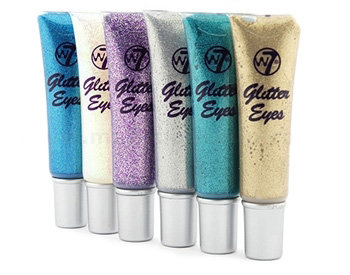 Price: £1.99 at magicmakeup.co.uk
Glitter … yummy! I just love a bit of sparkle and a versatile product is one I like to have in my makeup bag. This glitter gel in Ocean (green) would make a great liner when applied with a brush (and could also be used as a highlighter, on the lids or even just a dab on the cheeks if you're partying).
---
5

Eyeko Magic Liquid Eyeliner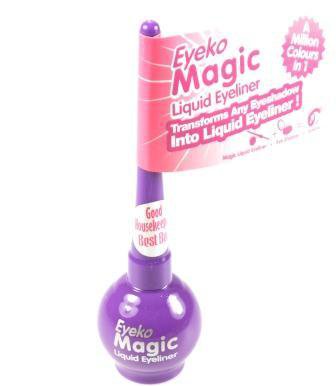 Price: £4.50 at love-makeup.co.uk
I've been waiting for this product to be invented. It isn't strictly an eyeliner, but this amazing little product will turn any shadow into liquid liner. So if you have a favourite shadow that you love, you can now get double use out of it. What a fantastic idea!
---
6

La Femme Cake Eyeliner in Blue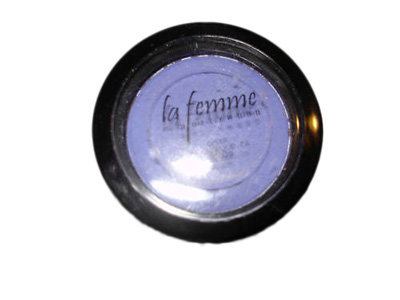 Price: $0.99 at cgi.ebay.com
Now this is quite a retro idea – cake eyeliner. This shade is a beautiful flower blue that adds colour without being too bright. And though this eyeliner might be hard to find anywhere other than eBay, it's worth the hunt, wouldn't you say?
7

MAC Liquidlast Eyeliner in Auto Orange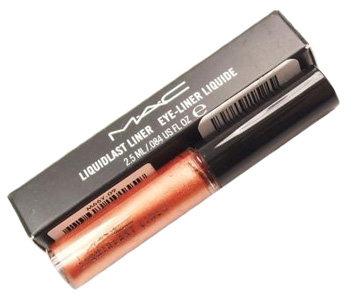 Price: £8.99 at love-makeup.co.uk
This MAC liner brings new meaning to the word eyecatching. It comes in an extraordinary shade of orange – I do think you would need to be brave to wear it! It would look amazing in a club though, or against darker skin. So exotic!
I hope I've given you lots of ideas here, even if some of the colours are, admittedly, a touch on the colourful side! Do you fancy trying some of them, or are you too attached to your black or grey pencil? Or is there another coloured eyeliner you like more? Please let me know...
---
Comments
Popular
Related
Recent