My dad loves Jackie Chan like you wouldn't believe. I don't blame him, Jackie's movies are real fun. I am not exactly the biggest fan of his films but I am a fan of the person. He has done a lot of great things for Asian cinema; his influence will forever be felt. If you want to know the man behind the fly-kicking characters, this little blog is for you. You will get a glimpse of Jackie's life as he goes to shoot films, do appearances, and even sing. It even has a kids' corner! How fun.
---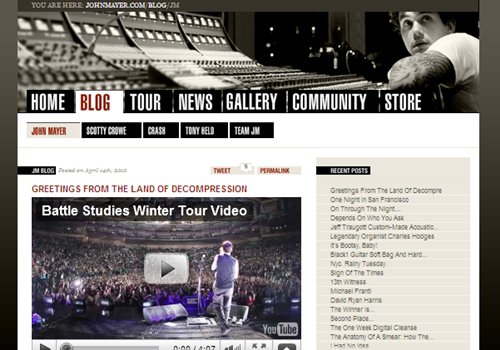 Say what you want about John Mayer's attitude problems but that guy can write. His posts here are well-written and doesn't read like your typical "I did this today-had fun" blog. This particular blog will not have controversial things that one has come to expect from John Mayer but fans will be happy to know that it is full of concert details, photos from tours, and interesting things that John has seen (and took photos of) on the road.
---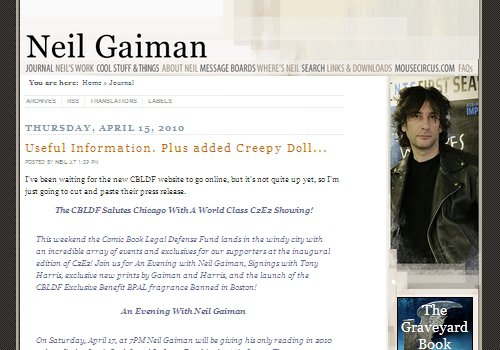 There are only a few male writers today who are equally HOT and talented. Neil Gaiman takes the top spot, in my opinion. If you are not contented with just reading his stories, stalking him through his blog is recommended. Obviously, this blog is well-written. Funny, too. You get to know tour details and fun information about Neil's personal life.
I am not Gwyneth's biggest fan but I have to admit that this is quite an interesting "blog" of hers. Many people find the way she doles out tips on travel, food, and relationships annoying. If, however, you read her posts as personal blogger-like accounts and not a guide to how to live life, you would not mind GOOP at all. Once you start seeing it that way, you'll find her lifestyle site very interesting. For instance, you'd be amazed to know know that some famous people she knows are smart. You'd also be happy to know that these famous people are also very much willing to share recipes and experiences with us, through GOOP. I love the minimalist design of the blog, too.
---
Dianna is Quinn Fabray of Glee. You will find through her Tumblr that Dianna is a sweetheart and is absolutely gorgeous. This is one of those celebrity blogs that you will want to read until the very first post. I know that's what I did when I first stumbled upon it. My favorite parts are photos she has taken of her Glee cast mates, her playlists, and her travel photos.
---
Comments
Popular
Related
Recent