As most warm-blooded females, I am obsessed with makeup, hair products and likewise girly-girl products to get me looking, smelling and feeling good. Sephora helps me obtain everything (and more than) I need through its super-yummy smelling and brightly lit welcoming stores and its comprehensive and convenient online shop. They also sell some exclusive special editions, amazing samplers and gift sets, my favorites listed below:
---
1

Best of Fragrance Deluxe Sampler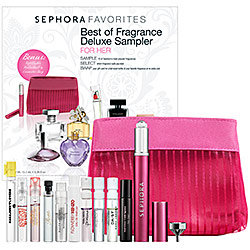 Price: $50.00 sephora.com
I love fragrances as much as makeup, but I also like to test out scents for a few days before making an investment on anything new. This 10-piece set of perfume contains samples of Sephora's best sellers as well as a pink cosmetic case. But best of all, the gift includes a voucher for a full-size product, so you can try them all out before committing to your favorite.
---
2

Tarte the Jewelry Box

Price: $52.00 sephora.com
Eyeshadows run my cosmetics drawer over – but that doesn't mean I won't add 32 new shades. This exclusive Tarte the Jewelry Box set includes aforementioned eye colors, eight lip glosses, a bronzer and shimmering powder and five deluxe eyeliners. The box has a detachable necklace that is perfectly suited for your party dresses, so your face and décolletage will both be ready for any bash.
3

Sephora Collection Color Play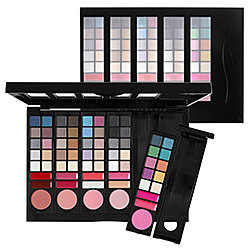 Price: $30.00 sephora.com
Sephora has this way of knowing exactly what every woman wants and somehow matches each of its collections to a myriad of personal style statements. Inspired by Shopbop (the online clothing boutique), this limited edition set changes with you, depending on what you wear, your mood and the wanted intensity of your makeup – in five unique color stories. The exchangeable compact is one of those "why didn't I think of that" moments.
---
4

LashStash Mascara Deluxe Sampler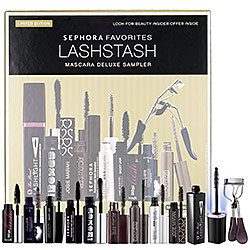 Price: $40.00 sephora.com
I don't have luck with mascara. It seems as soon as I finally find a brand that I like, the formula/brush/color is either changed or discontinued. Then, I'm left to discover (rather expensively) another lash inducer that is wearable. Purchasing this Lash Stash Deluxe Sampler would definitely assist in my mission of finding the perfect plumping option. Bonus: this set comes with an eyelash curler!
---
5

Prestige Brush Set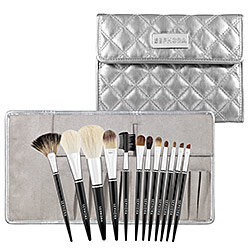 Price: $125.00 sephora.com
Every at-home DIY makeup artist needs a proper set of brushes. This 12-piece, rhinestone accented Prestige set from Sephora has the perfect combination of tools to replace your too-old, marled (and probably bacteria laden) collection and will be a significant upgrade for most buyers. Also, this will be a great gift for someone who doesn't own any (*gasp*).
---
6

Bare Escentuals Pure Luxuries Volume 2

Price: $72.00 sephora.com
I'm not sure what was contained in Volume 1 of this exclusive Pure Luxuries set. But if this follow-up is any indication of the value of mineral cosmetics, then I thank you kindly, Sephora and Bare Escentuals. Seventeen pieces are included in this collection for eyes and face, which includes a gold makeup travel case. This would make both a great gift for a beginner to BE or the consummate makeup hoarder.
---
7

Ghd Dazzle Set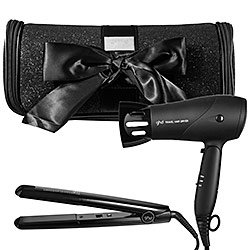 Price: $240.00 sephora.com
Sephora is so much more than makeup (thank the beauty Gods!). And for most of us, we care about how good our hair looks as much as our face – and likely sample tirelessly or invest the same amount of money attempting to find JUST the right products for our hair type. Ghd has amazing appliances for styling, and this hair dryer and rounded barrel styler Dazzle Set are a MUST if you care about both the health of your hair as well as the technology behind keeping it that way. Bonus: hair dryer handle folds for the perfect travel accompaniment!
---
8

Korres Natural Look Antioxidant Color Collection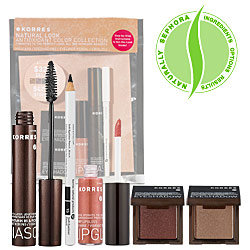 Price: $32.50 sephora.com
It's one thing to be a lover of makeup; it's entirely another to care about what ingredients go into creating these products. If you are conscious of such, then Korres is a brand for you. Not only are natural products used in development, but also are naturally antioxidant. This five-piece color collection includes some of their best-selling shades for daily wear that enhance your natural look, as well as act as skin-friendly agents.
---
9

Urban Decay Beauty in a Box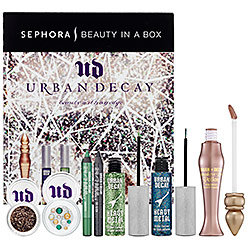 Price: $39.00 sephora.com
This exclusive Urban Decay kit has the latest products for rich color, glitter and primer to keep your eyes living the (non-smudged) Rock n' Roll lifestyle. I find it difficult to master some of techniques, so the included how-to tutorial will definitely assist in achieving certain party looks. And who wouldn't want to own eyeliner in colors like "mullet" and "spandex."
---
10

Philosophy Amazing Grace Deluxe Set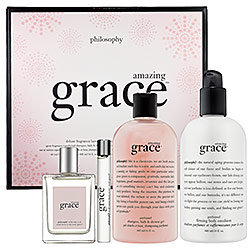 Price: $80.00 sephora.com
Sephora is well known for its fragrance selection, and this layering collection exclusive from Philosophy is, well, as amazing. Most women fall in love with the clean, floral scent of Amazing Grace (I know I have) – hence, the reason for the smell being its best seller. As layering scents is often recommended, this set graciously includes a shower gel and bubble bath, firming body emulsion, a Toilette spray, as well as a purse-sized Eau de Toilette Roll-on.
As of the time of this article, I have another $100 worth of items in my online Sephora shopping cart. I just cannot resist their amazing selection of products, including the great price on many of their exclusive sets. Which special edition collections are your favorites?
More
---
Popular
Recent