I love parties and hosting them, but getting the food right can be difficult. Do you serve an impressive full meal? Some guests might have eaten, and who knows who likes what? Going without food is possible but not recommended (hungry guests aren't good socialists!) and ordering in food can cause arguments about what to get and who will pay. My solution? A selection of finger foods that I make in advance. Here are my favourite recipes!
---
These great straws are perfect finger food, and are great for vegetarians! They only take about half an hour to make and cook, and I usually make 40, which gives everyone enough to pick at! Just remember to avoid adding garlic, as this could give your guests seriously smelly breath, and to have drinks regularly available, as pastry can make you very thirsty!
I love these! They look so elegant and they are so easy to make! The honey makes a great contrast with the bitterness of chicory, and they are fast to make in batches, meaning you won't risk running out. I usually make a few 'plain' chicory cups too, and provide some dips for adding flavour.
---
These great chicken bites take just under an hour to make and cook, and taste absolutely delicious. Chicken is a very popular food, and the jam makes them taste so unique and good... It's a great way to get children to eat tomatoes, and the excess jam makes excellent sandwich filler too. With chicken you can eat them hot or cold, which saves you hassle, but it tastes fantastic with prawns too. A must have!
---
The great thing about these canapes is that they only take an hour to make and cook, and they can be made the day before and stored, which is a real stress-saver! Canapes are always popular, so lay them out nicely on a serving tray and leave them out from the start, to quench appetites.
---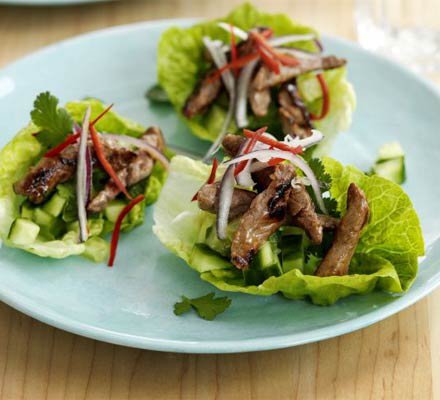 I was really worried about making these, as they look anything but easy. They really are, though, and they are sure to impress your guests! They take just 15 minutes to make, and I find that 350g of meat makes around 25 cups, but the recipe is easily doubled to whatever you need to make. You can add extra lettuce for more crunch, and I've even tried making them with shredded duck... they are a great discovery, and I make them all the time now!
---
These sausages are very simple to make and eat, but the maple and mustard combine to give them a spicy flavour, and they are always popular! I love how the aftertaste from the marinade, which tastes really exotic. These are essential at my parties!
---
As well as meaty finger foods, I like to serve a light dessert too, and these meringues are perfect. The lightness of the meringue and creamy, fruity filling compliments rose perfectly, and there's something very elegant about meringues... I love the cold 'pop' the berries give, and there are never any left at the end of the night!
I love getting ready for parties now I've got these great recipes, as they make cooking fun, and much less stressful. After all, there's just not enough time to slave over a four course meal when I need to be finding an outfit... Have you found a brilliant finger food recipe, or have you tried one of mine? Please tell me what you think!
Top Photo Credit: TheLadyMargaret
---
Popular
Related
Recent