It's summer, time for barbeques, garden parties, and cookouts! Chances are that by now, you've been invited to a bunch already, and you might be tired of bringing the same side dish to each one. If so, keep reading! Here's my list of 7 great sides to being to a barbeque!
---
1

Pasta Salad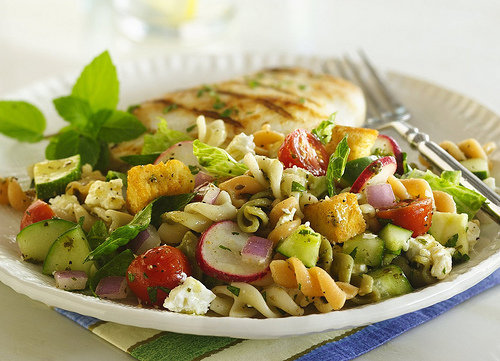 Photo Credit: Betty Crocker Recipes
This is my own specialty, and I bring it to all of the barbeques I'm invited to. It's easy — toss together cooked, chilled rotini noodles, a package of crumbled feta cheese, a half a diced green bell pepper, a can of sliced black olives, and a package of sliced grape tomatoes with about 2 tablespoons of Italian dressing. It's delicious and light, perfect for summer cookouts!
2

Potato Salad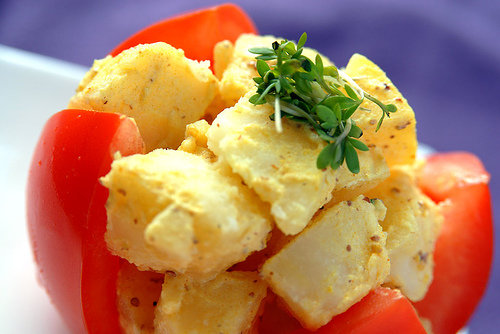 Photo Credit: haraldwalker
I can't pretend that I actually make potato salad anymore. My Aunt Susie makes the best, so there's no reason for me to even try. She makes hers with hard-boiled eggs, potatoes, mayonnaise, mustard, and chopped onions. I've also had it with diced celery or dill pickles, and both additions are tasty, too.
---
3

7-Layer Mexican Dip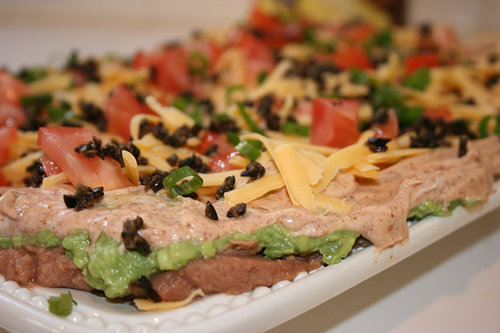 Photo Credit: Yum! Yum! Mommy!
This one looks impressive, especially if you make it in a clear baking dish, but it's really easy to make! Spread a layer of refried beans, then alternate layers of sour cream, shredded cheddar cheese, salsa, guacamole, and top with sliced black olives… serve with a bowl of tortilla chips, and everyone will eat it up!
---
4

Fresh Fruit Salad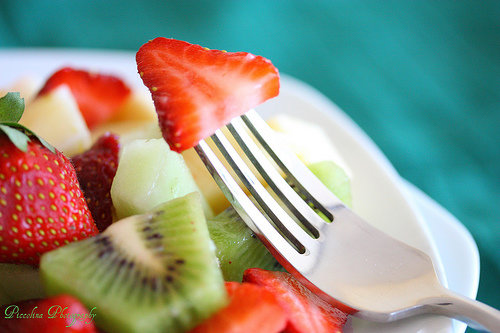 Photo Credit: Piccolina Photography
No-one can resist a bowl of fresh fruit salad, and there are so many ways you can make it! Toss in any of your favorite fruits, like melon, berries, peaches, pineapples, apples… you name it! If your sweet tooth is nagging you, feel free to bring along a container of whipped cream to top it with, too.
---
5

Ham and Cheese Rolls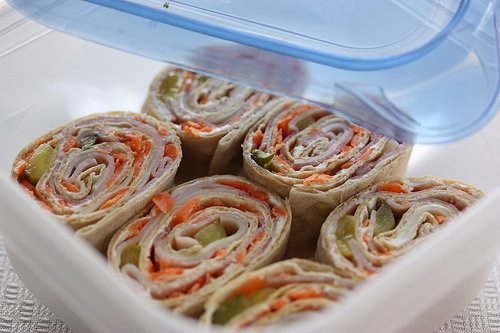 Photo Credit: mealmakeovermoms
These are easy but they look so fancy, everyone will be impressed… at least until they're gone, which ought to be fast! Buy deli ham slices, and lay them flat. Spread them with a thin layer of cream cheese, place a thin dill pickle or scallion in the middle, then roll. The cream cheese will hold the roll together. Then slice them the short way, to look like little pink pinwheels. Delicious!
---
6

Strombolli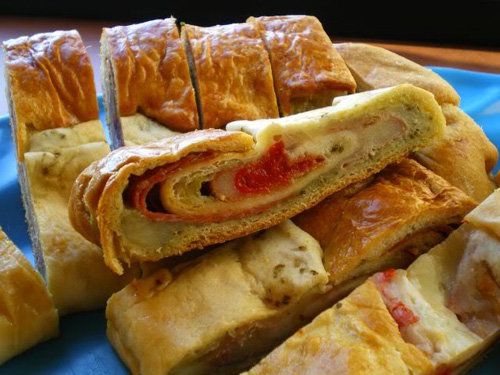 You may not want to turn on the oven in the middle of summer, but this loaf is so yummy, it might be worth it! Roll out a pizza crust, then load the middle with fresh spinach, mozzarella cheese, and slices green and black olives. Fold the edges over until the whole thing looks like a slightly flat loaf of bread, then sprinkle the top with a little more cheese and sliced olives, and bake according to the crust directions. This is a warm, ooey-gooey treat!
---
7

Baked Beans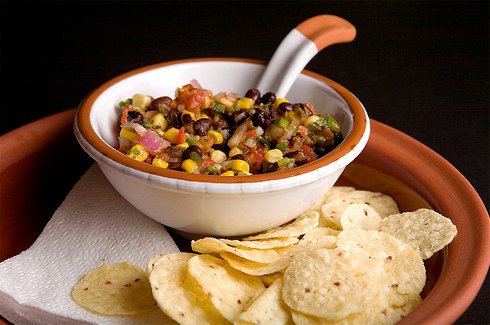 Photo Credit: [Christine]
For some reason, bakes beans are a quintessential barbeque side dish! There are so many ways to make them, with our without brown sugar or maple syrup, with or without ham… or you can just buy them and put them in a bowl… easy!
Bring any one of these sides to a barbeque or cookout and you'll be the hero of the day… they're all delicious, and no-one needs to know how easy they were to make or prepare! Which of these do you like best? Or is there another side dish you make that's a hit? Please share!
Top Photo Credit: Piccolina Photography
---
Popular
Related
Recent