If you, like me, find yourself increasingly obsessed with the world of Harry Potter even though the movies have ended, thus breaking all our hearts, I have a few treats that might make you feel better. Did you ever wonder what butterbeer tasted like? Did you ever want to try a chocolate frog? Whether you've been craving treacle tarts or pumpkin pasties, I have a whole batch of recipes that will make you feel like you're sitting down in the Great Hall, or surrounded by friends in the Three Broomsticks. Are you ready? Then be prepared to chow down like Harry Potter!
---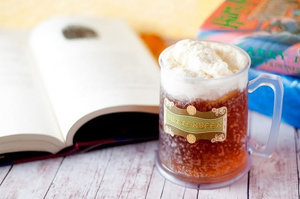 Now, recipes for this vary, so you're welcome to try one of your own. I'm in love with the one here, though; it tastes like I always imagined butterbeer would. For this recipe, all you need is a couple 12 ounce bottles of cream soda (I use A&W) – and make sure it's not diet – along with 4 and ½ teaspoons of butterscotch syrup and half a cup of Reddi Whip or Cool Whip, depending on your tastes. I prefer the Reddi Whip because man, that stuff is deliciously rich! After that, it's so simple to make!
---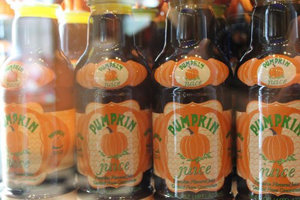 Keeping with the drink trend, let's move on to pumpkin juice, which is Harry's second favorite drink. As you can see, in four simple steps, your juice is all ready. To be prepared, you just need chunked pumpkin, two cups worth; two cups of apple juice; half a cup of pineapple juice; and honey to taste. I promise you, this is actually delicious, and with fall coming up, it's the perfect drink!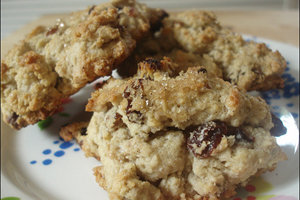 All right so, strictly speaking, neither Harry nor his friends like rock cakes, but this is for Hagrid, okay? I love Hagrid, he deserves his props – but I dare say these cakes are better than his. At the very least, you won't break your teeth! This one looks a little more complicated, but that's only because there are so many steps. The good news is, most of the ingredients are pretty standard, and you likely have them already. They include: self-rising flour; real butter; salt; pumpkin spice mix; sugar; eggs; milk; raisins (or cranberries, or blueberries -- YMMV); and a sugar/cinnamon mix you can make yourself.
---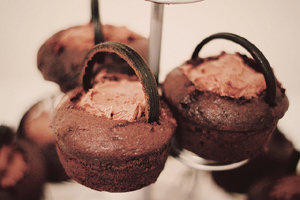 This recipe is a bit tricky, so you really have to pay attention to those directions, okay? The thing is, you're making both the cake and the delicious topping, but if you take your time and follow the instructions, these are really delectable. There are several different recipes, but I like this one because you get to make your own cake, with all-purpose flour, cocoa powder, baking soda and powder, butter, eggs, vanilla, heavy whipping cream, dark chocolate, and so on. The topping isn't incredibly hard either – it's main ingredient is Cool Whip! You can also use black licorice whips to make the handles.
---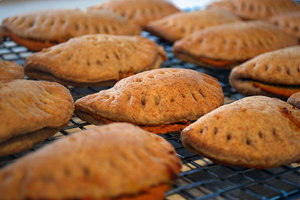 I know you've been waiting for this, right? These are basically like little pumpkin turnovers, and if you're a fan of pumpkin pie, you are going to love these. Again, there are several recipes, but this is one time I like the easier approach, so I like this one because it lets you use canned pumpkin pie filling. With that, butter, and pie crust, it's easy as – well, easy as pasties!
---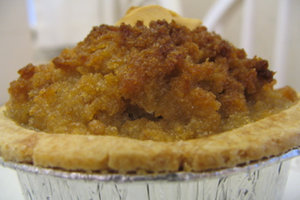 Okay, this recipe nearly did me in, but I finally managed it. J.K.'s always talking about it being Harry's favorite, so as a hardcore Potterhead, I had to try it, you know? It's complicated out the box, though, so I advise you to print out the recipe and have it handy with you. For the pastry, you need butter that's cold and unsalted, salt, plain flour, fine sugar, and cold water. For the filling, you need golden syrup, black treacle, lemon zest and juice, eggs, and bread crumbs. It takes a lot of work, but it's worth it – if you like treacle, that is!
---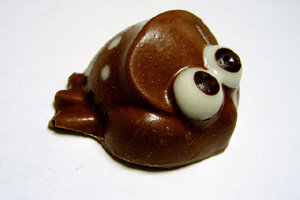 Ahhh, chocolate frogs! Unfortunately these do not come with Wizard cards, but you can't have everything. This is actually simple, the most complicated thing you need is a frog mold. From there, with only chocolate chips or a chocolate bar, grated chocolate, and candy for the eyes, it's simple!
---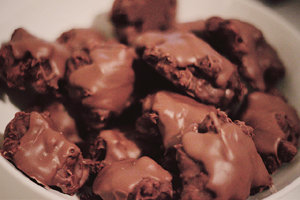 Not really, of course – these are actually delicious. Chocolate, peanuts, chocolate sprinkles – that's all! You don't even need a mold!
And just so you guys know, you can get the equivalent of Bertie Bott's Every Flavour Beans at Jelly Belly. There's even a game involved. However, I love making these treats myself – and they are seriously delicious! Potter fans, do you think you'll try them? Do you have any variations? If you could try one thing from the Harry Potter Universe, what would it be?
Top Image Source: weheartit.com
More
---
Comments
Popular
Recent