Would you ever eat out of the toilet bowl, organize a get together in a giant coffin or pay big bucks to dig your knife and fork into a corpse? Nope? Well, you don't have to because there are many people out there that are willing to bring their standard " wining and dining" experience to a whole different level. However, in case you ever decide to spend a fortune eating out in a bizarre environment, here's 8 restaurants you wouldn't want to miss:
---
1

Buns 'n' Guns, Beirut, Lebanon

Photo Credit: womansday.com

If you ever happen to be hungry and in the mood for something violent while visiting Beirut, Lebanon, ask your tourist guide to show you how to get to one of the wackiest restaurants over there –Buns and Guns, where "Sandwiches can kill you." Everything looks dangerous in this military themed restaurant so, if the helicopter sounds played in the background don't scare you, a terrorist meal definitely will.
---
2

Modern Toilet, Taipei, Taiwan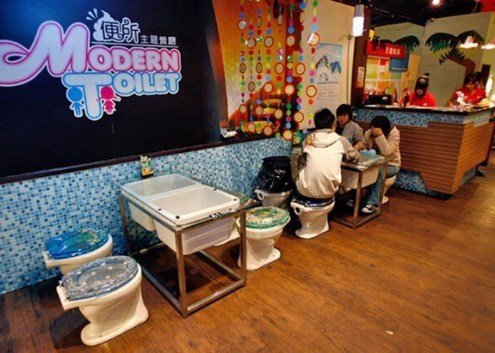 Photo Credit: popartrockgirlyeah.onsugar.com
Ever dreamed of eating a feces-shaped chocolate sweet out of a mini toilet bowl? Would you consider sitting on a toilet bowl and having your meal served to you in one, an interesting experience? And what about the drinks? Would you accept drinking anything out of a small urinal? Well, that's exactly what you can expect if you visit this restaurant. And don't worry, once you finish your meal, you'll have a roll of toilet paper to use as napkins!
---
3

Pitch Black, Beijing Photo Credit: mr. mei guo
Well, let me tell you this – If you ever visit this Beijing restaurant, you won't be able to recommend it to others because of its wonderful décor. Now, I'm not saying décor is not lovely, I'm just saying you won't able to see it! Yup, the point of eating in this restaurant is to enjoy the taste of food only so , if you can use your cutlery in complete dark, go ahead, knock yourself out. Waiters are equipped with night-vision goggles, thought, so don't plan on walking out without paying the bill!
---
4

Eternity, Truskavets, Ukraine

Photo Credit: daylife.com
Eternity restaurant looks like a coffin, has no windows and, if you dare to come inside, you'll discover that the décor is no less gloomy than the outside appearance would suggest. Black walls, funeral wreaths, coffins and optimistically named dishes like, "let's meet in paradise" are there to make your "near death" experience perfect. Now, would you be surprised if I tell you a group of undertakers came up with this restaurant concept?
---
5

Nyotaimori, Tokyo, Japan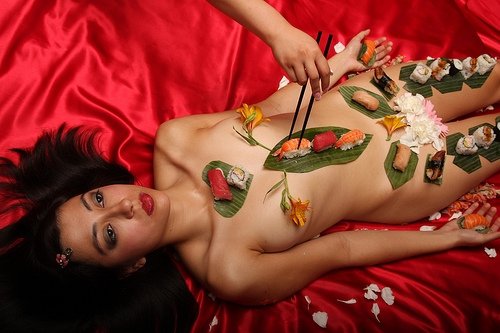 Photo Credit: japansubculture.com
Based on the traditional concept of eating sushi of a female's naked body, this restaurant offers one of a kind, slightly cannibalistic experience, you shouldn't consider unless you have a really good stomach. Once the waiters dressed as doctors roll in the gurney with the edible female body, the hostess will cut it open and you can dig in. The skin is made out of dough, blood is actually a red sauce, but don't have too much fun with these two because you might end up being to full to try the edible "organs"!
---
6

Vampire Café, Tokyo, Japan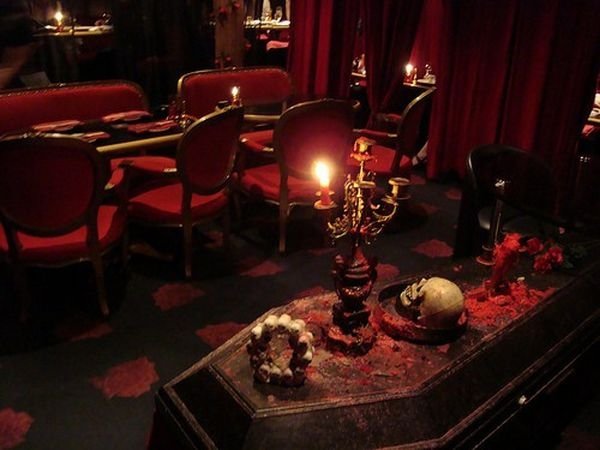 Photo Credit: damncoolpics.blogspot.com
Red velvet, red candles, red cocktails and carpets with weird, red blood cell pattern – everything in this restaurant "smells" like blood and vampires. The dining area is actually quite elegant and retro… if you don't mind the bloodsucking theme, coffins and sculls, of course!
---
7

Christon Café, Tokyo, Japan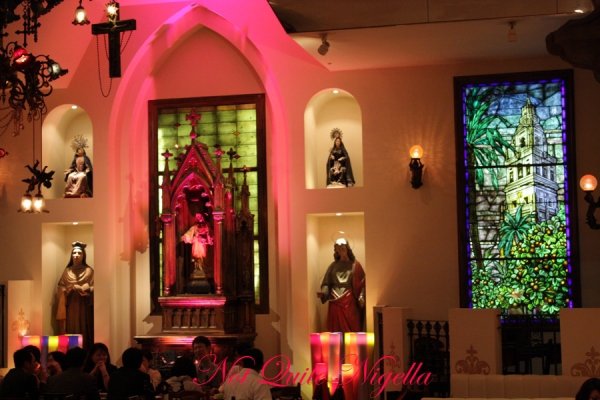 Photo Credit:notquitenigella.com
This café may look like it has nothing but bread and vine to offer but its customers say the food is great and the prices are quite reasonable. I'm not sure what would your local rev. have to say about this strange composition of Christian and gothic elements but, hey, how bad could it be? After all, you'll be having your meal in a place that features a glass statue of Virgin Mary, real altar and statues of all your favorite saints! Beats the hell out of KFC!
---
8

Robot-staffed Restaurant, Nuremburg, Germany

Photo Credit: chicago.metromix.com

Who needs human waiters when you can order you food using a touch screen? Yup, the concept of automated restaurant did seem like a pretty good idea – huge, round tables, touch screens and food traveling to you with the help of a spiral slide. I would expect something better, though, and, considering the fact that the restaurant didn't stay open for long, I'm obviously not the only one to think so.

Have you ever visited one of these restaurants? Would you do it if you had the chance? I doubt slicing up a corpse, even a fake one, would manage to wake up my appetite, but, you never know. Maybe those edible organs really taste good…

Top Photo Credit: riNux
More
---
Comments
Popular
Recent