I love hats. I think they need to make a comeback, a bigger one than the one they're making right now. Hats can add so much to your outfit – and, if need be, they can hide a bad hair day, which is always awesome. Check out these 8 hats for high style and see if you want to incorporate them into your wardrobe!
---
1

Tarnish Lace Fedora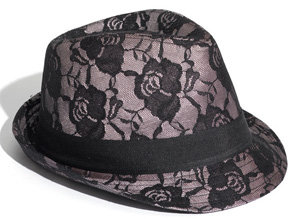 Price: $28.00 at shop.nordstrom.com
I adore fedoras. They are so classy, sleek, and stylish. Wearing one always makes me feel a little bit like Marlene Dietrich. This one, with its lace finish and antiquated style, is absolutely gorgeous. The band around the hat is grosgrain, which just adds to the style.
---
2

Wool Chain Fedora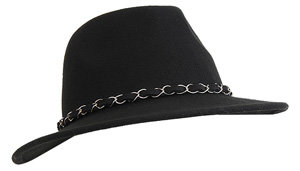 Price: $14.80 at forever21.com
Yes, so, as you can see, I love fedoras! I am a fan of this one because for one thign, you cannot go wrong with basic black. It will look good with just about any outfit. As well, it's wool – 100 percent wool, no less – so it's ideal for cold winter weather. Plus, I love that chain! That's hardcore, yo.
---
3

In the Gardens Turban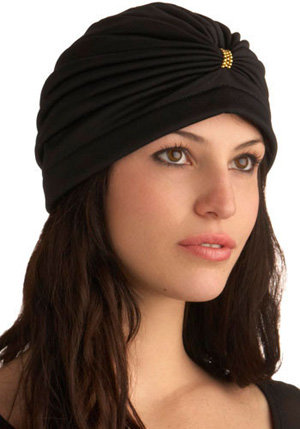 Price: $19.99 at modcloth.com
This might seem like a strange choice, but turbans can be quite elegant. Again, because it is black, it has extra appeal, because it will go with just about everything. The accentuating gold beads, however, keep it from being boring. This, too, can keep you warm in colder weather, while providing a stylish look.
---
4

Flower Accented Flapper Hat

Price: $14.80 at forever21.com
I love flapper style. The whole era of the 1920s was just the bee's knees. That's one of the reasons I love reading The Great Gatsby over and over and over. This charming woolen hat inspires the feelings of the book and evokes the era to perfection. I also adore that flower!
---
5

Never Felt This Way Hat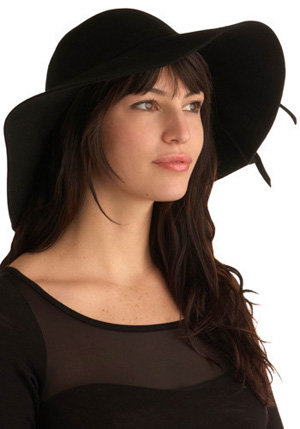 Price: $24.99 at modcloth.com
This hat is in the chapeau style, a bit floppy and casual, and all kinds of stylish. As the name suggest, it is made of woolen felt, and the side has a knotted tassel accent. The hat is wide brimmed, evoking eras of days gone by, and it is ideal for any number of outfits and occasions.
---
6

Sequined Wool Felt Cloche
Price: $35.90 at shop.nordstrom.com
I love this hat. Love it! The cloche style is so gorgeous, and again, it evokes that happening 1920s fashion. This hat is available in four different colors, each equally lovely: grey, of course; black; dark blue; and a wonderful shade of mulberry. The sequins give the hat a more modern edge, but at the same time the floral design does not take away from the signature style of the cloche.
---
7

Classic Cloche Hat with Band

Price: $12.80 at forever21.com
This is an entirely different kind of cloche. In fact, with that wide satin band, it almost looks like a bowler. Either way, it is totally hot, perfect for an androgynous look with dress pants and a tie, but just as ideal for the right kind of dress.
---
8

Bernadette Hat

Price: $40.00 at modcloth.com
Finally, we have something super colorful to add into the mix. The first thing that appeals to me about this hat is the netting. That is hot! Plus, it can go beneath your hair for a really amazing look. The trim is all patent leather, gorgeous against the fuchsia colored felt material. This is totally vintage, and totally gorgeous!

Can I just say that I want every single one of these hats? What about you? Do you like hats? Do you like these particular ones? And if not, what kind of hats and hair accessories fit your style?
More
Comments
Popular
Recent