Candy canes are one of my all-time favorite holiday sweets, but they're good for so much more than just hanging on the tree. Why not get a little creative? You can use them to make almost everything a little more festive… here are 8 tasty uses for candy canes…
---
1

Cocoa Stirrer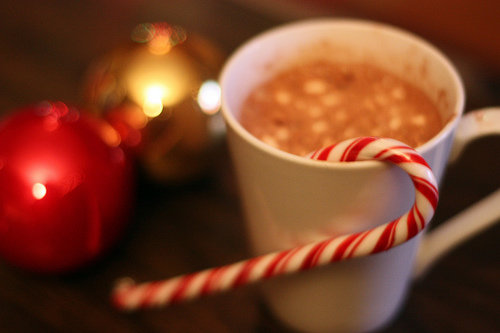 Photo Credit: (Shannon McDonald)
Make a mug of your favorite hot cocoa, then add a candy cane to the cup to give the cocoa a cool, minty flavor. You can also just hang the mini-candy canes on the edge of a cocoa mug as a pretty garnish when serving cocoa to your friends. Yum!
---
2

Cookie or Brownie Ingredient

Why not add crumbled peppermint candy canes to your favorite brownies or cookies? The canes will give the baked treats a hint of peppermint flavor, and a pretty red and white holiday decoration.
Trendinig Stories
More Stories ...
3

Grown-up Drink Swizzle Stick

If you're planning to drink a little Bailey's and coffee, or just about any other hot adult beverage, use a candy cane as a garnish or a swizzle stick! Candy canes also come in more flavors than just mint, so you can add lemon or cherry flavor, too!
---
4

Ice Cream Crunchie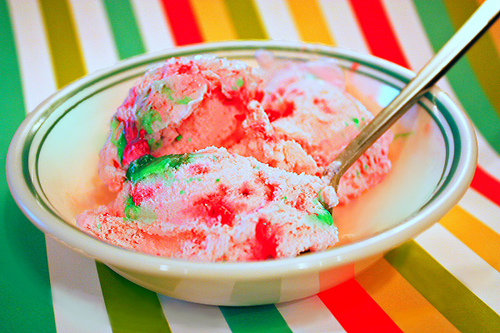 Photo Credit: llulu
During the holidays, I always make it a point to buy and devour a pint of peppermint stick ice cream, but if I can't find it, I'll make my own by crumbling candy canes into chocolate ice cream. Baskin Robbins has the best… does Ben and Jerry's make one? I hope so!
---
5

Cake, Cupcake or Pie Topping

I love French silk pie, and I love topping it with Cool Whip and crumbled candy cane. Again, the combination of chocolate and mint is wonderful! You can also add candy cane bits to the top of a chocolate-frosted cake. Oh joy!
---
6

Peppermint Bark

Peppermint bark is really nothing more than white chocolate with bits of candy cane in it. I'm not a fan of white chocolate, but I love peppermint bark! Ghirardelli's makes the best, but if you can't find it anywhere, make your own by melting white chocolate, then stirring in crumbled candy canes then pouring it into a shallow mold and allowing it to cool. This even makes a great gift!
---
7

Munch It!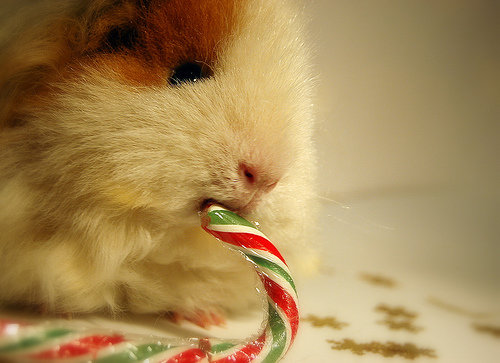 Photo Credit: Pink Ice Torndao
If you're just too uninspired or too lazy to do anything fancy with your candy canes, you can always just grab one off the tree, unwrap it, and munch it as is. Make sure to have a warm washcloth handy, though, because they're so sticky! Look, guinea pigs like them, too!
Those are my favorite ways to enjoy eating (or drinking!) a candy cane. I love that they come in so many colors and flavors, but plain old red and white peppermint is still my favorite, especially when combined with chocolate… delicious! Which of these do you like to make with candy canes? Or are you in favor of just munching them plain? Please let me know!
Top Photo Credit: Katherine Gruender "Kat"
---
Comments
Popular
Related
Recent