Call me old-fashioned or hopelessly outdated, but I still love to send, and receive, notes to and from friends and family in the post. I especially love using clever, beautiful note cards, adding my own short message or greeting inside. But pretty, whimsical note cards can be hard to find, so I've made a list for you to choose from, should you decide to jump on my note-sending bandwagon! Here are 7 pretty note cards…
---
1

Friends of the Forest Cards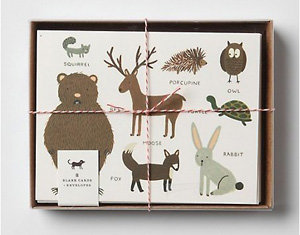 Price: $18.00 at anthropologie.com
This boxed set of note cards features all of my favorite woodland creatures, from the humble grey squirrel to the wise old owl and the might brown bear, all correctly labeled and posing with their friends. Each card in the set of 8 comes with a matching envelope.
---
2

Cover Story Postcards

Price: $25.00 at anthropologie.com
Technically, these are post cards, not note cards, but they're so charming and clever I had to include them anyway! Each of the 100 cards in this boxed set features a classic title from Penguin Paperbacks, in their original vintage covers, ideal for sending bon mots to your fellow bibliophiles.
---
3

Folk Flora Note Cards

Price: $18.00 at anthropologie.com
Looking for an eco-friendly way to send greetings to your pen pals? Give this set of eight note cards a look, each printed using water-based inks on Forest Stewardship Counsel-certified paper by the Rifle Paper Company. Each card features a brilliant, folk art-inspired floral design, and comes with an envelope.
---
4

The Fashion Pack Note Cards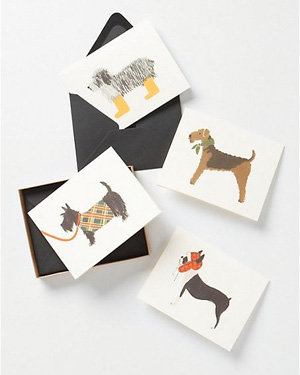 Price: $18.00 at anthropologie.com
This boxed set of note cards includes two each of four ferociously fashionable friends, each decked out in their finery to greet the recipients of your messages, penned inside. I love the little Scottie in his plaid sweater, and the sheepdog in his wellies.
---
5

Uncensored True Love Cards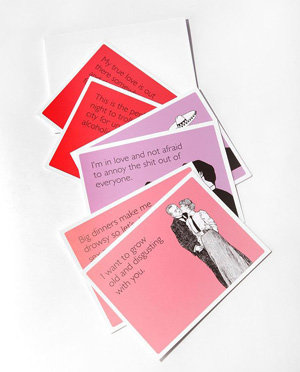 Price: $12.50 at urbanoutfitters.com
This set of six wickedly funny note cards is ideal for sending to girlfriends, blank inside to add your own witty remarks and observations. My favorite: This is the perfect night to troll the city for undatable alcoholics. What a sentiment! Each features a vintage-inspired print on the front, making the captions just a little more clever.
---
6

Wooden Sweethearts

Price: $8.00 at urbanoutfitters.com
Made in the USA by brilliant eco-friendly artist Spitfire Girl, these cherry-wood cards are all slightly unique, but equally adorable. Each features one of two designs (a sparrow with a banner that says "so sweet," or an eye with a blue swirl pattern). Each also comes with a plain envelope for sending to that special someone.
---
7

Polaroid Notes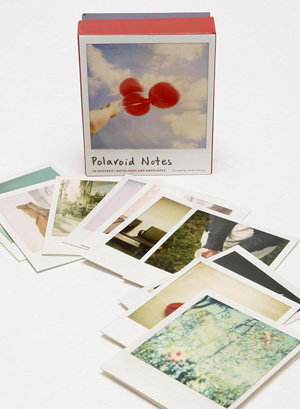 Price: $14.95 at urbanoutfitters.com
This box of small but sweet note cards each features a vintage Polaroid print, covering so many genres, topics, and styles, there's bound to be a card to fit every occasion you'll have to use them. Each box contains 20 cards and matching envelopes.
With so many pretty note card sets to choose from, there's bound to be a few you love, and can instantly imagine sending to particular friends and family. I adore the woodland creatures set, and of course the uncensored true love cards, but which do you like best, and who would you send them to?
More
---
Popular
Recent