I have found some neat reasons for wearing Forever21 and I love this website! The website selections change randomly which means I can always find something new. Even when I do not have the money to buy anything, I enjoy visiting the site because I can browse and get some pretty awesome ideas for outfits and accessories. I love how the clothes and shoes are so similar to name brand expensive items that I can only dream about owning. The prices are absolutely amazing. Actually, they are unreal and unbelievable. Below, I have listed my favorite new finds for this spring, Just keep reading my article to find 7 neat reasons for wearing Forever21 and then you will know why I love this website.
---
1

Cropped Denim Vest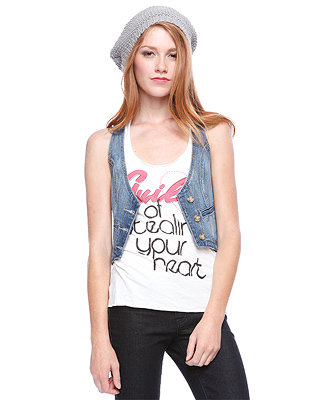 Price: $18.90 at forever21.comThis vest is so adorable. It will go well with just about any casual outfit you already own. Just add this cropped vest and pair it an eye-popping tee and everyone will notice the new vest.
---
2

Indian Sumer Crochet Poncho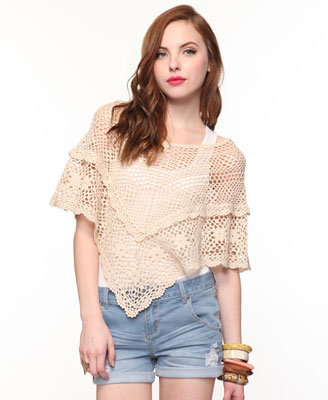 Price: $24.00 at forever21.comThis cape like poncho is perfect for warmer weather. You can wear it with a sleeveless shirt and ballet flats and you will definitely make a statement. It can be dressed up or dressed down and looks really cute with a simple or chunky necklace.
---
3

Buckled Cross-Body Bag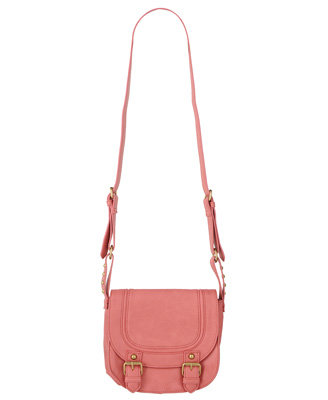 Price: $19.80 at forever21.comI love this handbag because it is small and easy to carry. It is perfect for a night at the mall shopping with my friends. It is the perfect size for just a few necessities and extra cash for all the great deals I am planning to buy! This is definitely a neat reason for wearing Forever21!
---
4

Sheer Floral Lace Fingerless Gloves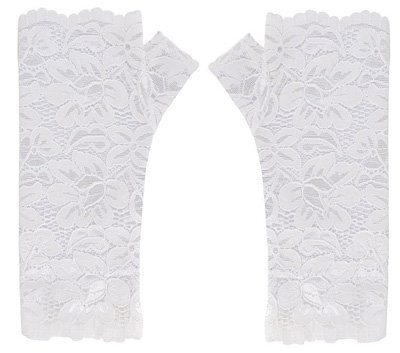 Price: $5.80 at forever21.com
These lace gloves are so, so cute. My sister wore a pair like these to here wedding rehearsal. She paired them with a retro 50's style dress and hat. She was absolutely beautiful! Of course, nothing compared to the way she looked on her wedding day, but I was inspired to looking into buying my own set of lace gloves and these are the ones I decided on.
---
5

Cable Chain Swag Necklace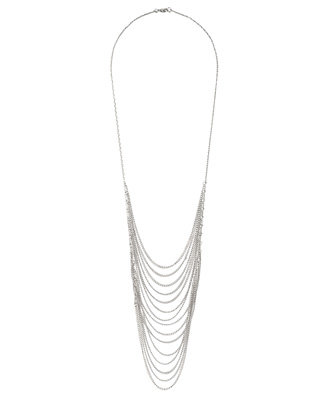 Price: $5.80 at forever21.comLayered necklaces are so pretty to wear. This necklace makes the layering easy. It is really one chain. Very chic and stylish, not to mention affordable! You can wear this with your cropped vest and tee or maybe with the poncho.
---
6

Elastic Strap Sandals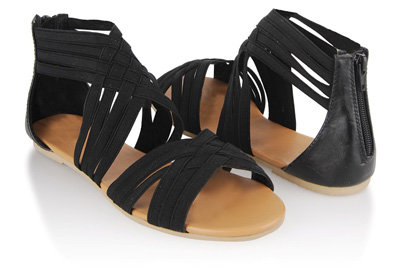 Price: $18.80 at forever21.comI love gladiator type sandals and these are perfect. They will go with everything in my closet and I will be able to wear them all the way up into the fall season. I can't wait for the snow to melt so I can try these out.
---
7

Stripped Maxi Dress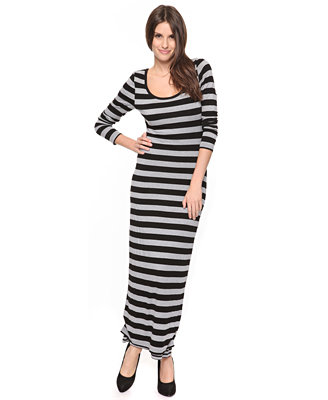 Price: $22.80 at forever21.comThis stripped maxi dress is perfect for a dressy occasion when you don't want to be formal, just casual elegance. The black color keeps it dressy while the stripes add some fun. And it fits to flatter your shape without looking like you were poured into the dress. Would it match the sandals?
Girls love clothes and there is no better way to pet your muse then buying from Forever21. I hope you agree with my 7 neat reasons for wearing Forever21. If not, what would you add to make my list better?
Top Photo Credit: Samantha Norton
More
---
Comments
Popular
Recent