COMMENT
Ruche is one of my very, very favorite stores, especially when I'm feeling really feminine and romantic. I especially love to see what they have to offer when Spring finally starts peeking around the corner, because so many of their clothes are so light and airy, and just evocative of Spring fever itself. I was doing a little wistful shopping the other day, for instance, and found a ton of sweet Spring tops from Ruche. Take a look!
1. Romantic Moments Pink Top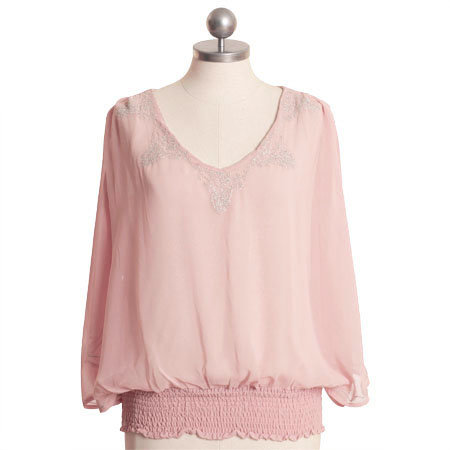 I seriously don't know what it is about me and pink lately. I used to just abhor the color, and now I can't get enough of it – even this lovely, delicate shade of it. This top is actually sleeveless, but it's covered in a layer of chiffon, plus there is silver embroidery. It's like a fairy tale top! This one is probably one of my favorite sweet Spring tops from Ruche because of that.
2. Everything's Coming up Roses Ruched Top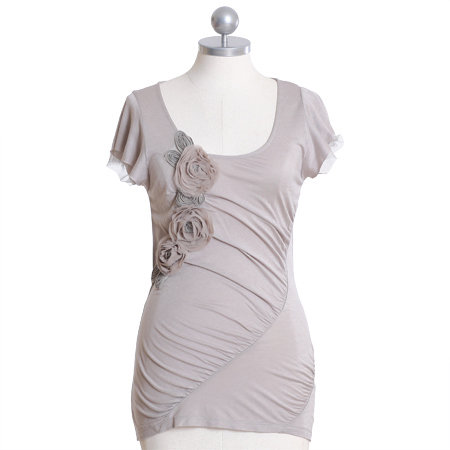 I absolutely adore the ruched styling on this top. The color is gorgeous as well – it's understated, a perfect alternative if you get tired of the bright shades and pastel colors usually seen in Spring. I'm even in love with those little rosettes, which are made of chiffon, and especially the sleeves, which boast a lovely little bit of tulle.
3. Heavenly Dream Dolman Top in Black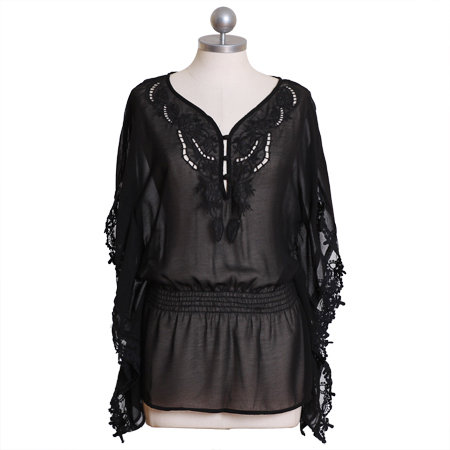 Not every top you see in Spring needs to be pastel or brightly colored, though. Some of the best sweet Spring tops from Ruche are dark, like this one. I wear black more often than anything, so this really appeals to me – especially since it's also whimsical and gorgeously feminine. All that lace is just to die for, and the thing is, you can incorporate color by wearing it over something bright.
4. Lucky We're in Love Bow Top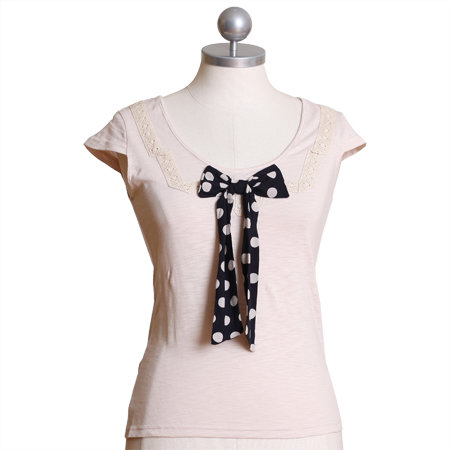 This top is just so cute! It's actually very light pink, but what really drew my eye is that marvelous bow. Those polka dots are just the dog's tuxedo. The details are also wonderful, like the crocheted color and the pearly buttons found in back.
5. Spotted in Style Polka Dot Ruffle Blouse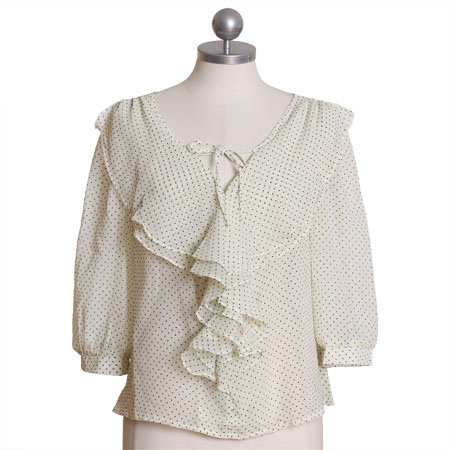 What can I say? Sometimes I just love me some polka dots. This semi sheer top has an abundance of them. I also love the floaty silhouette. This top looks like it would be flattering as well as comfortable, and that's increasingly hard to come by.
6. Working Daze Seersucker Tunic Blouse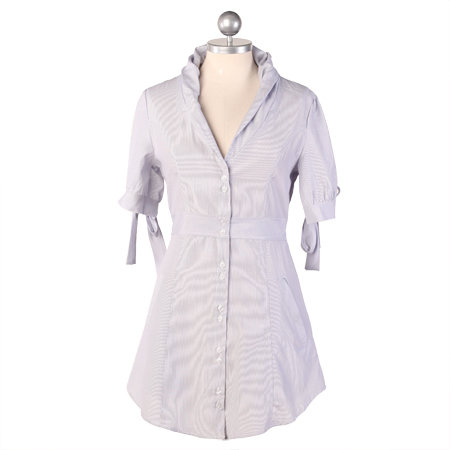 I love seersucker, I have to confess. It's such a lightweight, comfortable fabric. I also love the comparable simplicity of this top. It's elegant all on its own, without any ruffles or bows. The fitted quality of the silhouette looks like it would be incredibly flattering, and I love the way the collar is done.
7. Paisley Dreaming Dolman Top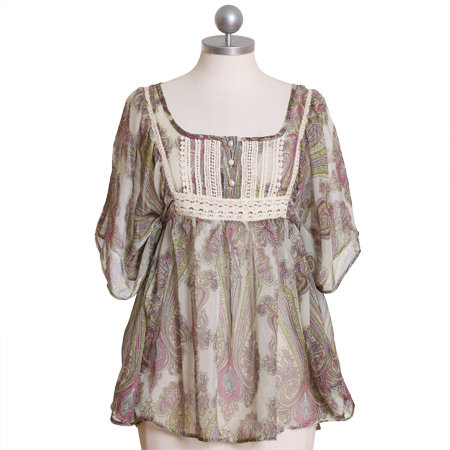 I'm not always a fan of paisley prints, but this is one of those sweet Spring tops from Ruche that just drew my eye and would not let it go. I love its semi sheer quality, and the way it looks so flowing and floaty. It looks a little like an old, vintage baby doll dress, in shirt form, and I used to love me some baby doll dresses, too.
8. Fun and Frilly Draped Top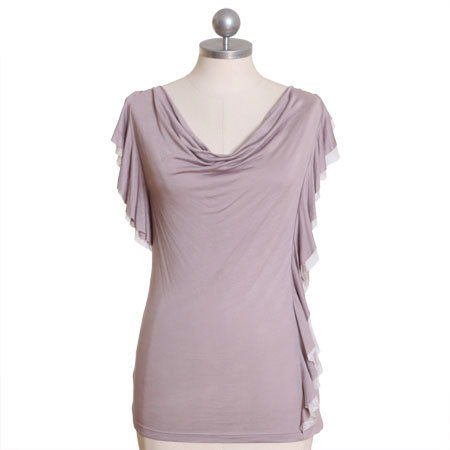 There's not a single thing I don't love about this top, from the silhouette to the draping to the color. That scoop neck is absolutely gorgeous, and the ruffles running down the side from the sleeves, in addition to having insets of white lace, are incredibly innovative. They only go all the way down on one side, which is truly unique.
9. Hearts Entwined Olive Top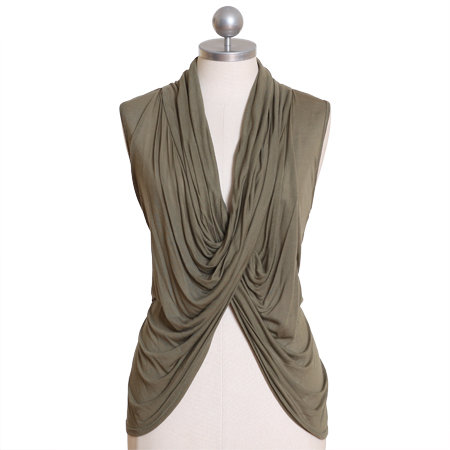 I adore the draping on this top as well, and I can just see how versatile it would be. You could wear it over so many things! Of course, it could also be worn by itself, but I don't know if I'd be quite that brave – that's definitely a deeply scooped neck!
10. When I'm with You Eyelet Top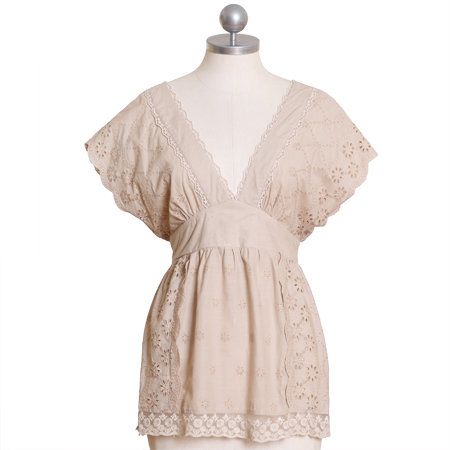 I blame my love of eyelet lace on my mom, because of the little dresses she used to get me for Easter. Plus, as you can see, it just looks so crisp and comfortable. This top could go with so many things, and thanks to all that lace, you could pair it with something casual or something dressy. I love versatility!
There are so very many sweet Spring tops from Ruche, I wish I could buy them all! Of course, these are all to my taste, so I want to know what you think. What are your favorite kinds of tops for Spring?
17 Safe and Natural Appetite Suppressants ...