Printed blouses are a great way to incorporate new season looks into your wardrobe. There are a range of printed blouses to suit all tastes and budgets. The idea behind a printed blouse is to create added interest to an outfit where there would otherwise be none. Simply pair a printed blouse with jeans or shorts to update a basic outfit. Below are a few pretty printed blouses.
---
1

Tucker Printed Silk Blouse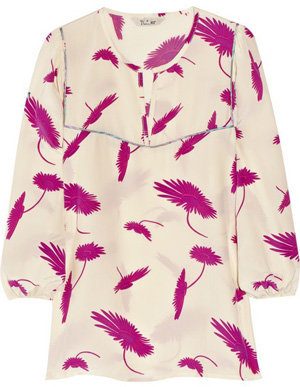 Price: $285.00 at net-a-porter.com This silk blouse features a bold floral print. This blouse has a round neck with a V-shape cutout, gathered shoulders and cuffs, and a multicoloured trim at the yoke. The cream and fuchsia floral print is bold and bright. Wear these with some neutral tailored shorts and ballet flats for an effortless summer look.
---
2

Topshop Seventies Poppy Print Blouse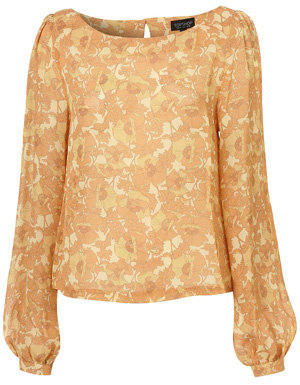 Price: $75.00 at us.topshop.com 70s dressing is set to be big this season. Incorporate this trend into your outfit by simply choosing a retro printed blouse such as this Topshop number. This poppy print blouse has voluminous bell sleeves and a back neck fastening with keyhole design. Wear this blouse tucked into a high waisted skirt or with a pair of straight legged jeans.
3

Alice by Temperley Seraphine Printed Blouse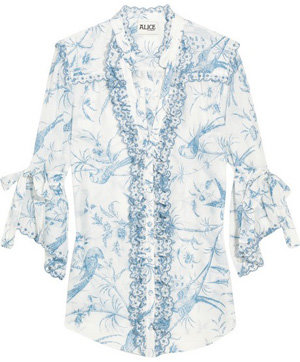 Price: $245.00 at net-a-porter.com The finer details on this blouse give it an antique-style edge. This blouse has a bird and flower print, and comes in an elegant light blue and white colour palette. The embroidered eyelet ruffles along the collar, placket, and sleeves are delicate design details. With pretty printed blouses such as this one, it's important to keep the rest of your outfit fairly simple.
---
4

Topshop Yellow Bonsai Print Tie Front Shirt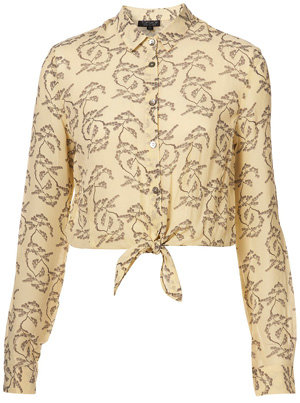 Price: $70.00 at us.topshop.com Tie-front blouses are enjoying renewed popularity. The look is less 90s 90210-inspired and more about modern, tailored, and directional dressing. They can also take the form of pretty printed blouses. The cropped nature of this blouse is balanced by the button up collar and long sleeves. Team it with high-waisted denim bottoms for a fashion-friendly look.
---
5

Topshop Cream Feather Print Cape Back Blouse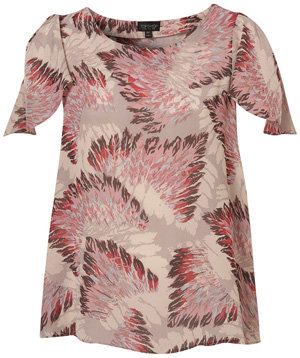 Price: $70.00 at us.topshop.com Not only does this blouse have an attention grabbing print, but it also features interesting design details. The floaty sleeves transform to create a quirky cape along the back of the blouse. The feather print is also a wonderful feature. Wear these with cream pants and wedge heels.
---
6

Vena Cava Printed Blouse with Appliqués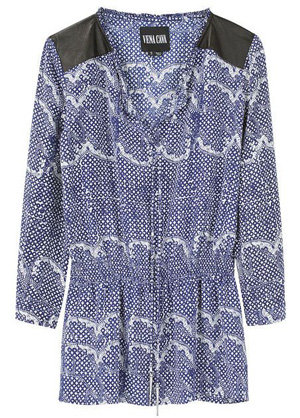 Price: $324.00 at lagarconne.com This printed blouse also features interesting leather appliqués at the shoulders. It has a crew neck, subtle ruffling at the collar, and a drawstring waist. The leather appliqués really give this blouse a modern twist. Pair it with slim black trousers and patent wedge heels for a fashion-forward look.
---
7

Vanessa Bruno Printed Woven Silk Blouse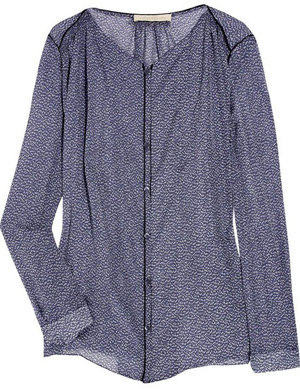 Price: $395.00 at net-a-porter.com This silk blouse features a subtle and unassuming print. The sheer nature of this blouse makes it perfect for summer dressing. It features a round neck, gathering at the front and back, and button fastening cuffs. Wear this blouse tucked into a pair of tailored white shorts and topped off with a red floppy felt hat. Pretty printed blouses can be styled in a variety of ways. Which of the above blouses do you prefer most?
Top image source: data.whicdn.com
More
---
Comments
Popular
Recent