During a recent virtual visit to my favorite online fashion shop, I discovered that the ModCloth girls have a new designer crush, a Danish brand called Nümph. One click and I knew why — their designs are so whimsical, and fun! Now Nümph is my designer crush, too… keep reading and you'll fall in love, too. Here are 7 cute tops by Nümph.
---
1

Nümph the Posh Penguin Tee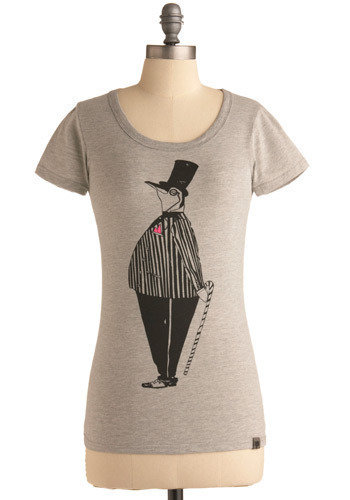 Price: $42.99 at modcloth.com
Who says there's nothing worth seeing at the South Pole? There is, for instance, this debonair penguin, replete in his top hat, pocket handkerchief, monocle, and cane. If he's any example, it might be worth a trip for the fashion alone! He's printed on a slightly stretchy 100% cotton light grey tee with a crew neck and flatteringly fitted shape.
2

Nümph Sparkle and Soar Cardigan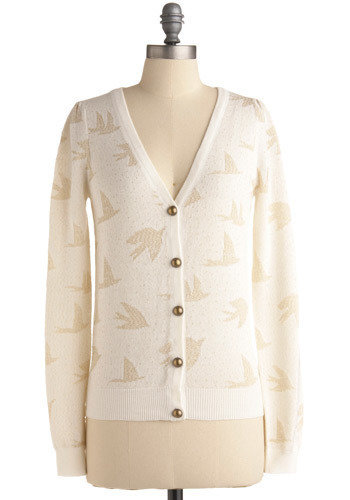 Price: $99.99 at modcloth.com
Sometimes, the right accessory to make an outfit shine isn't a bracelet, brooch, or belt — it's a cardigan! That's certainly the case with this gorgeous cream-colored cardi, woven through with shiny gold thread in the shape of birds in flight. Wear it over a maxi dress or with cuffed shorts and a tank underneath. Gorgeous!
---
3

Nümph Caturday Tunic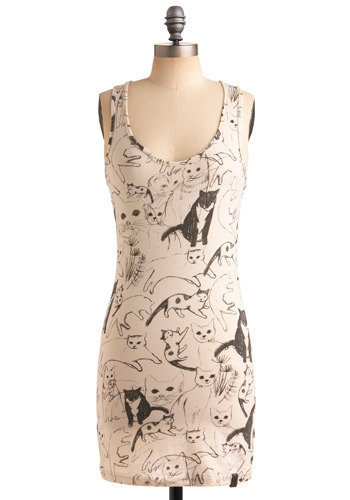 Price: $44.99 at modcloth.com
It's my favorite day of the week — Caturday! Time to frolic with my favorite feline, especially if I'm wearing this back and white poly/cotton tank tunic. It looks great with a multi-tiered black mini and ankle booties… and kitty appreciates my nod to her own personal style (she's black and white, too).
---
4

Nümph What's Hoppenin' Tee

Price: $49.99 at modcloth.com
Achieve chic style and eco-friendliness with this darling pink tee, made of 100% organic cotton in a sweet shade of pink. It features a darling woodland bunny, crew neck, and fitted shape, ideal for wearing under a cropped blazer with light-wash skinny jeans.
---
5

Nümph I Love Unicorn Tee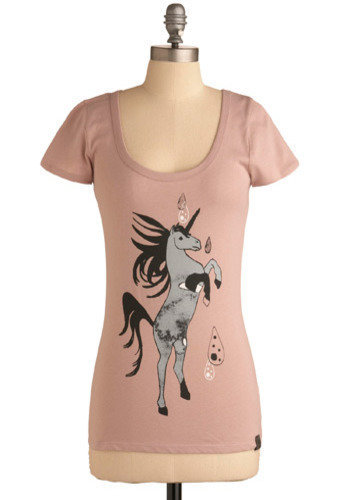 Price: $49.99 at modcloth.com
Who among us didn't want a unicorn when we were little? Now you can have one all your own, right here on this stylish fitted tee. He' rearing up, showing off just a little, and wouldn't he look marvelous with a pair of black capris and a pair of skimmer flats?
---
6

Nümph Wish Granter Top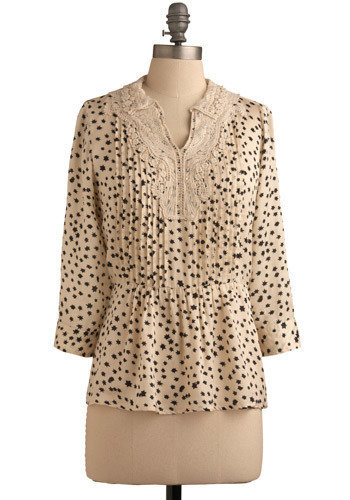 Price: $109.99 at modcloth.com
This blouse as it all — flattering smocking for a fitted shape, a brilliant starburst pattern, a decidedly Boho lace inset at the collar… it's also incredibly versatile, ready to be worn tucked into a high-waisted skirt and peep-toe heels, or with a pair of skinny jeans and flats.
---
7

Nümph the Purr-Fect Cute Tunic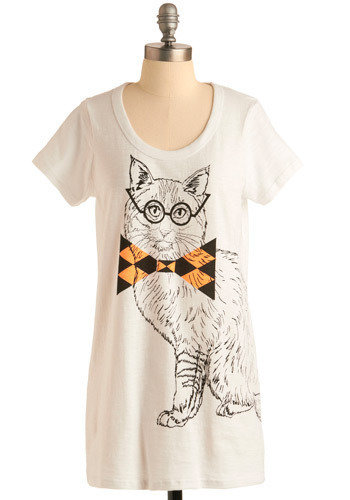 Price: $44.99 at modcloth.com
Ah, yes, another bold kitty tee by Nümph… perhaps they have the same affection for felines as we do? The kitty on this tunic looks studious and serious, with his bright print bow-tie and round specs. Pair him with patterned leggings and your favorite Converse high-tops.
Now that you've seen just a sampling of the cute tops Nümph has to offer, are you crushing, too? I especially adore that posh little penguin tee, and that white cardigan is so pretty! Which of these tops do you like best, and how would you wear it? Please share!
---
Popular
Related
Recent