I love paisley things, whether they're clothes or accessories. Paisley prints are so light, bright, and summery, you really can't help smiling when you see them. It's one of my favorite prints to wear in both the spring and summer, and I don't think it's highlighted nearly enough. To make amends for that, I've compiled a list of some really gorgeous paisley things to own – and I hope you like them too!
---
1

Purple Paisley Maxi Kaftan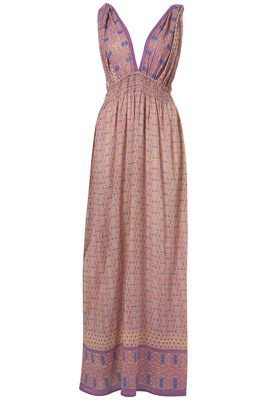 Price: $70.00 at us.topshop.com
Kaftan dresses are wonderful things to wear in summer because they're so light and airy. However, this is a gorgeous paisley print to own because it combines that style with a maxi dress – and, of course, with the paisley print! The color is lovely and would make a great addition to anyone's summer wardrobe, and the contrasting prints actually complement each other quite well.
---
2

Ariat Fleur Paisley Ankle Socks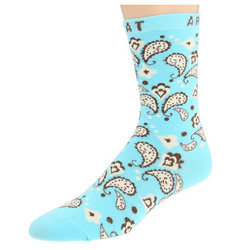 Price: $7.00 at zappos.com
Of course, not everything paisley has to be a dress or a shirt. I'm always on the lookout for cute socks, and these take the cake. As if the print wasn't enough, the base color is bright and happy. I'm not sure what I'd wear these with, exactly, but I'd dang sure find something, because they are adorable out the box.
3

Paisley Waist Tie Cardigan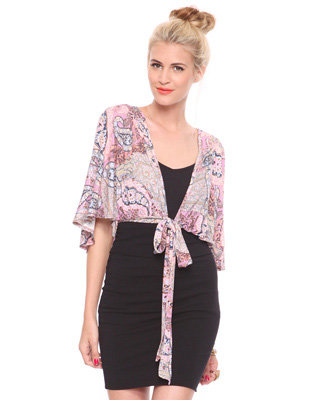 Price: $19.80 at forever21.com
I adore cardigans as well, and they work wonderfully with the paisley print. Although this one is paired with a little black dress, I think the combination of pink and navy would look to die for with something chocolatey brown. The print here is delicate and exceedingly feminine, which is what makes it such a gorgeous paisley thing to own.
---
4

Black Paisley Print Vest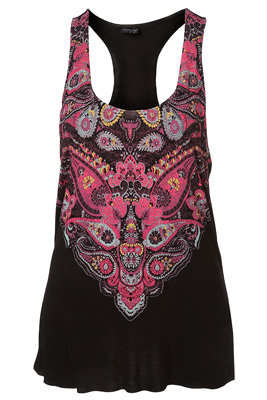 Price: $36.00 at us.topshop.com
I don't know what it is about vests, but I really have a thing for them. You have to be careful when you wear them, of course, because they can get a little dorky very quickly, but this one is so unique I don't think that would ever be a problem. I love, especially, that you get a lot of hot pink in there. It looks beautiful with the black and the touches of light blue.
---
5

World of Wonder Paisley Two Piece Swimsuit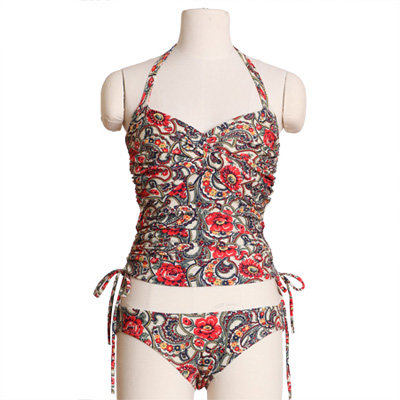 Price: $89.99 at shopruche.com
What with swimsuit season drawing close, of course I had to include a paisley suit! There's something about this that I really love, which is weird, because usually this particular color palette doesn't do a thing for me. This time, though, it works. You can also rest assured that if you go with a paisley suit, you'll be one of the most unique girls on the beach!
---
6

Foodie Challenge Pot Holder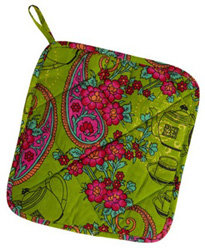 Price: $9.99 at modcloth.com
In addition to being a gorgeous paisley thing to own, this is also unique! You see, paisley is a great thing to wear, but it's also wonderful to decorate with it. This pot holder could bring about a whole new kitchen. Just look at all the colors and shades it would complement!
---
7

Vera Bradley Paisley Pen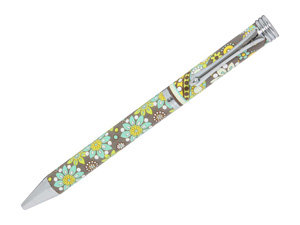 Price: $19.00 at zappos.com
See? Again, not every paisley print item needs to be something you wear. I always love stylish pens. I think it harkens back to my days in grade school, where the girl with the coolest Lisa Frank pen was always the most popular girl in school … until another girl decided to trump you. Regardless, you'll be the coolest wherever you are with a designer pen like this.
As you can see, there are lots of gorgeous paisley things to own. It all depends whether you want to wear it or use it. I want to do everything with it, myself. What's your favorite kind of pattern for clothes and accessories?
Top image source: data.whicdn.com
---
Popular
Related
Recent