Nothing works better in the summer than a plain tee. Wait! Did I just say "plain"? That's definitely not what I had in mind, I don't know why it came out like that. Comfy, fun printed T-shirts are what I had in mind – tees that look great, feel great and deliver a certain message. They are our fav spring/summer life-savers, garments that keep us looking great anywhere and just reek with the famous "girl-next-door" charm. Well, I'm about to present 8 fab, totally fun printed T-shirts you're going to love so, let's start!
---
1

Jersey Shore Situation Tee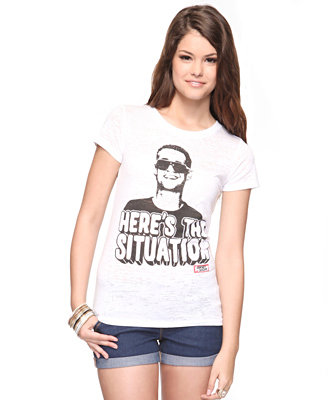 Price: $14.80 at forever21.com
I, personally, hate Jersey Shore but real fans might be happy to know there are some cool, really fun printed T-shirts featuring their favorite stars. This particular one sends a really clear message – Situation is your fav Jersey Shore stud! It's not the most colorful one, I know, but that can be a good thing too 'cause you'll be able to get creative with your accessories, bags and footwear.
---
2

Boyfriend Burnout Tee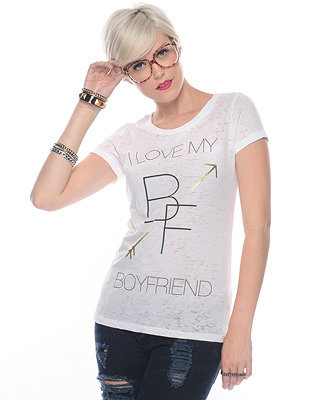 Price: $13.80 at forever21.com
I'm all for speaking your mind so, if love is what you want your body language to say, cover your hear-carrying vessel in this lovey-dovey tee! He knows it, you know it and people around you probably know it too, so it's not like you're coming out with something new, shocking or unexpected. Right? Come on, don't be shy.
---
3

I [Heart] Me Tee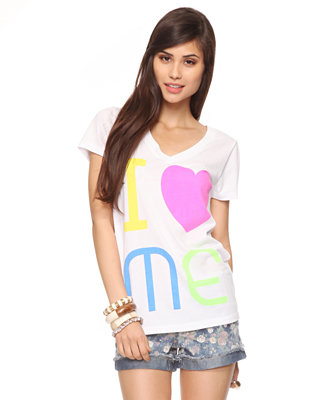 Price: $9.80 at forever21.com
There's nothing wrong in loving yourself and definitely nothing wrong in letting the world know about it. I bet it already shows in the way you walk and talk so fun printed T-shirts with all possible variations of "I love my self" just come as a bonus. I'd totally wear it!
---
4

Besame Snoopy Tee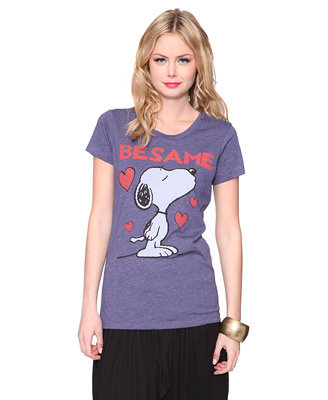 Price: $14.80 at forever21.com
Spanish for "Kiss me" +Snoopy seem to be a great combo! But let's mention the very popular navy blue color too, as it can surely help you decide whether to buy it or not. I'd say go with it as it will make your white jeans really pop out as well as keep your style casual, fun and interesting.
---
5

Marvin the Martian Tee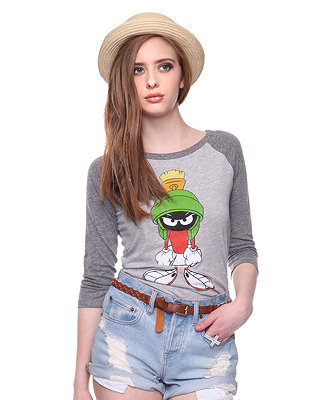 Price: $14.80 at forever21.com
Yaaaaay, Marvin! I love him almost as much I love Duffy the duck and that alone is more than enough to make me instantly want to buy all fun printed T-shirts with any one of these two characters. Gosh, those cartoons were great and this tee almost reminds me of how fun it was to be a kid. Kiddy tee is definitely a must-have!
---
6

Magnifique Tee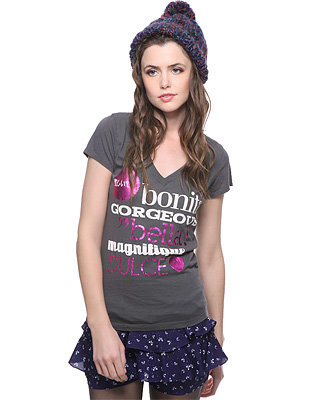 Price $12.90 at forever21.com
V neck, dark gray and shiny foil decorations – this tee is magnifique but definitely not as magnifique as you! I love, love, love the metallic purple details, it gives it that "je ne sais quoi" or weird, hard-to-describe charm. I, myself, have a few similar ones and, although foil details require special attention and washing by hand, the "Wow" effect is definitely worth it.
---
7

Full of Geek Tee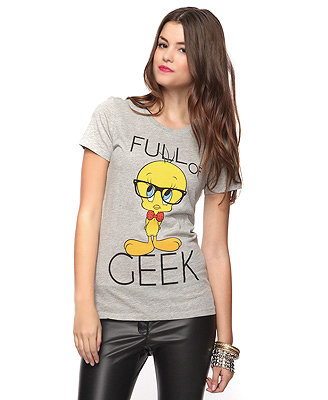 Price: $13.80 at forever21.com
Geeky Tweety bird and this interesting text guarantee you'll get some mayor style points both inside and outside the geek community. Hey, there is a little geeky chick lurking inside each and every one of us and the fact that you're sitting next to your computer reading this, just as well as the fact that I'm sitting next to mine writing it, totally proves my point. Embrace your inner geek and show everybody you're proud of who you are- a girl that knows how to have fun but also knows there is more than one way to have fun. Books are fun too and even math can be fun if you're good at it! Geeky was trendy all along, the world was just too scared to admit it.
---
8

Hard Working Betty White Tee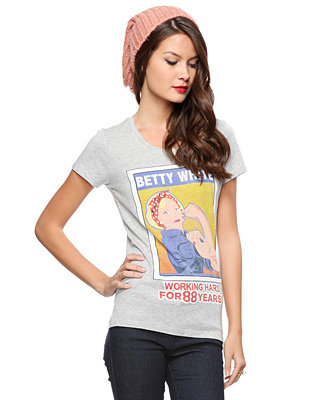 Price: $13.80 at forever21.com
Gotta love the vintage, rockabilly Betty White, especially when her image comes with a funny catch phrase! This soft-gray tee is definitely one of my favorite fun printed T-shirts on this list so don't think I'm putting it last because I like it the least.
So, tell me – how did you like these fun printed T-shirts and have you found your favorite one? I absolutely love them and one of my fav ones actually has a sheep holding an ice-cream. I got is as a present from my sister-in-law and I sincerely hope she wasn't trying to suggest something… LOL!
More
Comments
Popular
Recent