It's spring, sweetie! Time to give up those thick, cozy cardis and trade them for layering-ready, versatile vests! They're very on-trend right now and are a great way to add style, and a little warmth, to your spring wardrobe! I've found a few I know you're bound to adore, too, and here is a sampling. Here are 7 cute new bests!
---
1

Plenty of Vest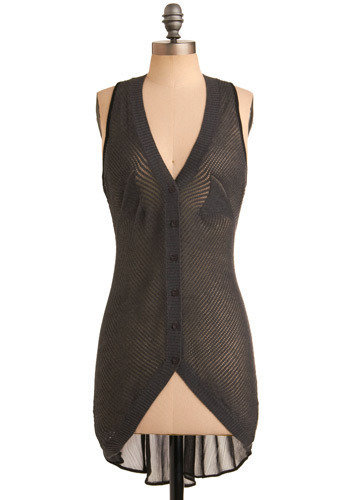 Price: $67.99 at modcloth.com
What a gorgeous layering piece! This vest is truly unique, from its contoured hem and geometric knit, to the sheet back and form-fitting shape. What in your spring wardrobe couldn't benefit from the style-add this vest offers? Pair it with skinny jeans and saucy ankle boots or a pencil skirt and ballet flats.
---
2

Burgundy Tasting Vest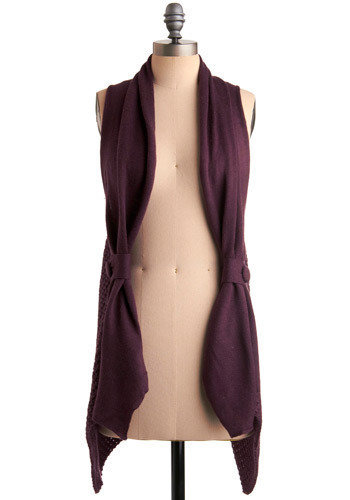 Price: $42.99 at modcloth.com
This vest adds a subtle hint of rich color to your darker spring outfits, and is small enough to layer with almost anything. I'd wear it with a graphic tee and cuffed shorts, or with a short skirt and long-sleeved tee. I love the purple color…
3

Bohemian Breeze Vest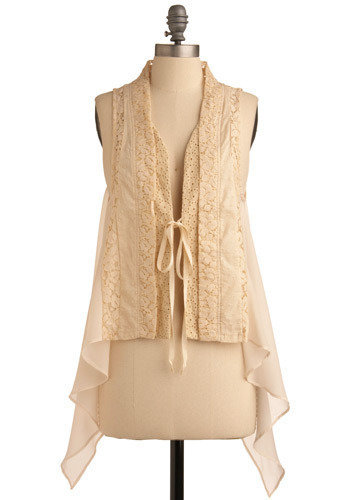 Price: $79.99 at modcloth.com
Set your heart all a-flutter with every puff of the spring breeze with this light-weight Boho-inspired vest by Ryu. It looks a little boxy, but no matter — what it has in manly shape is more than offset by the sweet lace, eyelet and frills at the handkerchief hem. So pretty!
---
4

Stage Presence Vest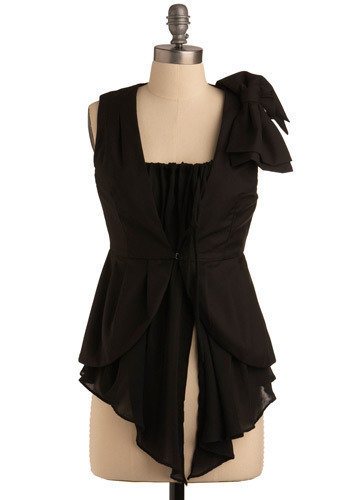 Price: $79.99 at modcloth.com
How very glamorous! From the gathered ruffle at one shoulder to its figure-flattering shape, this black vest may well replace your LBD with an LBV! Pair with a white or grey (or red!) blouse and a pair of cigarette pants for a night out, or with any of your print shirts and skinnies for a day of shopping. It's so gorgeous!
---
5

Wine Cellar Vest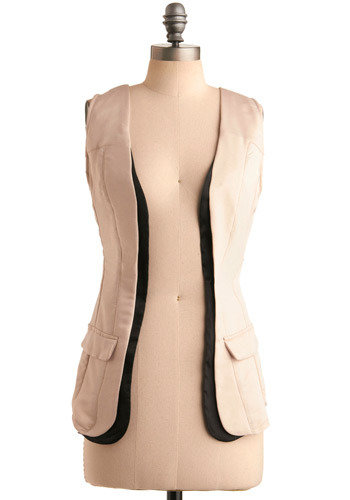 Price: $54.99 at modcloth.com
If you're looking to layer, then this is the vest for you! It's very light-weight and small, with not one vest but two, really: a cream-colored traditional vest that cuts away in back to reveal a sheer black vest underneath! Dress it up or down, either way, you're sure to take advantage of the 2-in-1 style!
---
6

Now Here's the Twist Vest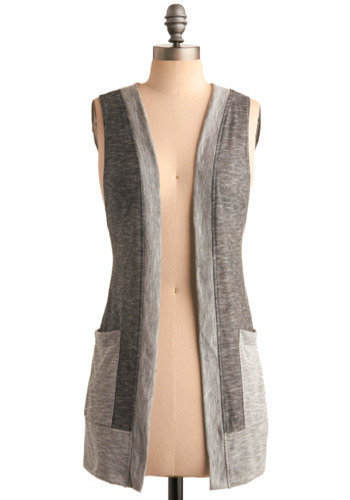 Price: $29.99 at modcloth.com
A vest need not be dressy, and as evidence, I present this one, made of two tones of heathered grey, much like your favorite sweatshirt. Layer it with a graphic tee and skinny jeans, or over a knee-length LBD and a long-line necklace. It looks so comfortable, and I adore the pockets on the sides!
---
7

Attic Find Vest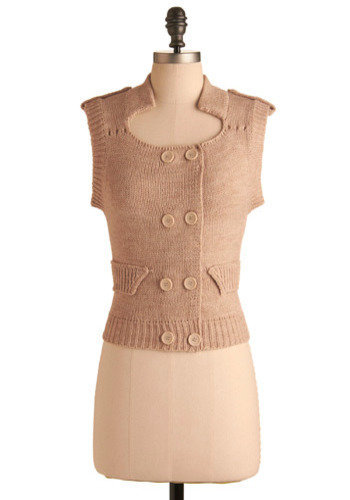 Price: $67.99 at modcloth.com
Obviously vintage-inspired, this double-breasted sweater vest harkens back to an era when women dressed up, even to do errands about town. And why not? You could look just as effortlessly chic as you go from coffee shop to fruit stand to bookstore and back… add a pair of skinny jeans and peep-toe flats for a look that everyone will admire.
With so many cute new vests to choose form, in so many styles, there's bound to be at least one or two to top your must-have list this spring! I adore the Plenty of Vest… which one of these cute vests do you like best? How would you wear it? Please share!
Top image source: data.whicdn.com
---
Comments
Popular
Related
Recent