Most of us wear lip balm alone or under our gloss all winter long, but don't forget to wear it in the summer, too! You want to keep your lips looking and feeling their best, and a good summer lip balm is the way to do it! And did you know most summer lip balms have the added attraction of SPF, so you can look good and protect your delicate lips? If you're looking for a lip balm for the summer, here's my list of 7 of them, all with added SPF…
---
1

Aveda Lip Saver with SPF 15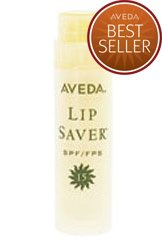 Price: $8.50 at aveda.com
This is my favorite lip balm for summer, not just because of the added SPF protection, but because it's so silky and it feels so lush! It also tingles a little when you slide it on, from the anise and clove oils. This lip balm also lasts a long time, so you're not reapplying it every 10 minutes!
---
2

The Body Shop Vitamin E Lip Care Stick with SPF 15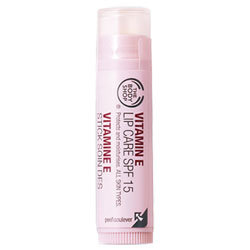 Price: $8.00 at thebodyshop-usa.com
I love this lip balm, too! It's also perfect for summer, to protect your pucker from the sun with SPF 15. It's loaded with Vitamin E, which is an anti-oxidant, and it's also got fair-trade olive and coconut oils to keep your lips moist and supple… and kissable! I love the vanilla flavor and scent, too!
3

Philosophy Kiss Me Very Emollient Lip Balm with SPF 20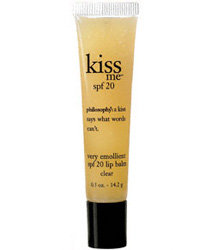 Price: $12.00 at philosophy.com
This lip balm is a little pricey, but it's worth every extra penny! It's super-rich and lush, and it protects your lips from sun damage with SPF 20, while most lip balms only have SPF 15. Plus, you can choose from clear, or from a pretty pinkish-red, so you can skip the gloss or lipstick, too!
---
4

Burt's Bees Sun Protecting Lip Balm with SPF 8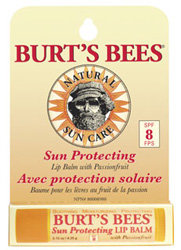 Price: $4.00 at burtsbees.com
Don't let the modest price tag fool you — this is a fantastic lip balm! It contains titanium dioxide, which is a natural sun block, not some harsh chemical. This lip balm is great for guys, too, since it doesn't include any gloss, and it's 100% natural. Perfect!
---
5

Fresh Sugar Lip Treatment with SPF 15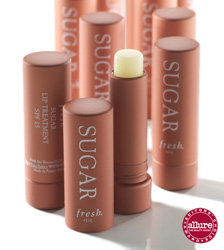 Price: $22.50 at fresh.com
If you're looking for a summer lip balm that will nourish and protect your lips, and leave them soft and kissable, then look no further! It's a bit of a splurge at this price point, but it's completely gorgeous and loaded with moisture-replenishing oils and real sugar… plus a little plumper…
---
6

Jack Black Intense Therapy Lip Balm with SPF 25 and Lemon and Chamomile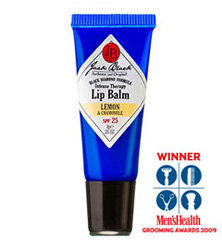 Price: $7.00 at getjackblack.com
I know, I know, Jack Black is supposed to be for guys, but I like this lip balm so much, I had to include it! It does exactly what the name implies — it replenishes and protects your lips under the hottest sun, harshest ocean-salt winds, and more. But it's not loaded with nasty chemicals, so it's also gentle…
---
7

Too Faced Love Lisa Lip Balm with SPF 15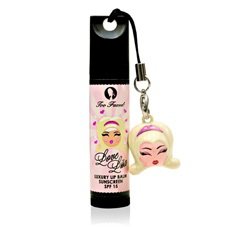 Price: $16.00 at toofaced.com
This little lip balm may seem expensive at first, then you realize (a) it's incredibly lush and sleek and (b) a generous portion of the proceeds from the sale goes to the Too Faced Love Lisa Melanoma Research Foundation Grant, dedicated to finding a cure for melanoma. Gorgeous, protected lips for a very good cause!
With so many marvelous summer lip balms to choose from, how will you ever decide? Maybe buy one of each, and keep them in different places… one in your gym bag, one if your school bag, one in your handbag, one in your make-up bag… see? Have you used any of these before? How much did you adore it? Please let me know!
---
Comments
Popular
Related
Recent