All fall, winter and spring, I'm wearing a cardi or a blazer, for added warmth and for the style of it. I love blazers especially, since they can be layered with just about anything, from skirts to leggings to skinny jeans. I'm always looking for a new one to add to my closet, and a quick peek at ModCloth (my fave online shop) has revealed some new ones I'm adding to my must-have list! Here are 8 gorgeous blazers.
---
1

Great Lunch Break Blazer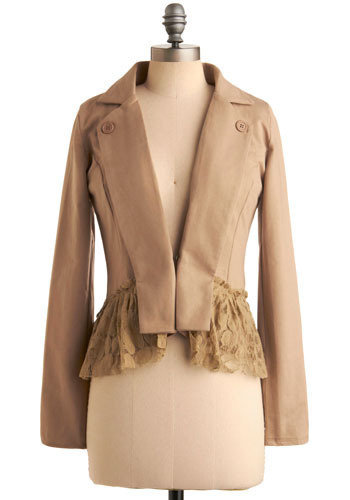 Price: $69.99 at modcloth.com
This blazer has the hallmarks of style — a fitted cut, rich detailing, and a neutral color. I love the lace frill around the bottom, and the cut of the bodice is so flattering! I'd wear this with twilly trousers and ankle booties, and with skinny jeans and a lacy scarf.
---
2

Afternoon Symphony Jacket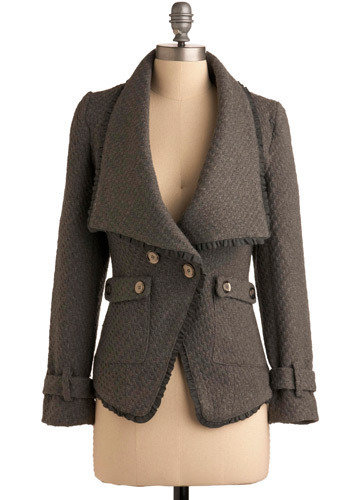 Price: $99.99 at modcloth.com
This looks like a perfect blend, half comfy sweater, half shapely blazer. The patch pockets are ideal for holding a lip gloss and small wallet, the neckline is supremely flattering (it's begging for a knit scarf), and the buttons add the final finishing touch.
3

Lace the Morning Blazer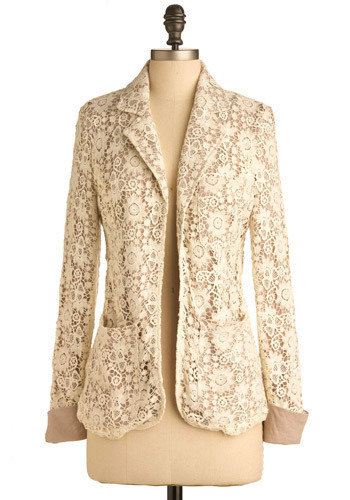 Price: $84.99 at modcloth.com
This lacy jacket is ideal for layering, not very warm, but it's all lace, so what did you expect? It's pale, creamy white lace over a tan cotton liner, perfect to wear over a thin sweater or sheer blouse, perhaps one with a floral pattern. Or pair with skinny jeans and a tank with a pretty necklace for a springy look.
---
4

Lenore Blazer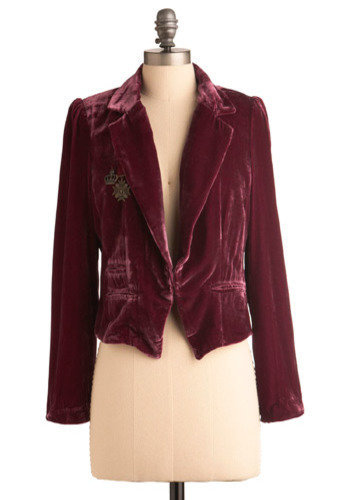 Price: $99.99 at modcloth.com
This slightly cropped, gorgeously fitted crushed velvet blazer is a stunning, delicious raspberry color, perfect to wear with jeans or a pretty floaty skirt. The sleeves are slightly puffed at the shoulder, the one-button closure cinches your waist, and the color makes even the palest emo winter complexion glow. What more could a girl ask for in a blazer?
---
5

Must Mean Business Jacket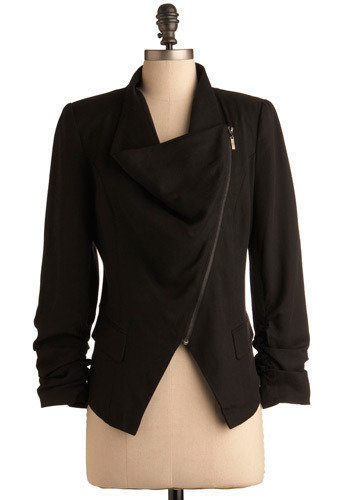 Price: $94.99 at modcloth.com
You already have the patterned tights, pencil skirt, and kicky ankle boots… why not add this zipper-flaunting black blazer, too, for a little 1980's punk-inspired sass? The neckline is draped, the cut slightly asymmetrical, the style all your own.
---
6

At Ease Jacket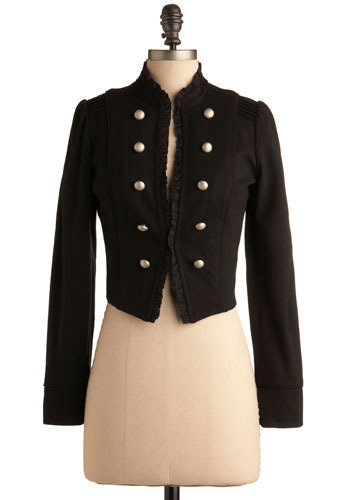 Price: $69.99 at modcloth.com
We know the military look is still hot, for this cropped black blazer is a sure sign. Its twin rows of silver buttons, its single hook-and-eye clasp, its crisp lines… all of these details make it a must-have! Layer it over a flirty girlie dress, or with white skinny jeans and tall lace-up boots. I love it!
---
7

Continental Cool Blazer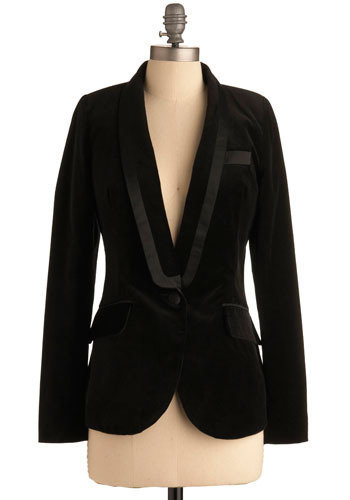 Price: $89.99 at modcloth.com
What's not to love about this lush velveteen blazer? The cut is flattering, skimming your waist. The color is s sumptuous inky black. The details are all shiny satin, and it's perfect for wearing with your favorite maxi dress, your best skinny jeans, or your classic pin-stripe pencil skirt.
Those are a few of the gorgeous blazers on ModCloth right now, and they're all so reasonably priced, however will you choose just one, or even two? They're all so trendy and versatile, they're all sure to make an impression in your wardrobe. Which of these pretty blazers do you like best, and what would you wear them with?
---
Comments
Popular
Related
Recent