COMMENT
Clutches are a great accessory for both day and night. My favourite design is the envelope clutch. Choose one in supple leather or go for bright patterns. You simply can't go wrong. Below are a few of my top picks.
1. Marc by Marc Jacobs Leather Envelope Clutch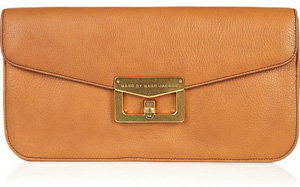 This clutch would make a chic addition to any wardrobe. I love the look of the light tan leather. The clasp is a twist-lock design and is stamped with the designer logo. This clutch is perfect for creating a sophisticated day look.
Asos Portfolio Envelope Clutch
Explore more ...