There are so few times in our lives we get to announce something as joyous and wonderful as the birth of a new baby, so when it's time to send those beautiful birth announcements, it's hard to choose the right stationary! When my daughters were born, I spent hours trying to find just the right announcement, agonizing over which design and colors I wanted, then trying to choose a photo and even the right words! One of my friends just had a baby, and we've been trying to narrow down her search of announcements. Here are our picks for 7 adorable birth announcements.
---
1

Birdie Vine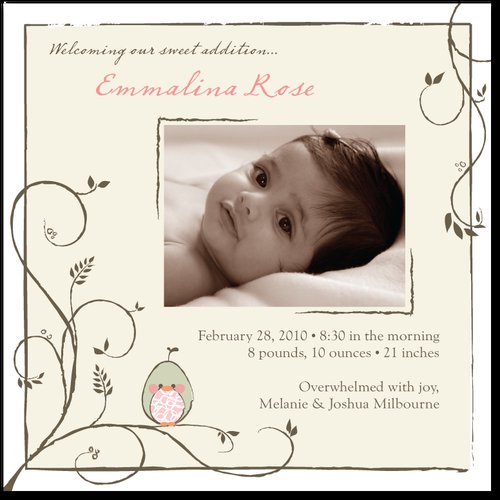 Price: $2.29 at tinyprints.com
These birth announcements are just adorable! They feature a round little bluebird perched on a branch, happy to announce your new arrival! These could work for a boy or a girl, but I think they're better fpor a girl. They're nice and big, too, allowing for a photo size of nearly two by three! There are also matching thank-you note and address labels.
---
2

Baby Yarn: Sea Blue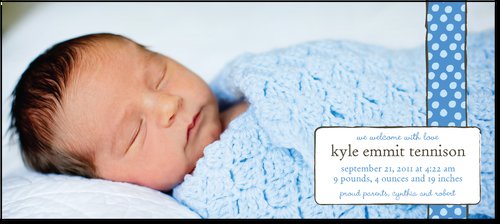 Price: $0.99 at tinyprints.com
These birth announcements are simple, elegant, and oh-so-sweet! They're ideal for letting the world know about your precious new little boy, and if you like this design but have a little girl, they come in pink strawberries, too! I love the design because it lets you use such a big photo!
---
3

Zoo Animals: Waterfall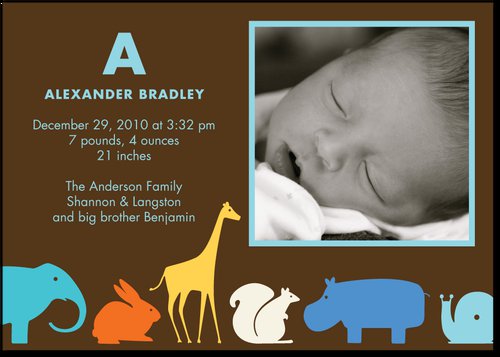 Price: $2.39 at tinyprints.com
Let a parade of animals help your new little one say "hello" to the world! I love the stark, simple animal images, and the bright colors are a pleasant departure from the pale pinks and blues of most announcements! So cute!
---
4

Fresh Wonder: Ballet

Price: $0.99 at tinyprints.com
If you just can't choose one photo of your new baby, don't even try. Use this sweet pink birth announcement and choose your four favorites instead! Use photos of mama and baby, or a big brother or sister with baby, or even a shot of the entire family... but save the big photo for your favorite shot of the baby, of course!
---
5

Baby Poster: Emerald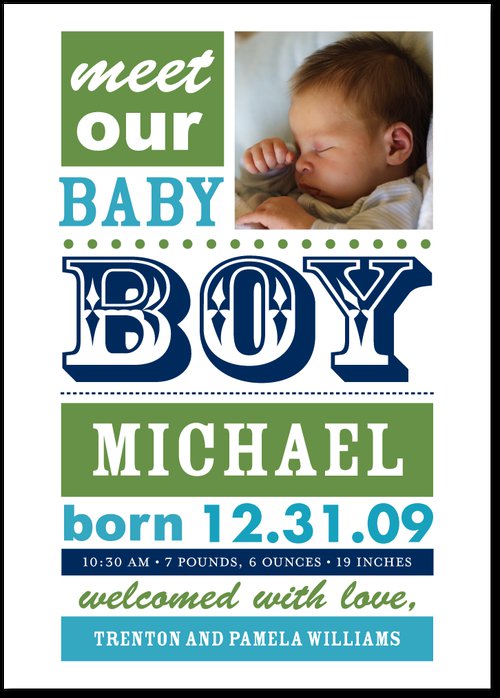 Price: $2.39 at tinyprints.com
This is such a cool vintage-inspired announcement! It's eye-catching, colorful, and so perfect for letting everyone know about your little guy! Be sure to save one for the baby-book...
---
6

Fairy Tale Princess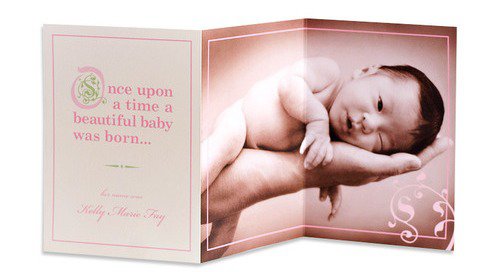 Price: $4.49 at tinyprints.com
Any story worth telling begins with "Once Upon a Time," and so can the story of your little princess. This is such a creative, keep-sake quality birth announcement! There are so many ink color and type styles to choose from, you'll be able to make this mini booklet exactly right for your little bean.
---
7

Mod Monkey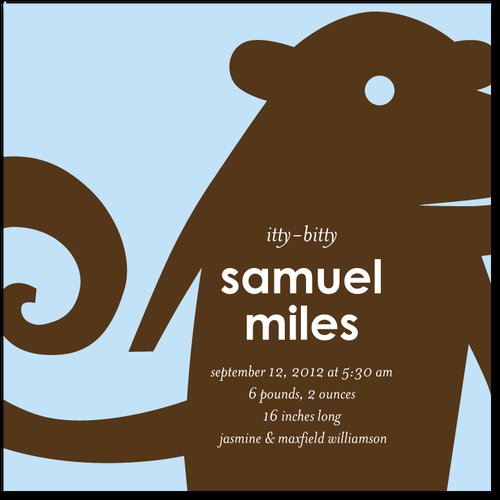 Price: $2.24 at tinyprints.com
He may be itty-bitty now, but you just know he'll be like his daddy when he was a little boy, a busy little monkey always into everything! Start celebrating that curiosity and joy now, with this wonderful announcement! Perfect for a little boy, isn't it? But there's no photo...
With so many absolutely adorable birth announcements, in so many styles, how will you ever choose just one for your little bean? Or even just two of them? I love them all, and I don't even have a baby to announce right now! But try... which one do you like best, and why?
More
---
Popular
Recent