So you got yourself a new sewing machine and you cannot wait to get your crafting groove on. If you have never touched a sewing machine before, you can't really expect to be making couture gowns right away. Most of the details of those gowns are done by hand, anyway. But getting back to the topic, you will want to start with easy sewing projects for beginners. Some of these will sound boring to you but trust me, they are needed for learning to sew straight, getting to know your machine, changing needles, etc., etc.
---
1

Curtains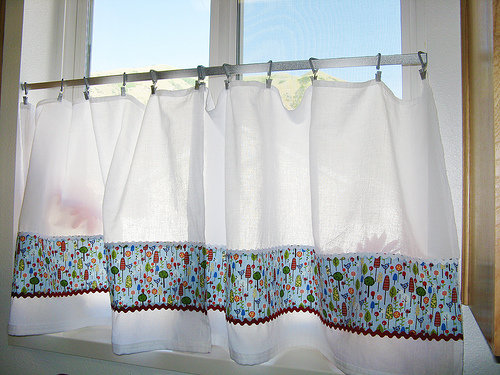 Photo Credit: jennecy
There are many types of curtains but I suggest you start with the simple kind with the curtain rod casing on top. This is a project that will take you less than an hour, measuring and cutting included. There is no need to consult a pattern; simply measure your window, cut your fabric, and go a-sewin! You may consult the curtains you already have in your house for ease of construction. To make your first project less boring, I suggest choosing a fun fabric or even embellishing the final product with scrap fabrics or lace.
2

Pillow Case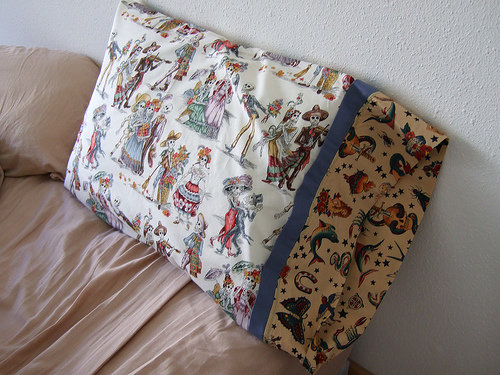 Photo Credit:bowena
This is another project where a pattern will prove quite useless. Unless, of course, you want a complicated case or one with a zipper. If you are up for an adventure, you can try those, of course. However, to avoid a day of unnecessary cursing, I suggest a pillow case of the simple kind. Again, this will be done in under an hour. The essentials include the pillow and a cheery fabric of your choice.
---
3

Apron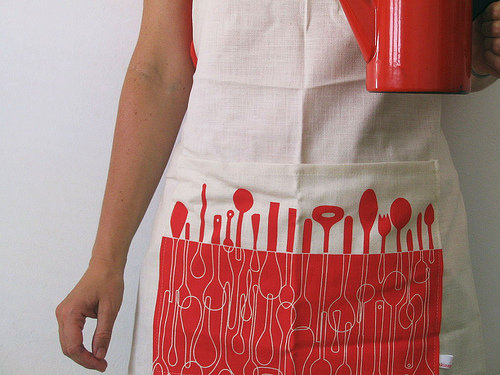 Photo Credit:skinnylaminx
A very easy version includes a rectangular fabric (edges sewn) and a 2-inch (width, not length) waistband that you can tie at the back. You can add pockets (again the simple kind). If you want your apron to look extra girly, you can add ruffles along the bottom. If you got yourself a ruffler, this would be a great opportunity to take it out for a spin.
---
4

Simple Skirt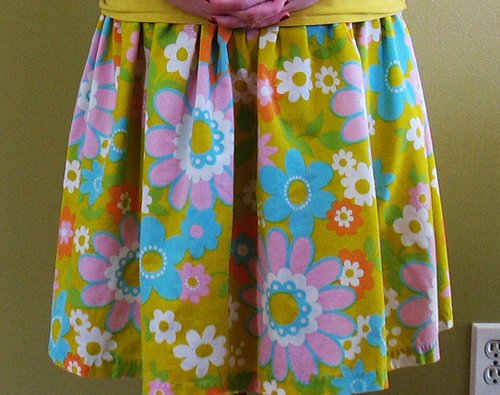 Photo Credit: lisaclarke
This is one of my go-to projects for a couple reasons. Firstly, this project is a great chance for me to make use of my smaller pieces of fabric. Another is that I just LOVE skirts. To sew this, the first steps are similar to sewing simple curtains, only in a much smaller scale, of course. In this case, the top casing is for the waist elastic and you will need two fabric pieces for the front and back of your skirt.
---
5

Tote Bag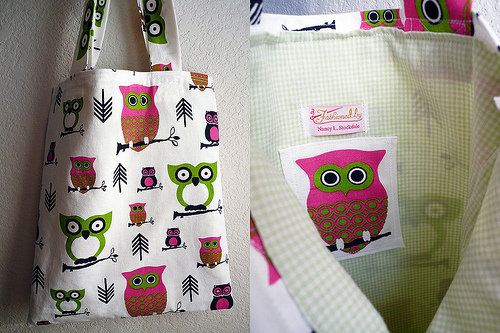 Photo Credit: futurowoman
This is basically a pillow case with straps. This is one of the great easy sewing projects for beginners because you will learn about sewing a lining or a gusset. You can even use interfacing to make your bag look and feel sturdier.
After giving these projects a go, you can then continue to making more complicated bags or clothing. There are wonderful websites and forums online where you can learn more on how to sew these easy sewing projects for beginners. One place I love is Craftster.
What are you crafting this weekend, ladies?
---
Comments
Popular
Related
Recent