Easter is on its way this weekend, and once the baskets have been found and the chocolate bunny de-eared, it's time to start thinking about how you'll share those gorgeous photos of you and your family. If you're a scrapbook-crazed mother, like me, chances are, you're already thinking about the pages you'll create. And for that, my dear, I have some ideas to share! Here are 7 pretty scrapbooking embellishments for Easter.
---
1

Jolee's Boutique Dimensional Spring Sticker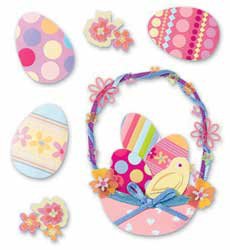 Price: $2.06 at archiversannex.com
Aren't these Easter stickers cute? They include an Easter basket, chock full of goodies, a few flowers, and a trio of brightly colored Easter eggs. Use them to decorate pages in your scrapbook, or your Easter cards. I love the convenience of using this type of sticker — they're acid-free, and self-adhesive.
---
2

Happy Easter Double-Sided Paper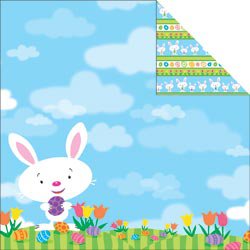 Price: $19.75 for 25 sheets at archiversannex.com
This super-adorable paper has a secret — it's two-sided! Use a clear page protector, then feel free to decorate both sides with your favorite Easter photos. I love the side with the bunny on it… but the reverse, featuring row after row of cuteness, is great, too!
---
3

Inkadinkado Mounted Rubber Stamp "Easter Delivery"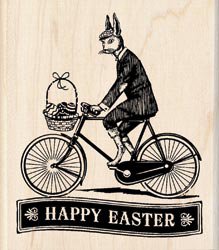 Price: $10.99 at archiversannex.com
I love this vintage-inspired Easter bunny! He delivers his baskets the eco-friendly way, on a bike, but he still looks dapper. Use him with any color ink you like, and decorate cards or scrapbook pages. The stamp is rubber, and the handle is wood.
---
4

Colorbox Pigment Paintbox Option Pad 8 Colors

Price: $18.50 at archiversannex.com
Speaking of rubber stamps, you'll need to ink them to use them, and what better way to ink your Easter stamps than with this ink pad, which includes 8 spring-time colors —lemon grass, citrine, mango tango, wild hare, razzberry, true blue, and picante — each on their own sponge.
---
5

Happy Easter Quote Stickers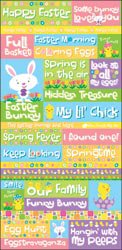 Price: $1.99 at archiversannex.com
This sheet of stickers coordinates with the double-sided paper from this list, and it includes a bunch of quotes and cute shapes. Use them to personalize cards, or to add a little extra charm and cuteness to your scrapbook pages.
---
6

Happy Easter Cardstock Stickers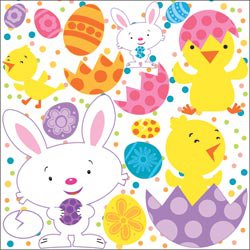 Price: $3.49 at archiversannex.com
Look! These heavy-duty cardstock stickers also match the Easter paper, and the stickers above! The sweet little bunny is joined by three yellow chickie friends and a trove of brightly-colored eggs, ready to add color to your cards and sweetness to your scrapbook.
7

Expressions Rub-Ons

Price: $2.99 at archiversannex.com
What a cute poem! Use this rub-on to add the little poem to your Easter scrapbooking pages: bunnies are cuddly, the large and the small, but the chocolate ones are the best of them all. I agree!
These are just a handful of the Easter-themed embellishments I'm considering for my pages this spring… I love the rub-ons, and that first set of stickers is adorable! Which of these scrapbooking embellishments will you use for Easter, or is there something marvelous you've found that I've left off my list? Please share!
Top Photo Credit: janesaysshop
---
Popular
Related
Recent