Tomato sauce can be fantastic or flavorless, divine or dreary and is often revered as a skill to master. **Restaurant-style sauces **are much more appealing to the senses, but often difficult to replicate at home for special occasions and a near impossibility for everyday dining. With an appealing innovation that will excite sauce lovers, the new Bertolli® Premium Pasta Sauce in a pouch delivers three tempting recipes in a convenient microwavable pouch for two that cooks in only 90 seconds.
"**Bertolli Premium Pasta sauce** in a pouch are excellent option for the home chef, because they offer convenience without sacrificing quality," according to famed celebrity chef Rocco DiSpirito.
"My passion for empowering the home chef has allowed me to appreciate and rely on short cut foods such as Bertolli's new sauce pouch, to help encourage people to be enjoy cooking at home with creative and fresh ingredients to add quality of any dish you prepare."
Bertolli® Premium pasta sauces in a pouch are restaurant inspired sauces. Each sauce features "hero" ingredients (like succulent olives, earthy mushrooms, and plump plum tomatoes) in a thick base of crushed tomatoes. They are then finished off with sautéed onions and garlic; and 100% Bertolli® Olive Oil, aimed to inspire discerning palates.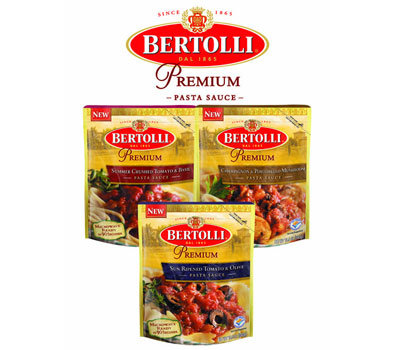 They are quick and easy to prepare, ready in 90 seconds, allowing more time to savor and enjoy a dinner for two. Available in three delicious varieties: Champignon and Portobello Mushroom a complimentary combination of earthy champignons and tender portobellos; Sun Ripened Tomato and Olive - a celebration of ripe and plentiful black olives; and Summer Crushed Tomato and Basil a dedication to ripe plum tomatoes, basking in the summer sun and harvested at the **peak of freshness. **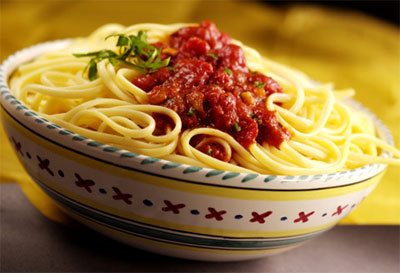 With this new innovation, Bertolli wants to encourage couples to reconnect with each other by providing restaurant quality meals at home 365 nights a year. Reconnecting with a loved one over a meal sets the stage for a romantic evening, allowing the cook to focus on his/her partner rather than hours of preparation.
For more information about Bertolli Pasta Sauces, Skillet Meals and Olive Oils, Bertolli visit Villa Bertolli