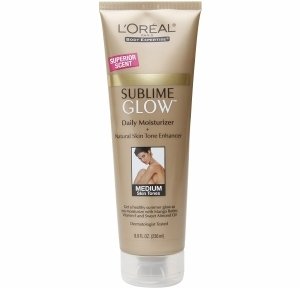 L'Oreal Sunless Sublime Glow Daily Moisturizer, Medium Skin Tones ad.linksynergy.com
After much reading about different body tanners out there, I thought I would try the 'Mercedes' of the bunch so far. At least from what I've read. Loreal's Sublime Glow, in Medium. Why not Light? Well, I just don't wanna wait, that's all.
Their ad states:
100% natural looking gradual glow.
Radiant light-capturing micro-pearls.
Daily dose of moisture.
Easy, ultra-easy application.
Superior fragrance.
Personalized for fair & medium skin tones.
And in the midst of great experiments, (or maybe great insanity) I thought I'd post via sound... let me know what you think!
Day 1: First application.
Overall I am very happy with the first application. Look and feel of the product is great and so far, color results are nice with a different color tone than I thought! Click on the odeo link above to hear more!
Day 2: Second application.
Oh what a difference a day makes! And it's not what you think. Or maybe I just had a bad day. I've got streaks going on... and it's not a pretty sight.
Day 3: Third Application
Finally, my last and final day of using Loreal's Sublime Glow. Am I streak-free? Did I get the right tan color? Would I buy it again? I give this product a medium rating. Listen to my podcast and find out why.
L'Oreal Sunless Sublime Glow Daily Moisturizer, Medium Skin Tones ad.linksynergy.com @ Drugstore.com Free shipping on $29+ orders.
PRODUCT UPDATE: Did you hear my last podcast? Well if you did, you may just be surprised to read my update. It's been 5 days since my last application, and though my tan has faded slightly, best news is it'sonly faded slightly. Color still looks great and is a beautiful warm honey tan. And the feel left after one day. So it goes to show you that it may not be the product, but how you've used it. I may have been overjealous in using it 3 days in a row, and I can see that using it maybe once a week may be better results in the long run, though, let me just state, itsdoes say "daily moisturizer" on the bottle. So if you're looking for warm glowing results, try the once a week routine, instead of how I did it. You just may find yourself liking it!
Click for more info on L'Oreal's Sunless Sublime Glow Daily Moisturizer.
Don't see our online podcasts? Click on our Odeo buttons in our sidebar to see our Podcast page.
Click on to subscribe to our Podcasts.
"Hi, this is Elke. Have a beauty question or something you'd like to hear on my podcast? Leave me a message after the beep."
Source: Loreal
, Sublime Glow, body tanner, audiocast, odeo