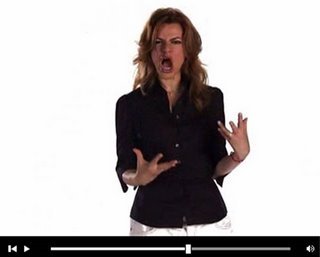 On the new, and rather unfortunate, ban on liquids in carry-on luggage, Sandra Bernhard has **this** to say in today's New York Post: "If they try to take my MAC lip gloss at the airport, they are looking at World War III!"
When a famous mouth speaks, people listen!
**Click here** to watch this brazen, controversial (of course - it's Sandra Bernhard after all) video of Sandra for MAC, mouthing off on the the merits of a nicely plumped lip.
The occasion? The launch of **Plushglass**, MAC's first foray into the world of lip plumpers. Being somewhat of a plumper aficionado myself, I was just itching to give it a whirl.
Plushglass has a smoother texture than original Lipglass, smells deliciously of vanilla and cinnamon, and plumps your pout without the harsh burning sensation of some of the others. It tingles for a few minutes upon application, but it's a pleasant tingle - this is not a lip plumper for masochists who like the feeling of their lips burning off. Plushglass just feels great on the lips - supple, smooth, and very shiny.
Its staying power is impressive. I slicked some on before bed last night (which you might say is a waste of product, but I had just brought it home and couldn't stop playing with it), and to my surprise, it was still on when I woke up! When does one ever wake up to shiny, plump lips?
**Plushglass** is a permanent part of the MAC collection and is available in 12 gorgeous shades. My favorite of the moment is Pretty Plush, a sheer, pale pink (much lighter than the one at left, which I also love), with superfine white pearly shimmer. It's great on its own, with a smoky eye, or layered on top of lipstick or liner.