Each and every season there are several new nail colours that we're told are must-haves. Sometimes it's just not feasible to buy a large bottle of each. If value for money is what you're after, then look at investing in some nifty nail polish sets. They are often compiled to correspond with seasonal trends, and can come in handy miniature-sized bottles. Take a look at a new nifty nail polish sets below.
---
1

Essie 'Sweet' Mini 4-Pack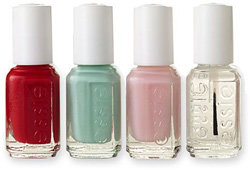 Price: $17.00 at shop.nordstrom.com
These nail polishes will take you through the spring/summer months. This nail polish kit features three colours and a 3-way glaze nail treatment. This set consists of 'Lollipop', 'Rock Candy', and cult favourite 'Mint Candy Apple'. The pale pink and mint colours are on trend for this season and the red polish is a timeless favourite.
---
2

Love & Beauty 'Hearbreaker' Nail Polish Set

Price: $9.80 at forever21.com
For under $10 you'll receive six different nail polish shades. As far as nifty nail polish sets go, this is definitely value for money. There are a range of different polishes in this set, from glossy reds to pale pinks. The polishes also come in different finishes including glosses, shimmers, and glitters.
---
3

Sephora by OPI 'Havana Nights' Mini Collection
Price: $18.00 at sephora.com
The colours in this set are said to be inspired by the 'sophisticated glamour' of the Havana district. They definitely invoke feelings of being whisked away to a tropical island paradise. There are two glitter polishes and two glosses in this set. They all have long-lasting and chip-resistant formulas.
---
4

Deborah Lippmann 'Start Me up' Set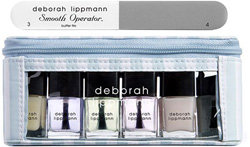 Price: $44.00 at shop.nordstrom.com
For its $44 retail price, you are supposedly getting $70 worth of value with this nail kit. This kit contains nail 'essentials' which includes cuticle oil, base coat, and nail lacquer. The purpose of this kit is to prep your nails for the perfect manicure. The only nail lacquer included in this set is a neutral soft pink polish.
---
5

Love & Beauty 'Watercolour' Nail Polish Set

Price: $9.80 at forever21.com
This nail polish set contains three glosses and three shimmers. All the polishes are of the softer end of the colour spectrum. There are cool whites, pastel blues, and shimmer peaches. The colours are fresh, youthful, and perfect for the warmer months.
---
6

Deborah Lippmann 'Sparkle Mini' Set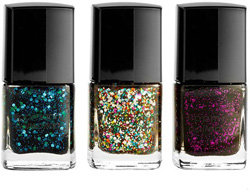 Price: $30.00 at shop.nordstrom.com
This set of nail polishes is guaranteed to dazzle. It contains three of Deborah Lippmann's best selling glitter polishes. There's a multicoloured glitter, blackened fuchsia, and metallic blue-green glitter polish. Nifty nail polish sets such as these would be great for prepping party nails.
---
7

Yves Saint Laurent 'Manicure Coutoure' Duo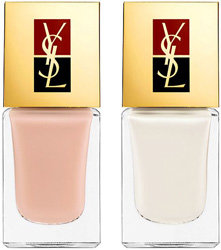 Price: $30.00 at shop.nordstrom.com
For those who prefer classic and fuss-free nails, look at manicure kits and duos. This YSL duo contains one soft pink polish and one white polish. Use the pink polish as the base and the white for the tips. This nail polish kit would make a luxe treat or an excellent gift.
---
8

Sephora by OPI 'Glee' 6 Piece Mini Kit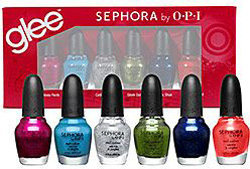 Price: $24.00 at sephora.com
There may be all sorts of reasoning behind which colours to include in nifty nail polish sets. The six polishes in this set are said to be inspired by the characters of the popular TV show Glee. Three of the colours are exclusive to this mini kit. This nail polish kit is definitely one for the 'Gleeks'.
There are plenty of nifty nail polish sets available. It's just a matter of hunting down one that's the right fit for you. Which of these nail polish sets do you like most?
More
---
Popular
Recent