The Definicils Mascara is said to be the best selling Lancome mascara. Featuring a patented brush this mascara was designed to lengthen and define lashes while maintaining a natural look. Well, that's what its product claims are. But let's see if this wonder mascara is as wonderful as its product description...
** Type of Mascara:** Defining & Lengthening
** Colors Available: **Brown, Deep Brown, Navy, Indigo Royale, Aubergine Royale, Black, Deep Black
** Price Range:** Expensive
Product Description:
Define your look naturally! This best-selling mascara shapes and defines to create long, beautiful lashes. The patented brush coats each lash evenly from base to tip for perfect separation with no clumping.
The exclusive formula contains bio-selective polymers that cling to the damaged rim of each lash scale, thus adhering to the lash via a system of electric attraction. Its brush is made of Rilsan bristles and is designed to release the mascara gradually upon application, thereby depositing the same amount of product onto each lash for a uniform result.
My Experience:
I'm always on the look out for a mascara which separates and defines my lashes, so when I saw this product, I was immediately attracted by the name! With the first brush stroke I was impressed - each lash was individually coated and there was definite definition! It was a clean application with no clumpiness but it did seem to take longer to dry than other brands. I think the brush is the main selling point, I loved how it combed and coated each lash separately from base to tip. It is expensive but I'm willing to pay more for Lancome products as they are very high quality and I have never been disappointed.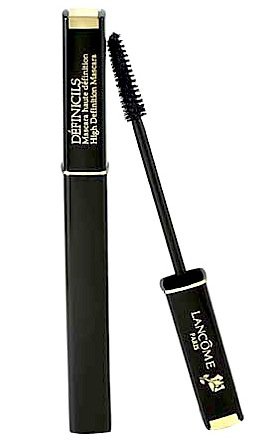 ****
My Rating: Excellent
Price: $24 at sephora.com
Have you tried the waterproof version of Lancome Definicils mascara? I find waterproof mascara so difficult to remove - did this mascara take a lot of work to remove?
More Fabulous Mascara Reviews:
• 5 Best Mascaras - Expert Reviews …
• Shu Uemura Basic Mascara - Expert Review …
• Lancome L'Extreme Mascara - Expert Review …
• Lancome Definicils Mascara - Expert Review …
• Dior DiorShow Iconic Mascara - Expert Review …
• Yves Saint Laurent Mascara Volume Effet Faux Cils Review …
• Maybelline Great Lash Mascara - Expert Review …
• 8 Great Mascaras for Thin Lashes …
• 51 Best Mascaras for Every Budget …
More
---
Comments
Popular
Recent