Well, the other day, my makeup team and I had the great honor of being the makeup team for Showtime's major press conference for the TCA (TV Critics Assocation) to promote their new line of shows coming up in a few months.
What did that mean?
We got to work on the cast of:
Huff
Brotherhood (a new show)
and a couple others.
Me? As the head makeup artist, I was requested to do makeup on Angelica Houston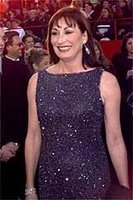 (SUCH a sweetheart! And watch out for her to quest star on Huff!),
Blythe Danner (yes, Gwen Palthrow's mom! A doll!),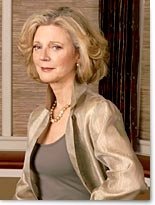 Hank Azaria (sooo funny!)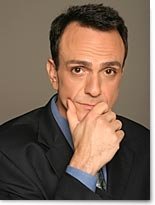 and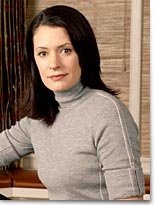 Paget Brewster (who plays his wife on Huff, and sooo beautiful!)
and my favorite
Fionnula Flanagan (remember her as the maid in The Others with NIcole Kidman? And also Tinsey in The YaYa Sisterhood movie.)
The whole day went super smooth, fun and without a hitch thanks to my great team. And I can breathe a sigh of relief! Not a demanding celebrity in sight, which is rare! They were the sweetest, nicest we've ever met. So if you see anything about Showtime's new lineup on Entertainment Tonight and The TV Guide Channel, well, that was us!
A funny part of the day was when one of my assistants realized that she powdered the nose of the President of Showtime. She was thrilled that she didn't know how it was at the time. LOL
Another funny part was when we got to take a break for lunch. We were told lunch was in the "Green Room", and to us, that usually means craft services. Or in other words, sandwiches, M&M's, Pepsi and potato chips. That sort of thing. Not here! Here lunch meant, mango salmon, 5 types of coffee, 4 kinds of salad, 10 types of desert, and on and on. Oh, and don't forget the cavier. At first I went, huh? What's this? Oh yeah. Cavier. Gulp! Needless to say, we felt like WE were the celebrities. Everyone at Showtime was super nice and helpful (though stressed!) but at the end of the day, it was a joy.
Enjoy today and today I'm off to a photo shoot for Zinc magazine! Wish me luck!
Elke