Cowboy, hooker, mini-me's a.k.a. booties, thigh-high, leather, suede, peep-toed – the **trendiest boots **for this fall come in all colors, shapes, names and sizes.
Whether you plan to steal the show or demurely stay in the background, you'll definitely look your best wearing these boots that we picked out!
Check out what the hottest designer boots for fall look like.
---
1

Alessandro Dell'Acqua

Suede bootie with PVC and Astrakhan detail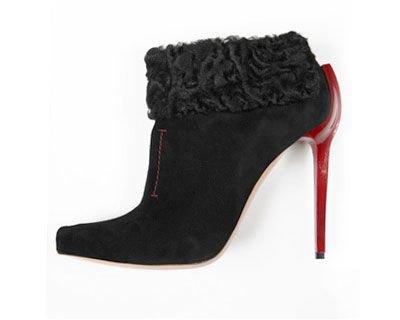 No matter what the season is, black is always in fashion – and this suede bootie from Alessandro Dell'Acqua is among the best in our list.
2

Alexander McQueen

Leather bootie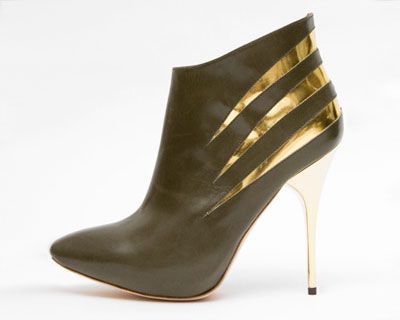 The color of the leather used in these booties from Alexander McQueen has an interesting shade – which is set off by that gold detailing on the back. All in all, it's simply fab!
---
3

Alexandra Neel

Napa Madmax boot with fur trim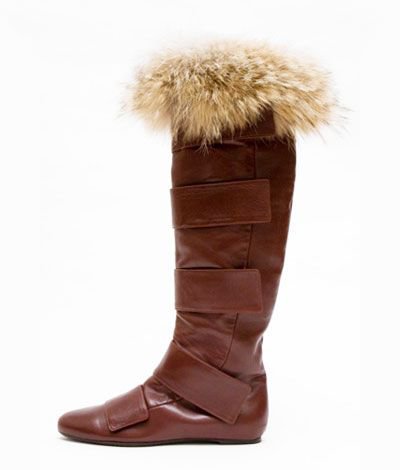 I am a big fan of anything furry and frilly – and the fur trim detailing on this pair of Alexandra Neel Napa Madmax boots is just gorgeous!
---
4

Bally

Napa platform boot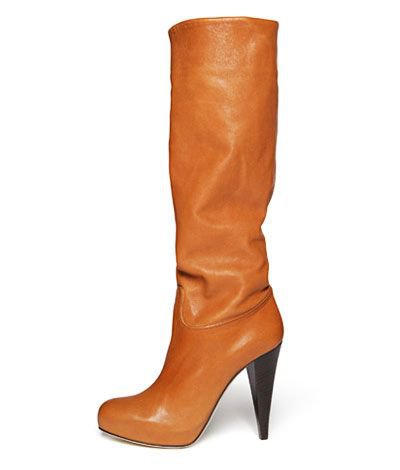 Lend a bright hue to an otherwise muted-colored outfit with a pair of Napa platform boots from Bally.
---
5

Bottega Veneta

Leather lace-up bootie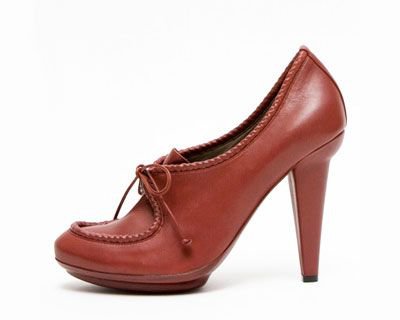 All year-long, we've seen booties dominate the fashion industry. This Bottega Veneta leather lace-up bootie is a perfect reflection of what fall season is all about.
---
6

Brian Atwood

Metallic ankle boot.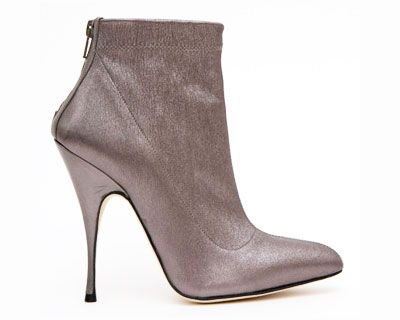 I love everything about these Brian Atwood ankle boots – the zip at the back, the metallic color and the way that the toes are shaped. I simply gotta have 'em!
---
7

Bruno Frisoni

Patent leather bootie with gold ruffle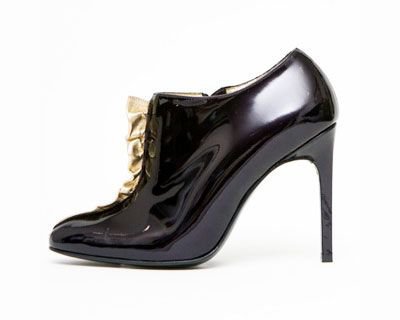 Another trend which is hot this fall season is the feminine touch on otherwise 'manly' clothes and shoes. This patent leather bootie looks like Oxfords – but they're given an adorably feminine twist with that gold ruffle detailing.
---
8

Calvin Klein

Melange python papyrus heel boot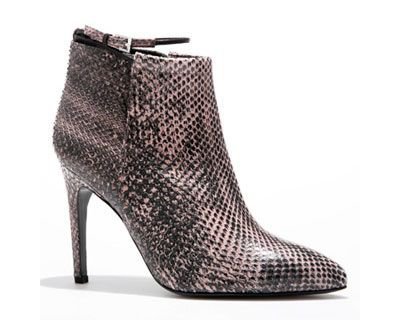 Snakeskin, crocs and alligator skin are seeing a comeback in the runway. Feel perfectly trendy in a pair of Melange python papyrus heel boots from no less than Calvin Klein.
---
9

Chanel

Leather Button Up boot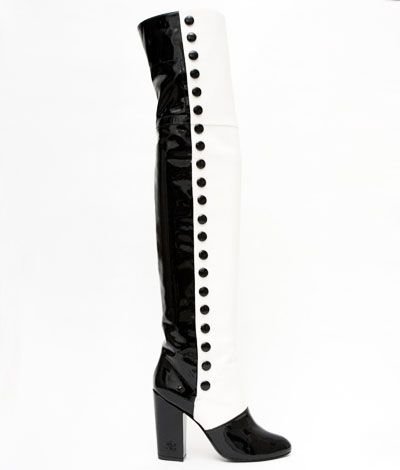 This Chanel leather button-up boot just plain screams black-and-white fashion!
---
10

Christian Lacroix

Leather ankle boot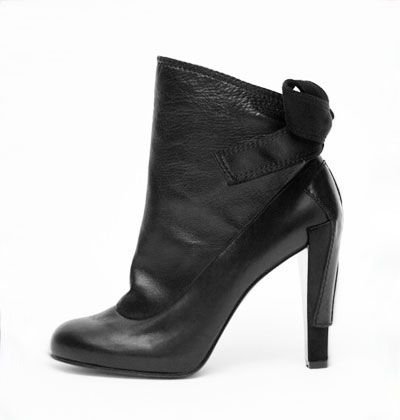 Awww – I absolutely love the romanticism behind the design of these leather ankle boots from Christian Lacroix. That's what I call ultra-femme!
---
11

Christian Louboutin

Leather and suede high-heel boot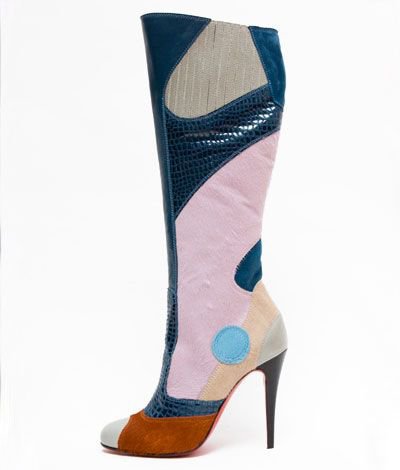 Feel like a modern-day hippie by getting a load of the splash of colors in this leather-and-suede high heel boot from Christian Louboutin.
---
12

Diane Von Furstenberg

Ponyhair bootie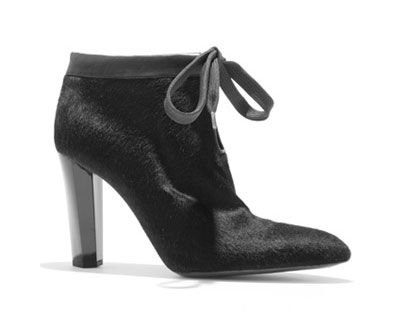 I bet that those who have this pair of Diane von Furstenberg bootie can't get enough of the texture of that ponyhair!
---
13

Derek Lam

Leather Pilar ankle boot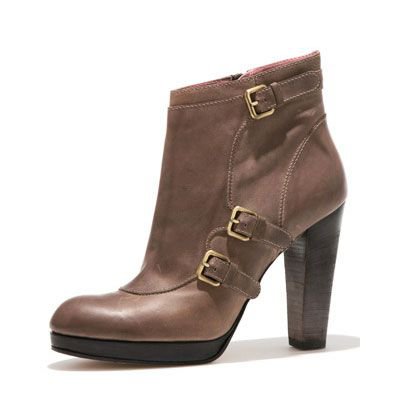 Modern, sophisticated and chic has always been the signature design of Derek Lam. Be all of that and more by wearing these leather Pilar ankle boots.
---
14

Donna Karan

Suede high-heel moccasin bootie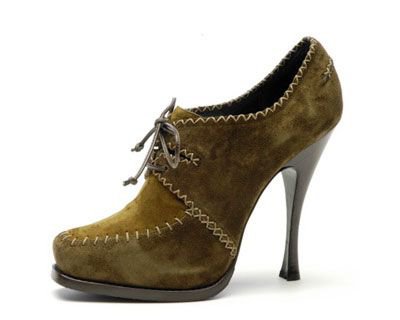 Designer Donna Karan has a surefire runway winner with these exquisite suede high-heel moccasin booties.
---
15

Dolce & Gabbana

Crocodile and suede mid-calf boot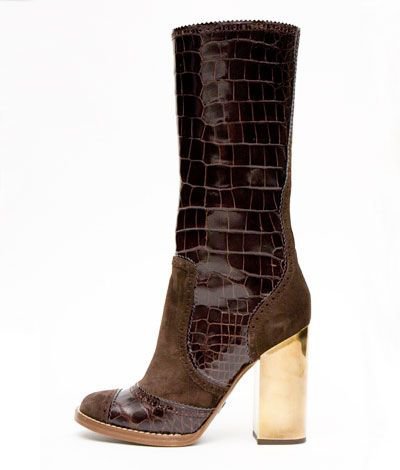 Fell like a million dollar diva – not just from your toes to your mid-calf – but all over! This pair of Dolce & Gabbana croc-and-suede boots screams luxurious.
---
16

Emilio Pucci

Patent leather lace-up boot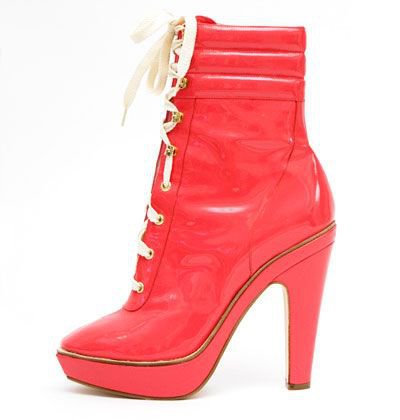 The loveliness and brightness of the color of these Emilio Pucci boots are enough to make me squint with delight!
---
17

Fendi

Suede bootie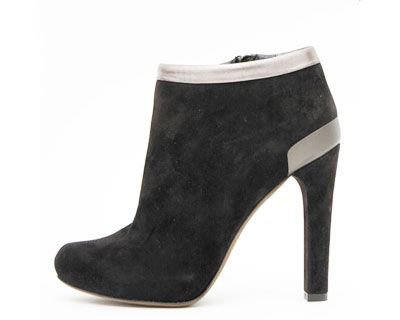 This hot-off-the-runway pair of suede booties from Fendi can be worn with your most casual – or most dressy outfit.
---
18

Giorgio Armani

Suede platform ankle boot with bicolor piping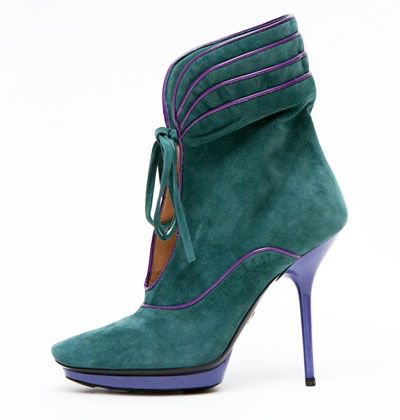 W-o-w! That exquisite detailing on top of this Giorgio Armani ankle boot reminds me of a proud peacock – complete with the dazzling colors!
---
19

Givenchy

Leather wedge boot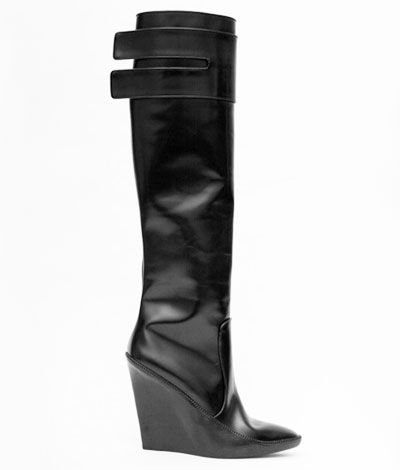 I personally haven't seen a pair of leather boots with wedge heels in a long time – so I'm glad that Givenchy decided to revive the trend.
---
20

Gucci

Suede bootie with stud detail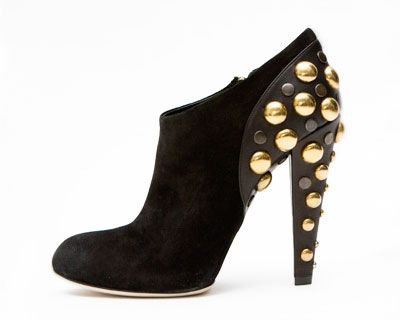 The label's Gucci, the material's suede and the detailing's gold – what more can you ask for from a pair of booties?
---
21

Hogan

Leather and suede Ginger boot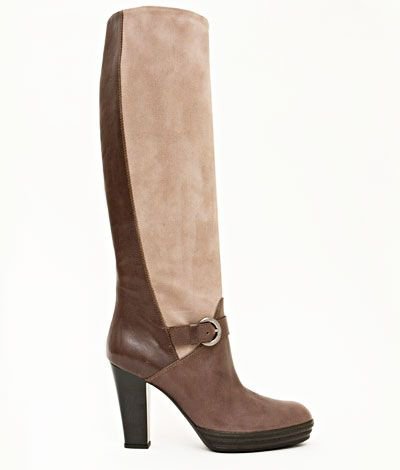 The luxurious texture of leather and rich suede are perfectly combined in this pair of Ginger boots from Hogan.
---
22

John Galliano

Suede platform bootie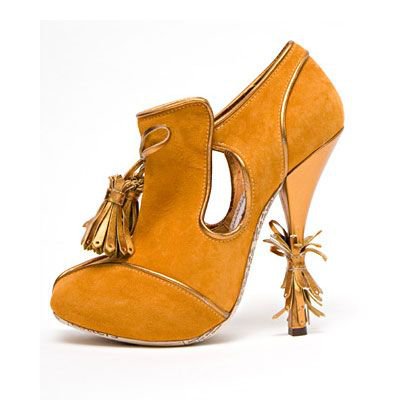 Tassels have never looked more glamorous! Check out how the tassels are incorporated on this suede platform bootie by John Galliano.
---
23

Lanvin

Metallic bootie with lacquered cone heel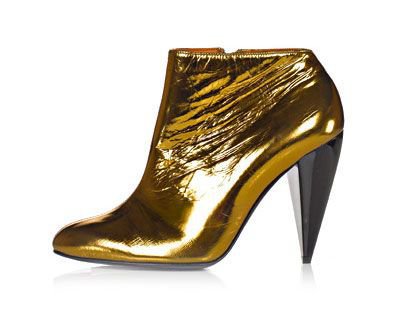 These metallic booties with lacquered cone heels will make all that sophistication ooze out of you when you wear them!
---
24

Manolo Blahnik

Patent leather peep-toe bootie.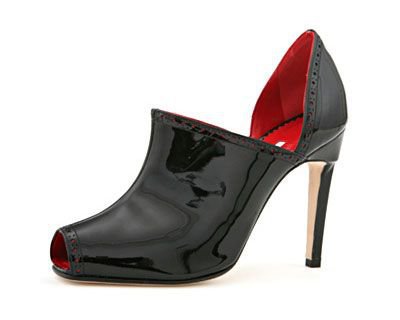 Carrie Bradshaw's fave Manolo Blahnik joins our list of the hottest designer boots for fall with his patent leather peep-toe booties. Hello, lover!
---
25

Jil Sander

Suede boot with wood heel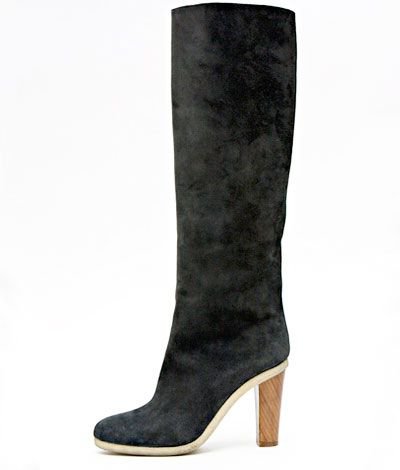 Luxe-minimalism is how NYMag.com described the look of the Jil Sander label. That's the exact look that you'll achieve by wearing this pair of suede boots with wooden heels.
---
26

Miu Miu

Leather lace-up boot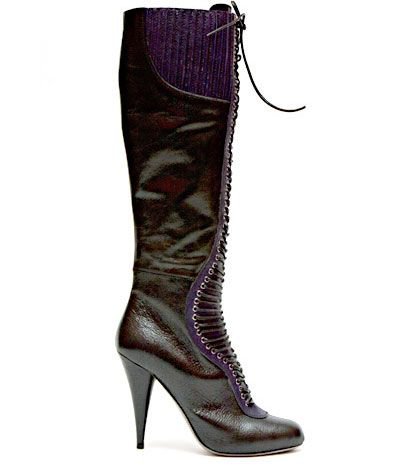 Be a daring diva in this pair of leather lace-up boots by Miu Miu. I'm definitely a fan of the combination of that rich chocolate leather hue and the purple detailing!
---
27

Marni

Ankle Boot with Wood Platform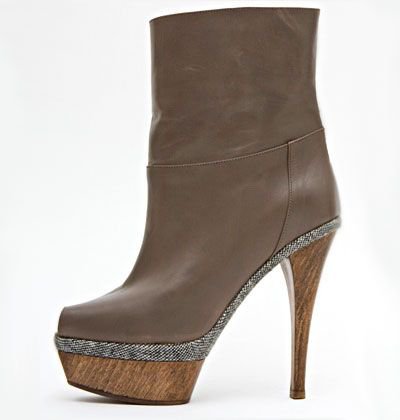 Add sophisticated inches to your height with this sleek ankle boot with wood platform by Marni.
---
28

Marc Jacobs

Leather bootie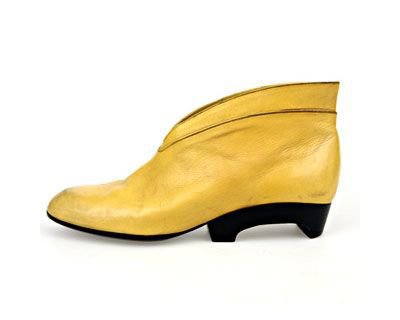 What do you think of that weird-looking contraption on the heels of this leather bootie from Marc Jacobs? They look sorta 'space age-y' to me!
---
29

Missoni

Patent leather ankle boot with stud detail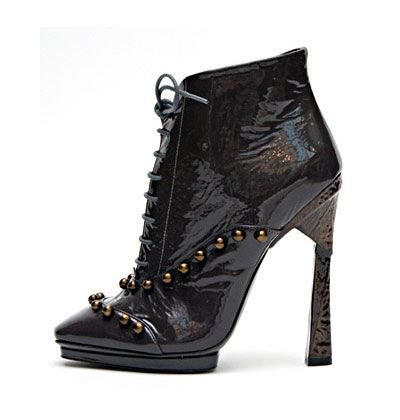 Get a load of all that rich, patent leather and stud detailing on this pair of ankle boots by Missoni – they're so sexy!
---
30

Proenza Schouler

Suede mid-calf boot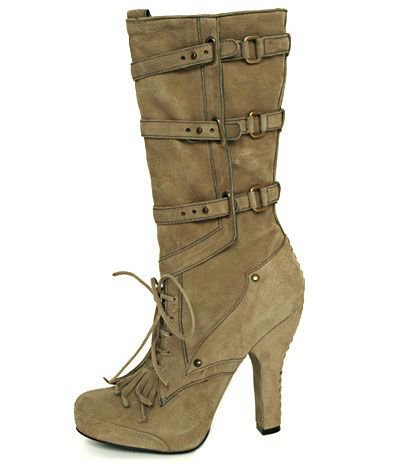 I've always loved wearing mid-calf boots – I think that they make anybody's legs look a mile-long. This suede boots from Proenza Schouler is a personal fave.
---
31

Prada

Leather ankle boot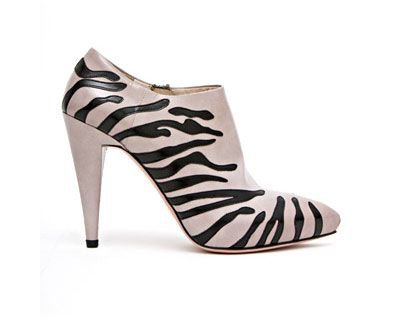 Oohh – Prada! If you're looking forward to unleashing the inner animal in you, you'll definitely roar with delight when wearing a pair of these leather ankle boots.
---
32

Pierre Hardy

Suede ankle boot with beveled heel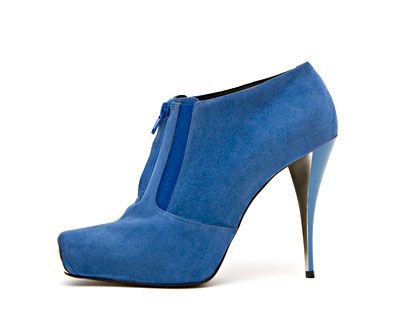 I'm head-over-heels in love with the color of these suede ankle boots with beveled heel by Pierre Hardy.
---
33

Nina Ricci

Suede platform bootie with sparkle overlay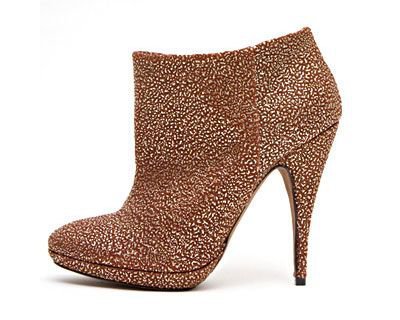 Be as glittery as you want to get with this Nina Ricci suede platform bootie with sparkle overlay.
---
34

Oscar De La Renta

Leather knee-high boot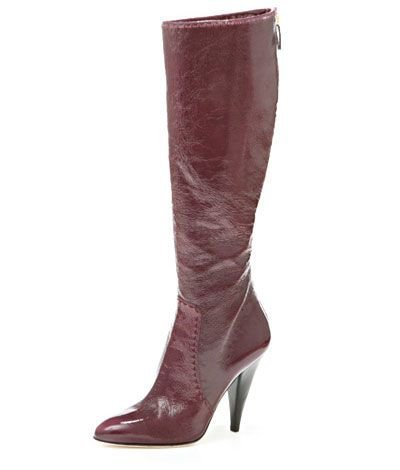 If the label name isn't enough to make you swoon – the maybe the utter sexiness of the design of this leather knee-high boot from Oscar dela Renta will do the trick?
---
35

Narciso Rodriguez

Leather thigh-high boot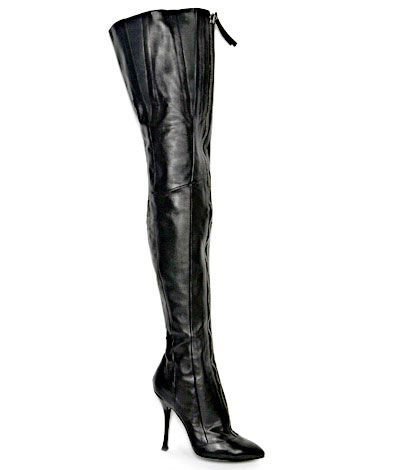 Talk about thigh-high – take your inner sex kitten to the next level by wearing this Narciso Rodriguez leather thigh-high boots!
---
36

Ralph Lauren

Suede Cheshire bootie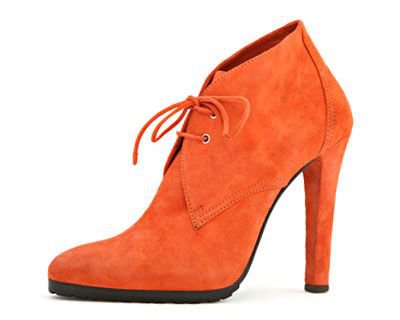 No best shoe collection list will ever be complete without an entry from Ralph Lauren. This suede Cheshire bootie is another one on my must-buy list!
---
37

Roger Vivier

Elastica boot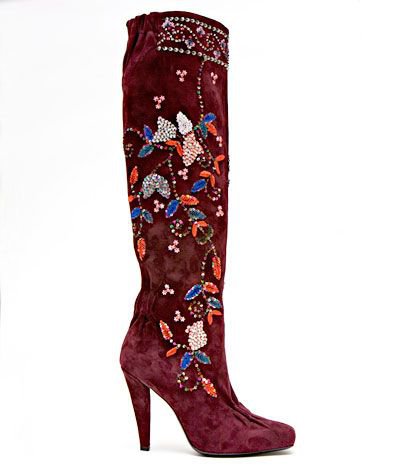 The design on this Elastica boots from Roger Vivier is all about fall – flowers, leaves and that rich purple hue is so in this season!
---
38

Stella McCartney

Damask platform boot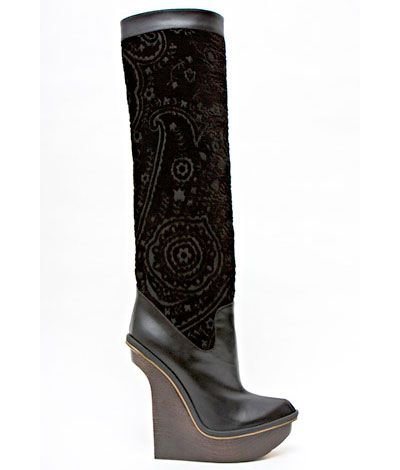 I don't know yet how I'll be able to walk with the heels of these damask platform boots – lol. But Stella McCartney sure knows her stuff – just take a look at that luxurious design!
---
39

Sergio Rossi

Crocodile boot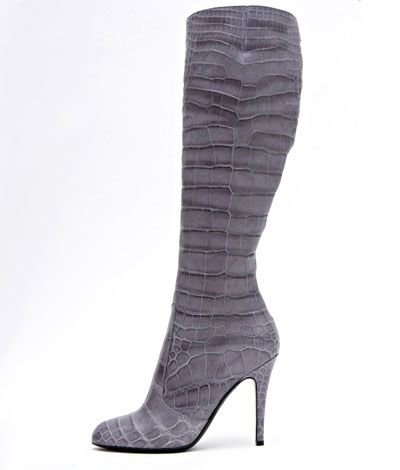 Take the animal-skin mania to an entirely different level with this crocodile boot by Sergio Rossi.
---
40

Tory Burch

Crocodile-printed patent leather Leigh bootie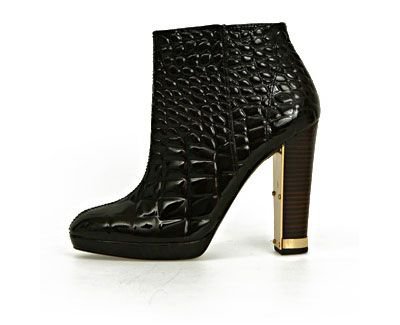 I absolutely love how the croc-pattern goes from big to small in this patent leather Leigh bootie from Tory Burch – the design's just plain innovative. I bet I'd look great wearing these – lol.
---
41

Valentino

Leather boot with button detail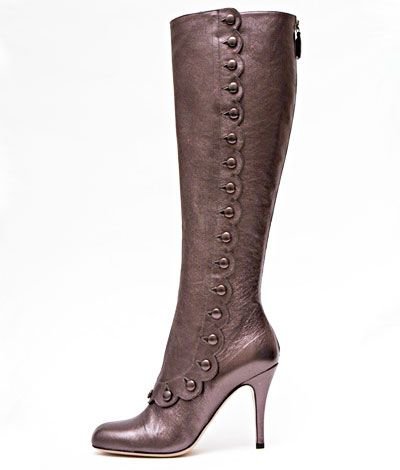 This Valentino leather boot with button detail is nothing if not romantic – it'll make any happy ending fanatic sigh with delight.
---
42

Jonathan Kelsey for Mulberry

Leather knee-high boot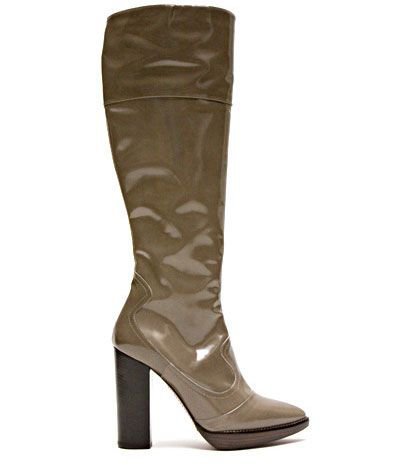 Utterly chic and sophisticated is how I will describe this leather knee-high boots which is designed by Jonathan Kelsey for Mulberry.
---
43

Tod's

Suede Lulu bootie with fur trim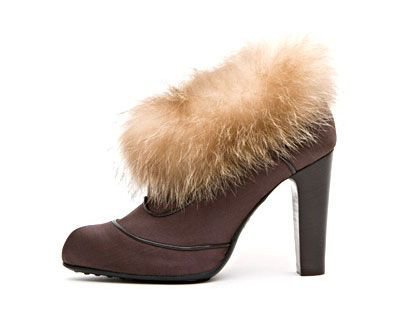 Talk about fun, high-end fashion! This suede Lulu booties with fur trim is fun, sophisticated and ultra-feminine – I am so loving it!
---
Comments
Popular
Related
Recent