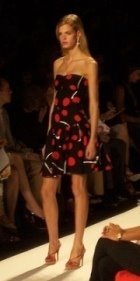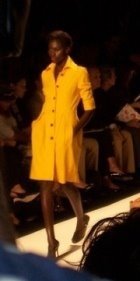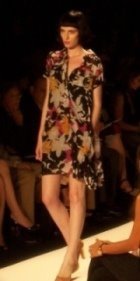 ****
****
****
****
****
****
****
The Clothes The 80's are back! Are you getting tired of hearing me say that yet? DVF showed lots of 80's-influenced garments, but still managed to keep the looks fresh and current. We've been seeing a lot of 80's influence that is just way too literal in the clothes; but at DVF it blended perfectly with the present day.
The bubble shape (or the sack shape, if you're a pessimist) was big, as well as shirtdresses and coatdresses, some with skinny pants underneath. The "All About Eve" nature theme surfaced throughout the collection with a ladybug dress (literally, a white dress with a big ladybug printed on it), python prints, and a loose coat aptly named "Cocoon."
The color palette was predominantly black, white, fuschia, and goldenrod. Yellow is big this season, and while I didn't like the goldenrod as much as the butter hue we saw at Jenni Kayne, it beats its other yellow cousin - mustard - by a mile. Lots of mustard this year, but it's an odd color and not so wearable. DVF's goldenrod was bright, sunny and flattering. The coatdress pictured at left was one of my favorites from the collection.
There was also some navy in the mix, similar to what we saw at Gustavo Arango.
The show closed with a few pieces in green and gold python print that didn't seem to gell with the rest of the collection and I'm still puzzled as to why they chose to end with them.
The Makeup Bright fuschia lips on an otherwise minimal face. There was a touch of glittery pale gold on the upper lids, close to the lashline. The skin was somewhere between matte and dewy; not as matte as we've been seeing for this fall, but not as shimmery as, say, the skin at Chris Aire.
Again, this season clearly marks "the return of the lip" and I couldn't be happier. No more flesh-toned lips!
The Hair Straight and simple, with mid-side parts.
The People Carmen Electra, Molly Sims, Nicky Hilton, Robert Verdi, JoJo, Carine Roitfeld, Caroline D'Amore, Brian Grazer, Tracee Ellis Ross and Tim Gunn were all in the house for DVF.