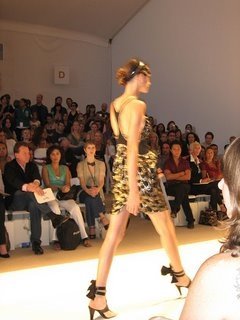 The Clothes Sass & Bide's spring collection was a cross between two very distinct decades - the 20s and the 80s.
Bubble skirts and dresses fashioned from Deco-inspired black and gold chevron shapes (top photo) walked the runway hand-in-hand with leggings, ribbed racerback tanks and - gasp - balloon pants. Sass & Bide is calling this the "diamond silhouette" and I'm betting they're going to bank on it the same way they did with their famous fringe a few seasons back.
I was really hating on the MC Hammer pants, but I loved the interwoven black and gold fabric of those 20s inspired dresses.
As we've seen in some of the other shows, everyone seems to want to go back to the 80s, but proceeding with caution is critical! Thick rope belts (bottom photo) on several of the dresses were an 80s touch that really worked here; when paired with the more current silhouettes of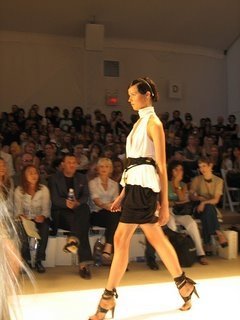 the dresses, the 80s influence wasn't so overpowering.
The Makeup was just not that exciting here; it was done by the Bobbi Brown team and seemed like a huge disappointment next to the clothes and the great hairstyles. Bobbi's new Gold collection would have looked amazing at Sass & Bide but instead we got minimal makeup that barely registered in the photos.
The Hair was my favorite part of the show. Side parts with finger waves in the front and low buns in the back were topped off with skinny gold headbands backed with wide black lace bands.
The People Tracee Ellis Ross, JoJo (who seems to be at every show this week) and Brandy. People have been going crazy over Brandy and I don't get it. Does she have a new album coming out?