Temu is the newest online marketplace to hit the markets, as well as the latest addition to Nasdaq-listed PDD Holdings (NASDAQ:PDD). The platform has quickly become a shopper's haven since going live in September 2022, and established itself as a shopping staple. Temu is running a Black Friday Sale, offering discounts of up to 70% on selected items.
1

Temu Operates Globally with 7-15 Days Delivery Window

This is done to give sellers time to pack and ship out orders, and for the order fulfillment team to sort and deliver the packages. Temu is transparent about its shipping schedule, especially as it aims to boost users' confidence with the platform.

"By being transparent about our shipping times and merchant partners, we give consumers the information they need to make the best choices. These measures are driven by Temu's values of integrity and putting customers first," says a Temu spokesperson.

Buyers have been abuzz with the online shopping platform as it aims to provide its consumers with superior goods at reasonable prices. However, Temu also puts priority on its services, constantly improving its delivery system to give shoppers everywhere an enjoyable experience buying from its site.

Temu credits its streamlined shipping system to the multinational supply chain maintained by PDD Holdings. The network had successfully fulfilled 61 billion orders in 2021 alone, working with over 11 million global suppliers and manufacturers. That makes PDD Holdings one of the largest e-commerce networks internationally.
2

How Does Temu Ship Its Products?

Temu taps into the logistics and order fulfillment capabilities of PDD Holdings, utilizing its sophisticated supply network to deliver customer orders. PDD Holdings has vast experience in international shipping, and Temu is able to leverage this to provide its users with timely delivery, and optimized shipping routes.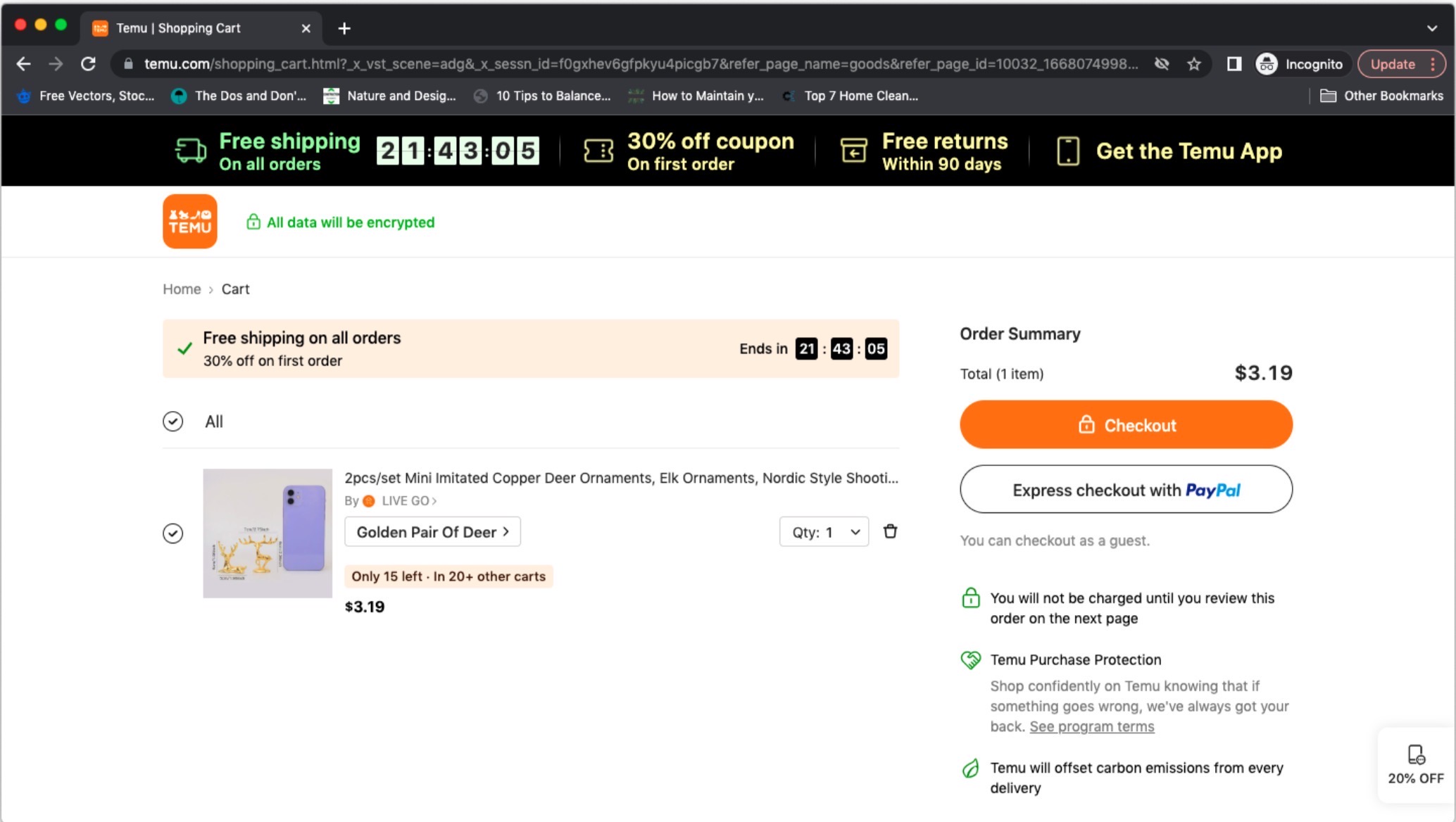 Order fulfillment starts once a customer has checked out their cart. The platform informs the customer once their order has been packed and shipped. From there, the customer can track each stage of the delivery on the Temu site or app, and also on the websites of the logistics providers.
Sometimes, packages going to nearby destinations are aggregated to reduce the number of deliveries and cut down on emissions. By and large, the vast majority of customers get their shipments within the estimated delivery window. If the deliveries are late, Temu compensates customers with a $5 credit that can go toward future purchases.
3

What are Temu's Shipment Features?

Like most online retailers, Temu provides its customers with updates to track packages and orders. Temu users get day-by-day updates on the status of their order through the Real-time Order Tracking System of the platform.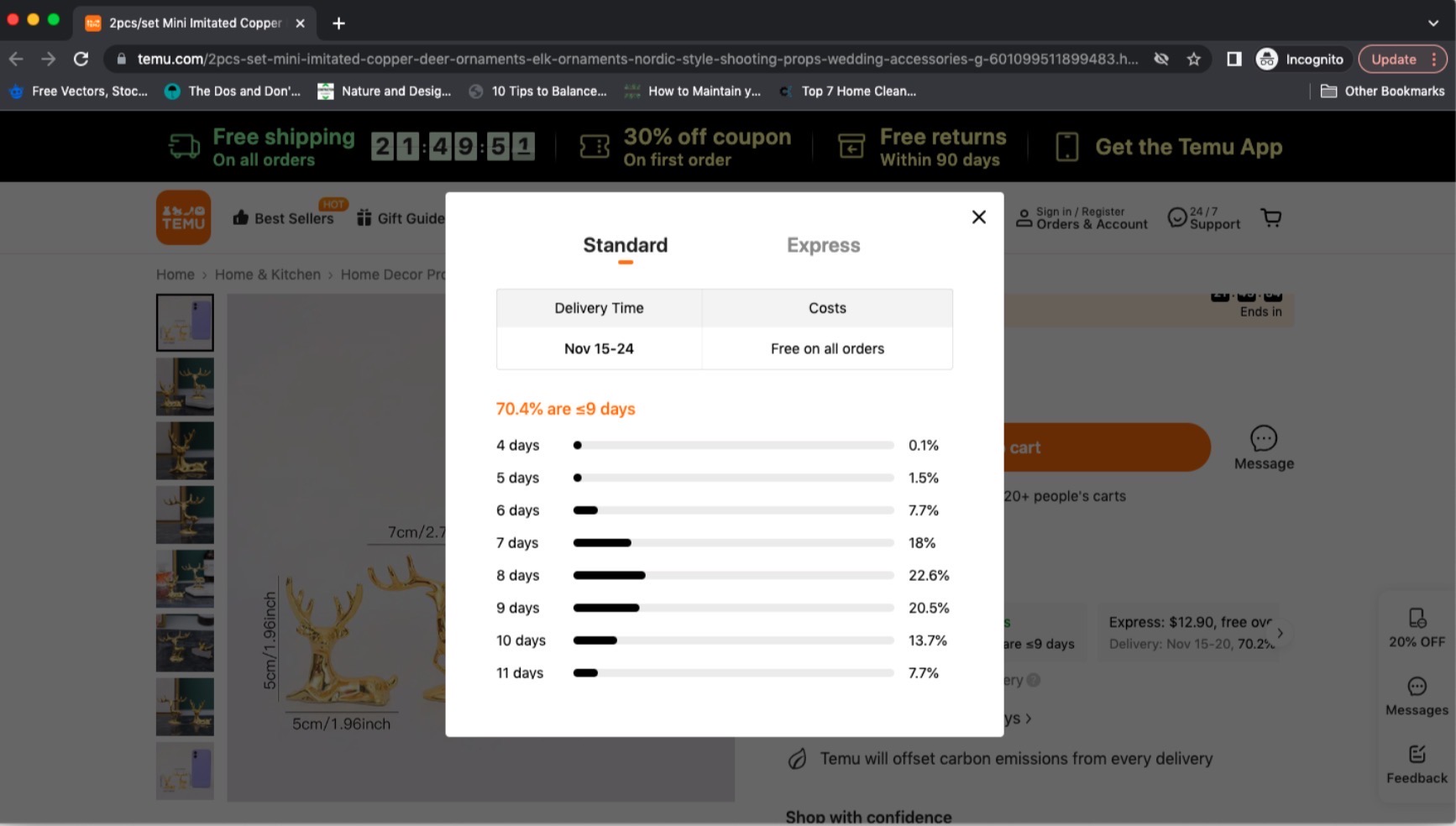 But even before the users make the purchase, they can see the historical day-to-day breakdown of delivery completion so that they can gauge the estimated arrival date of their orders. Temu also presents detailed data on the percentage of customers who received their items within the delivery time frame, placing this information on each product listing. This empowers consumers with tight deadlines because they can decide to buy another item with a faster estimated delivery date.
For rush orders, Temu provides Express Shipping in addition to their standard shipping, which is free for orders above $99. With express shipping, customers can see the approximate schedule when they will receive their order, which is around 8 days after purchasing.
4

Temu Delivery Credit

As an industry-leading move, Temu offers its users compensation for late deliveries. Consumers who receive their packages late are entitled to a $5 delivery credit, given as a token of appreciation for customers' patience while waiting for their orders.

This is a bold step for an e-commerce platform, but is much welcomed by consumers as it attests to the confidence of Temu to deliver its orders on time.

Order what you want, when you want, and how many you want when you shop in Temu! The platform is bringing convenience, quality, and flexibility in the online shopping world, and thousands of users are already making Temu their go-to app.