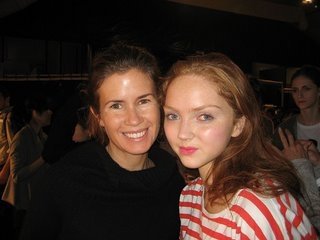 Lancome International Artistic Director Gucci Westman was on hand this morning at Peter Som, creating an incredible look for the models, and I had a chance to talk with her backstage about the look for the show and upcoming trends in beauty.
As she worked her magic on the doll-like Lily Cole, Westman filled me in on the story behind the makeup.
The look for Peter Som was a "turn of the century, dusty rose fresh face," she said (pictured at left with Lily). "The lip is a bit of a stain, actually a cheek color." Westman topped a sheer, blue-based tomato red lipstick with a cheek mousse, and then set it with powder for a dusty look.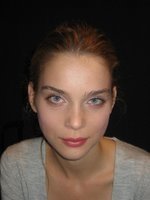 Cheeks were "lighter pink and a little fuschia," and eyes were done in cream with "burgundy undereye and top lashes."
Skin for spring/summer - and at the show - is "fresh and glowy, porcelain looking, as fresh as possible," says Westman. Want the look? Get ready to break out your illuminating "primers and enhancers and use them to the max."
And Westman confirmed that the lip is indeed back! Pink is in, "especially a fuschia lip," she says. "I was so excited," she says of the resurgence of stronger lip colors.
**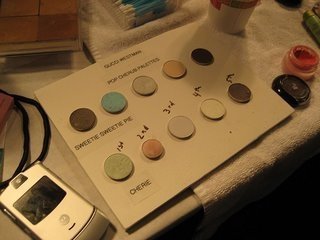 New For Spring**
Westman's next collection for Lancome will be Pop Cherub, making its debut this spring. "I came up with it in Tokyo," she says. "The colors, the sensibility, the packaging," are all Japanese-influenced, and the packaging "was inspired by Lancome's archives."
The Pop Cherub collection includes 2 gorgeous Color Design eye shadow palettes, Sweetie Sweetie Pie and Cherie (the brown, grayish blue and creamy white shades from Cherie were used earlier this week at Behnaz Sarafpour). Check out the photo at left for a sneak peek at the shades from the two Pop Cherub eye palettes, and head over to Flickr to see the rest of **my photos from backstage at Peter Som**. Gucci Westman, Lily Cole, Jessica Stam, the Aveda hair team, and more!