As the soprano voice soars heavenwards you're carried along on a wave of emotion. Is it the pain of a broken heart she's singing about or the joy of love? Whatever the reason, I don't really mind because I love opera. Tragedy, comedy, love, hate, revenge, it's all there and all sung to delicious music. It just stirs my soul and here are 9 marvellous operas I heartily recommend.
---
1

Madame Butterfly - Puccini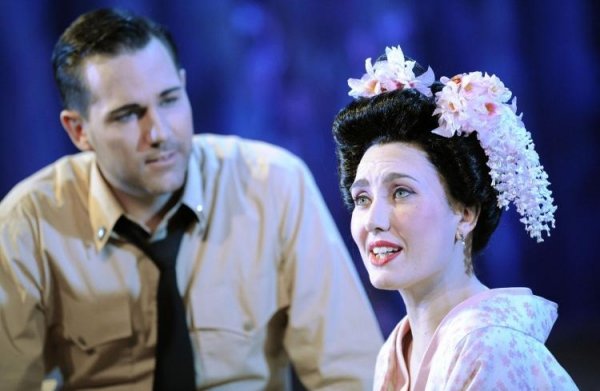 Photo Credit: theepochtimes.com
This is the story of the doomed love of Cho Cho San for the roguish Lieutenant Pinkerton. She falls in love, he doesn't. He exploits a Japanese custom to "marry her" really just to have his wicked way with her and then abandons her. Cho Cho thinks he will return from America to look after her and their son. He returns three years later, however with a new bride. Cho Cho is devastated and betrayed and wants to give up her son to him. She commits suicide with a dagger.
2

Carmen - Bizet

Photo Credit: telaviv-fever.com

Good boy meets bad girl. Carmen is a beautiful cigarette factory worker and has two men fighting for affection. Good soldier José helps Carmen out when she gets into trouble and goes to jail. Helping her escape he is jailed himself. When he is released he finds Carmen being wooed by Escamillo, a strutting bullfighter. Taunted and tormented, José stabs her at the same moment Escamillo slaughters a bull in the ring.
---
3

La Traviata - Verdi

Photo Credit: glimmerglass.org

If you've seen Baz Luhrman's film Moulin Rouge then you'll already know the rough story of La Traviata as the plot is totally similar and are both based on Camille by Dumas. It's the ultimate love triangle with the consumptive heroine being the object of affection of two very different men. Poor old Violetta dies before she can get exactly who and what she wants.
---
4

Rigoletto - Verdi

Photo Credit: uqevents.com

Rigoletto is the court jester to the Duke of Mantua who fancies himself a bit of a stud. He seduces practically every girl in sight. Rigoletto fights for a long time to keep his daughter away from the Duke. A whole slew of events unfold with plot, plot and counterplot with the jester trying to wreak revenge on the Duke but it all goes horribly wrong. Rigoletto's daughter is mistaken for the intended victim of a murder plan and she dies in the jester's arms.
---
5

Porgy & Bess - Gershwin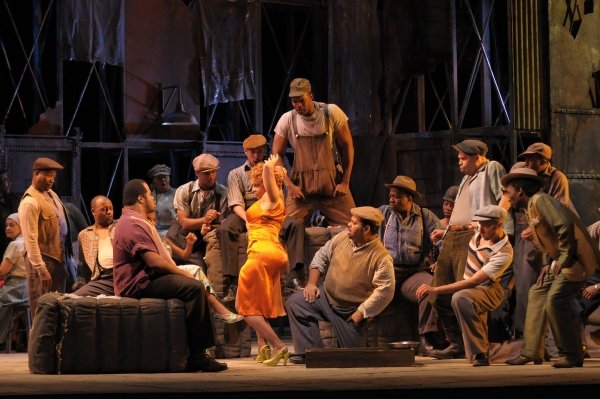 Photo Credit: southfloridaclassicalreview.com
P&B caused a storm when it was first written because it was to be performed by an Afro-American cast – something quite visionary in 1935. Porgy is a disabled black beggar who loves Bess. Bess is in the clutches of a violent possessive lover, Crown and Sportin' Life the drug dealer. The story is about Porgy's attempts to recue Bess from her life of iniquity.
---
6

The Magic Flute - Mozart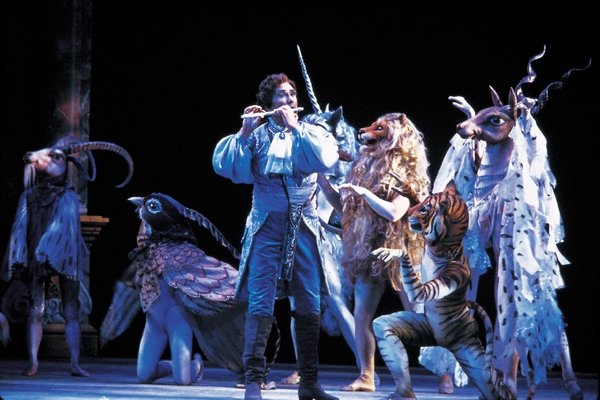 Photo Credit: matthewchellis.com
A classic tale of a quest. The Queen of the Night has offered her daughter Pamina to Tamino but he has to fetch her from her father and the priest Sarastro. Bird hunter Papageno wants to find a wife and decides to join Tamino. The Queen gives Tamino a magic flute and Papageno magic bells. They travel on a wondrous journey of love and knowledge.
---
7

The Cunning Little Vixen - Janaçek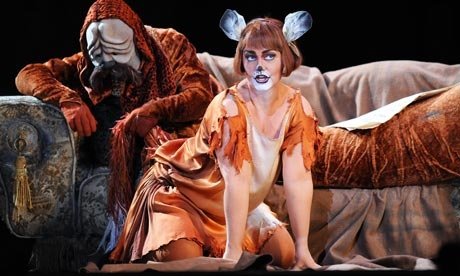 Photo Credit: guardian.co.uk
This is the story of Sharp-Ears and her life from being captured as a cub by a forester, being raised in his home to escaping back to the forest.
---
8

The Barber of Seville - Rossini

Photo Credit: vaopera.org

Figaro, the humble barber, helps Count Almaviva woo and win the lovely Rosine away from her crusty old ward, Dr. Bartholo who had every intention of marrying her. Thanks to a series of quick witted sub plots, a humble servant betters his masters and by implication his betters.
---
9

The Marriage of Figaro - Mozart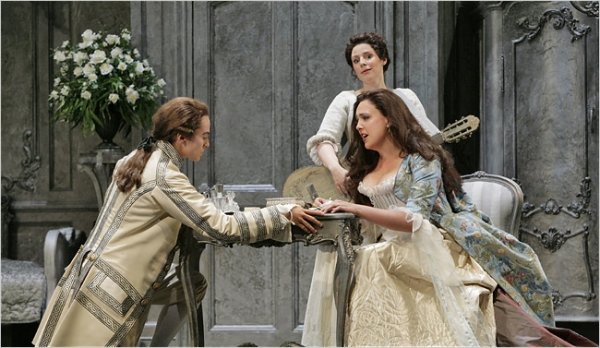 Photo Credit: nytimes.com
Although by a different composer this is the follow up to The Barber of Seville. Both are based on the series of plays by French writer Beaumarchais. Figaro is no longer a barber but works for Count Almaviva whose marriage has gone sour thanks to his philandering. Figaro is engaged to Suzanne, Countess Rosine's maid and on their wedding day Dr. Bartholo arrives wanting revenge and he's brought slimy Don Bazile along to add to the mischief. Throw an amorous teenager, a scheming old maid, a drunken gardener and silly girl into the mix and you've all the makings of one crazy wedding day.
If you're already an opera fan I hope you've appreciated me rekindling some fond memories of some fantastic music and drama and if not maybe I've inspired you to listen to some or even go and watch one. The theatrical spectacle really is something to behold and I would recommend any of these marvellous operas to anyone.
Top Photo Credit: NelsonGuzmanCortes
---
Comments
Popular
Related
Recent