The holidays are coming, and for those of you out there (boyfriend! Daughter!) who are wondering what I'd love to find under the tree or in my stocking this year, I'm not against giving very obvious hints… or even a list! Here are 8 items from my holiday wish list… and PS: this list will work for any boyfriend wondering what to give his girlfriend!
---
1

Sound Stacks Headphones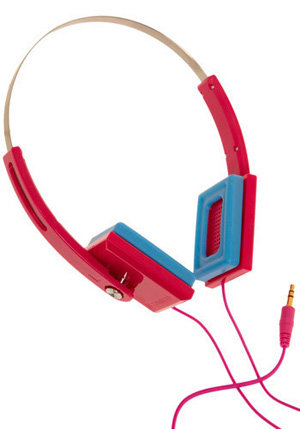 Price: $44.99 at modcloth.com
I love my iPod, but I loathe those uncomfortable earbuds. I prefer the sound and comfort of old-school headphones, and these ones are awesome! I love the retro color scheme, and the padded muffs.
---
2

Check out Those Moves Boot

Price: $59.99 at modcloth.com
I want these boots! I promise I'll take good care of them! I'll wear them every day, with everything in m closet! I don't have anything else in this color or style… please?
---
3

The Networker Bag

Price: $237.99 at modcloth.com
Every girl needs one marvelous statement handbag, and this one is exceptional, isn't it? I love the color, and the chic tortoise shell accents. The lining is bright orange, too… what a fabulous contrast! And the kiss-lock clasp is so unique…
---
4

Sweetest Wrist Warmers Ever
Price: 31.99 at modcloth.com
I have a thing for gloves, wrist warmers, mittens… anything that will keep my hands warm while still looking chic or cute or stylish… so these adorable cupcake wrist warmers are definitely on my wish list this year!
---
5

96 Tears Necklace

Price: $19.99 at modcloth.com
There are so many of my dresses and tunic I'd wear this necklace with… I love the dozens of glittering multi-colored gems, one in every color of the rainbow. I love the drape, the sparkle, and I would love to have this for Christmas! Hint, hint!
---
6

Wingfield Ring

Price: $15.99 at modcloth.com
Along with my "thing" for gloves, I also have a thing for statement rings, and this one would be such a welcome addition to m collection! The color is divine, so brilliant, and it would look so marvelous with so many of my outfits…
---
7

Center Cage Card and Jewelry Holder
Price: $23.99 at modcloth.com
Because of my affinity for jewelry, I am always looking for ways to store and display necklaces, bracelets, and rings. This sweet little jewelry holder is ideal because I can mount it on my wall instead of adding it to the clutter on my poor vanity and dresser. And the bird… so charming!
---
8

Diana F+ Clone Camera

Price: $104.99 at modcloth.com
I'm something of a shutterbug, and my mother is, too. I remember her old Diana camera from when I was little, and this is really just an update of that classic plastic piece. It takes dreamy photos, and can do so many cool tricks! It comes with everything an aspiring shutterbug would need… and I love the color!

I'm not being at all unreasonable asking for all of these goodies… I've been very nice this year. Just ask Santa! And I don't want ALL of these things… these are just ideas! Which of these goodies is on your wish list this year, and why? Or is there something else you're pining for?
More
---
Comments
Popular
Recent