If you gripe at the cost of groceries or don't eat out as often as you like because quality restaurant food is either not available or outside your budget, feast your thoughts on these beauteous concoctions of the culinary world.
---
1

World's Most Expensive Bagel Photo Credit: elakiri.com
The humble bagel is elevated to the stratospheric price of $1,000 and is topped with white truffle cream cheese, goji berry infused Riesling jelly and gold leaf leaves. Well white truffle is the second most expensive food in the world, second only to caviar. A bagel suitable for Rothschild.
2

The Hottest Priced Curry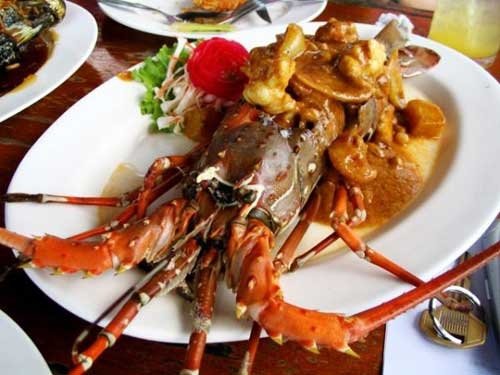 Photo Credit: finance.oeeee.com
The Samundari Khazana is the world's most expensive curry and was introduced by London's Bombay Brasserie to celebrate the DVD release of Slumdog Millionaire. It includes a whole Scottish lobster, quails egg shells, abalone, gold sea snails, Beluga caviar, white truffle, Devon crab and edible gold leaf and cost around $3,200. Pass the millionaire, hold the slumdog.
---
3

Perfect Pizza Photo Credit: elakiri.com
Back in 2006 one of the world's top pizza chefs, Maurizio Moreilli, auctioned a Valentine's Day Pizza on eBay. He flew to the winner's home in Rome and prepared the Pizza Royale 007 which contained venison medallions, Scottish smoked salmon, edible gold, champagne soaked caviar and lobster marinated in finest cognac. The winning bid was $4,200. Not bad for a man who plys his trade in Glasgow, the town famous for deep frying pizzas and Mars Bars.
---
4

The Pie High Club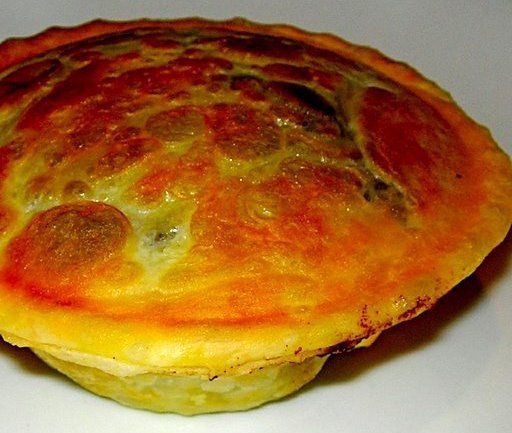 Photo Credit: emo-miserabledeathly.blogspot.com
In 2006, in Northwestern England you could buy a slice of steak and mushroom pie for $1,990. Made with Wagyu beef fillet, Chinese Matsutake mushrooms, Chateau Mouton Rothschild, black truffles and gold leaf each pie served eight and cost $15,900. Well, at least you got a free glass of champagne thrown in.
---
5

I'll Pass on Dessert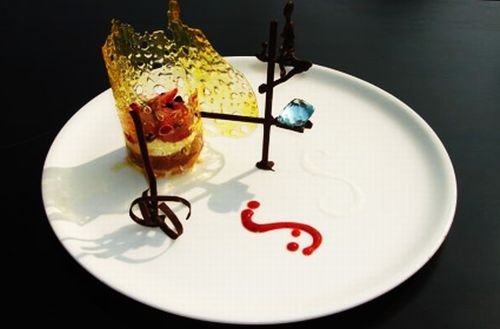 Photo Credit: toptenz.net
With a price tag of $14,500 I'm sure most of us would pass on it. The Fortress Stilt Fisherman Tribute in a Sri Lankan restaurant has never been served. Stilt fishing has been a tradition in Sri Lanka for hundreds of years and this dessert pays homage. It's a fisherman on a stilt carved out of chocolate served with exotic fruits and Irish cream. Under the fisherman is an 80 carat aquamarine which you get to keep once you've eaten the goodies. They could have at least made it a diamond. I might be interested then.
---
6

Blimmin' Heck It's Only a Burger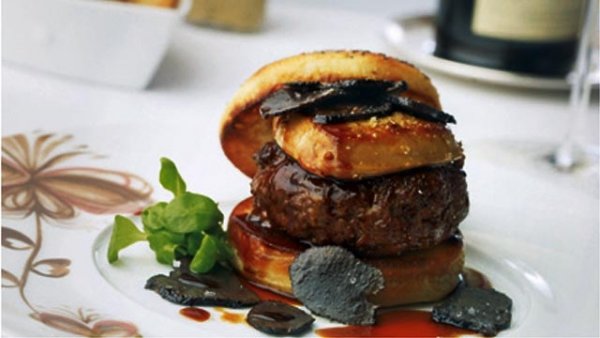 Photo Credit: dtlux.com
Just very recently the record for the world's most expensive burger was broken. Costing $5,000 (before tax and tip) the Fleurburger 5000 has been designed by chef Hubert Keller for his Fleur de Lys restaurant at the Mandalay Bay Hotel and Casino in Las Vegas. It's made with Kobe Beef topped with a slab of foie gras, truffle sauce and black truffle shavings served on a brioche truffle bun. The previous record was for a £95 ($150) burger from Burger King in London that was known as The Burger. Pah – I still prefer McDonalds.
---
7

I Scream at This Ice Cream

Photo Credit: privilegedclub.com

Bet you haven't got this flavour in your ice box. Found at Three Twins Ice Cream in the Oxbow Public Market in Napa this was a banana split with syrups from three rare dessert wines – a 1960's vintage port, a Chateau d'Yquem and a German Trockenbeerenauslese. It was served with a genuine 1850s ice cream spoon and if ordered in advance you could even have a cellist play whilst you ate. A third of the purchase price of $3,333.33 was donated to a local land trust. Oh, I love the cello.

Well, if you're salivating, I've done my job. What's the most you've ever paid for food?

Top Photo Credit: kurup_man
---
Comments
Popular
Related
Recent