I'm all for snacks, especially healthy ones. I know how tempting it can be to grab a back of chips from the pantry and plop down on the couch in front of a good movie. But, try reaching for something a bit healthier next time you get the urge to snack. Here are 9 healthy afternoon snack ideas for you to use. I bet there's at least a couple of things on here you'd enjoy!
---
9

Celery Sticks and Pimento Cheese Spread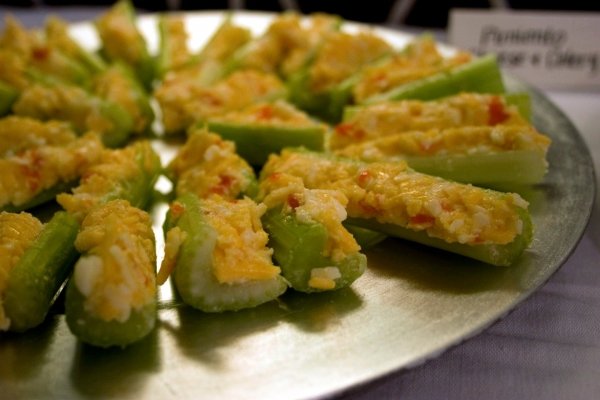 Photo Credit: sweetpeaandpunkinseed.wordpress.com
I love pimento cheese on anything! You can smear this stuff on the blandest cracker and it will transform that little square into something very tasty. I try to use celery when I have it available just because it's a healthier route to take. Celery has lots of fiber, which your body can always use. The fiber makes you feel fuller longer since it takes your body a while to actually digest fiber.
---
8

Trail Mix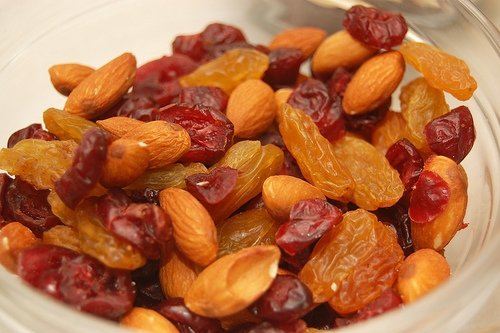 Photo Credit: dinnercakes
A variety of trail mix recipes are out there, some not nearly as healthy as others. I like to use a quarter cup of each; almonds, dried cranberries, dried cherries, peanuts, and carob chips. The dried fruit adds plenty of sweetness, the nuts provide protein and a great 'crunch', while the carob chips give it just the right amount of chocolaty flavor.
---
7

Turkey Rolls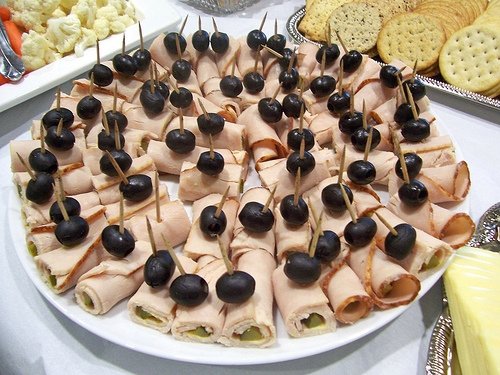 Photo Credit: moooshee85
Take a thin slice of turkey or ham and roll it around a strip of cheese. I like using cheddar with turkey or mozzarella with ham. You can even use cream cheese mixed with dill or chives and smear a dab of this on the meat slice. Roll the meat up and hold it together with a toothpick.
---
6

Melon Balls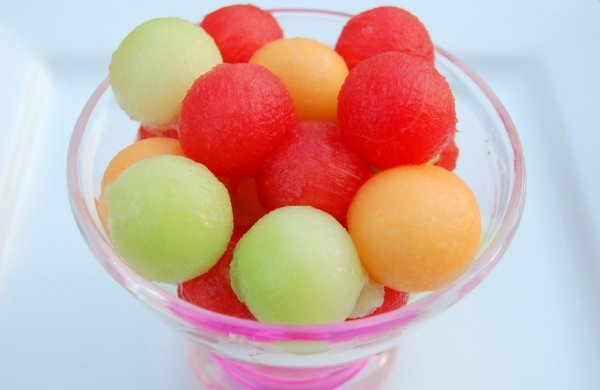 Photo Credit: picturemecooking.com
One of the things I look forward to each summer is the assortment of melons available at the grocery store. I get out the melon baller when snack time rolls around. You can use whatever type of melon you have available. I like to use at least a couple of different types so I have contrasting colors of fruit in the bowl. You can drizzle a little bit of honey on top of the melon if the flavor is a bit bland.
---
5

Zucchini Wedges with Ranch Dressing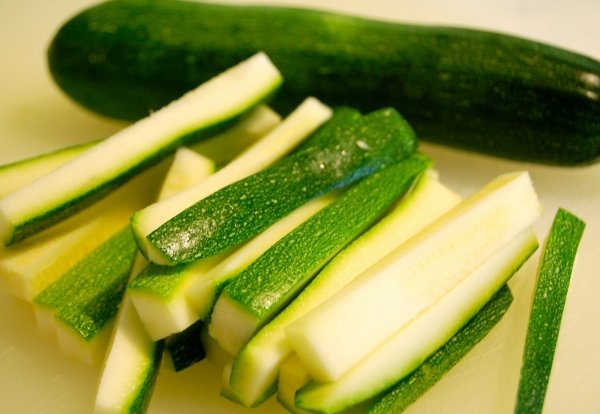 Photo Credit: en.petitchef.com
I think most veggies taste great in ranch dressing! Zucchini has a nice texture and holds its shape when cut into wedges. It's easy for most people to eat and there aren't a bunch of huge seeds to get in the way. You don't have to peel a zucchini before slicing it up and serving it either. It is very easy to use for a quick snack.
---
4

Banana Chunks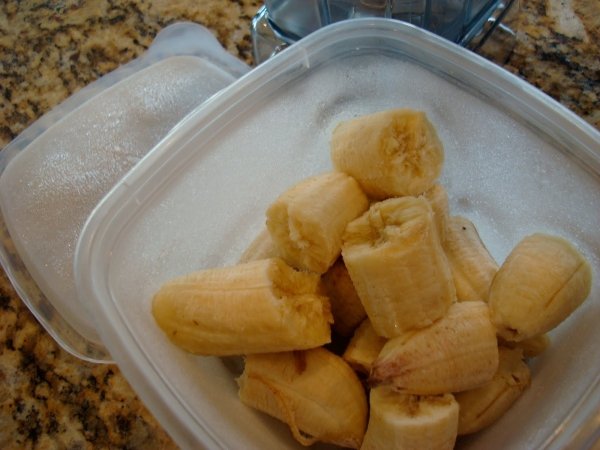 Photo Credit: loveveggiesandyoga.com
The great thing about bananas is that they go with just about everything. You can slice an entire banana up and slather something different on each piece. Peanut butter is excellent on top of a thick chunk of banana. Other toppings for your banana slices include; coconut, cinnamon, nutmeg, honey, or slices of cheese.
---
3

Snap Peas and Hummus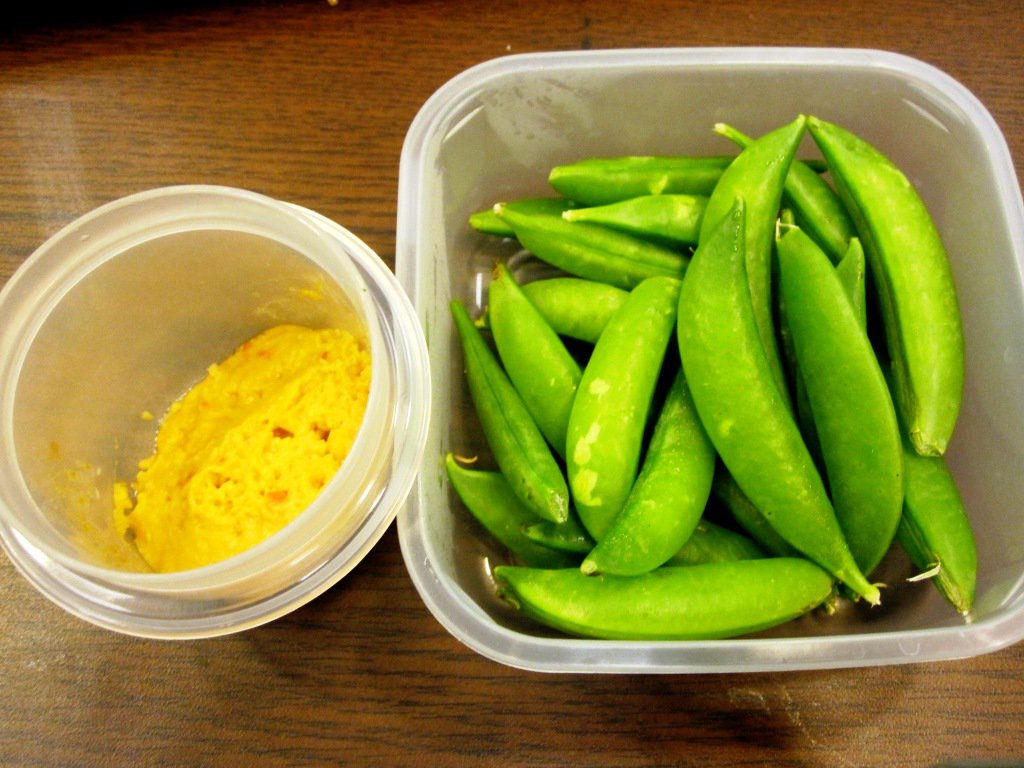 Photo Credit: fittingitallin.wordpress.com
You don't have to cook snap peas and hummus can be found pre-made in the deli section of most grocery stores. This is a good snack with lots of fiber and protein. Most picky eaters will like snap peas, but you may have to swap the hummus dip out for something like thousand island or ranch dressing.
---
2

Strawberry Slices with Cream Cheese

Photo Credit: reegnum.co.cc

Use wheat crackers or thin slices of whole wheat bread cut in fourths. Smear on a thin layer of cream cheese, and then place slices of strawberries on top of the cream cheese. You can make a little sandwich if you wish, but smooshing the berries and cream cheese in between two of the little pieces of bread. Adults love finger foods just as much as kids do!
---
1

Pita Pockets with Sprouts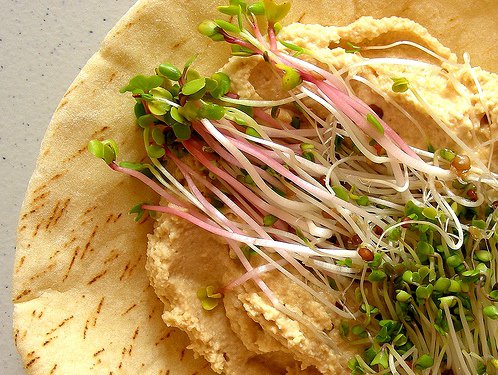 Photo Credit: tattoo12.co.gp
There's something fun about eating sprouts. They taste good, have an interesting texture, and they are great for you. Any kind of dressing can be added to them as well, since they don't have a strong flavor of their own. I like putting French dressing on a sprout sandwich. I also like to add a few carrot shavings and some sprinkles of cheese. Yum!
I hope these 9 healthy afternoon snack ideas sound like something you can use for you, your friends, or anyone else you know. What is your favorite snack to eat in the afternoon?
More
Comments
Popular
Recent