I'm not the most graceful of ladies in a pair of heels. Perhaps it's because I'm a fast walker or that I stomp without the least bit of effort, but my heels take – and give the ground – quite a beating.
Regardless, I'm not giving up on the promise of a little extra height. But with these amazing shoes listed below, I just know there will be walking problems if I attempt to strut in them:
---
1

Kors Michael Kors – Suede Slingback Clogs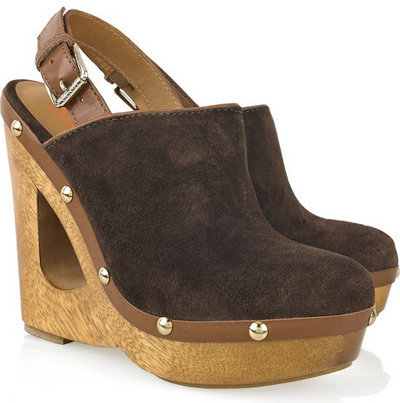 Price: $250.00 net-a-porter.com
Call me a fashion hypocrite, but I hate clogs; it's a heel that I think will just never look attractive on me. But these wedge slingbacks from Michael Kors make me want to strut to the dark side. That said, this shoe has four things that I fear most in shoes: a) a sling back, b) clog (see above), c) a wood bottom and d) a wedge heel. Talk about a high-heel accident waiting to happen!
---
2

Brian Atwood Dante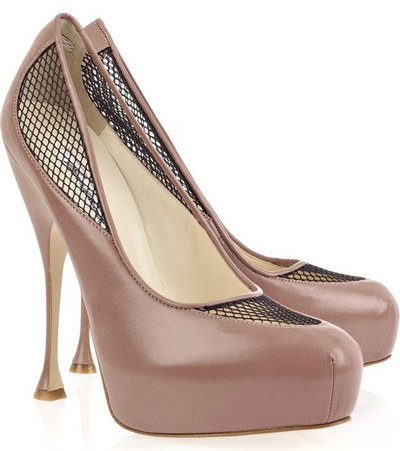 Price: $640.00 net-a-porter.com
Measuring at a tall 5.5 inches, these knockout heels from Brian Atwood really are the devil's work. Hence, the name Dante, I presume. While I would definitely feel hot wrapped in these nude-and-black-sheer pumps, I'm a bit terrified of my time running out with the hourglass heel.
---
3

Versace Dvea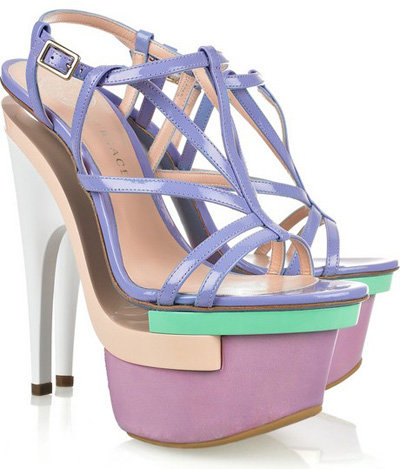 Price: $1.125 net-a-porter.com
Let's just pretend for a moment that I could afford these. Then, let's talk about the 7-inch heel and 3-inch platform. Or that a multi-colored, crisscrossed cage buckles your foot in. All of those aforementioned topics are provoking me to fall flat on my face. Or… well, my you-know-what. I'll keep these on the shelf because they are absolutely gorgeous to look at. But will require an extra insurance policy to wear.
---
4

Sam Edelman Wynn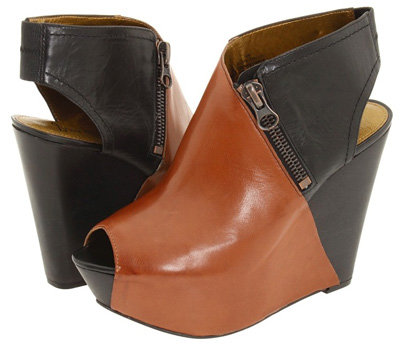 Price: $180.95 zappos.com
Clop. Clop. Clop… Yes, what you are hearing is a warning that I'm approaching. Or practicing my decidedly un-sexy runway walk in these Sam Edelman Wynn wedges. While rather amazing by sight, wearing this wood heel would break any comfortable sound barrier. Or my neck. Either/or.
---
5

Sam Edelman Lorissa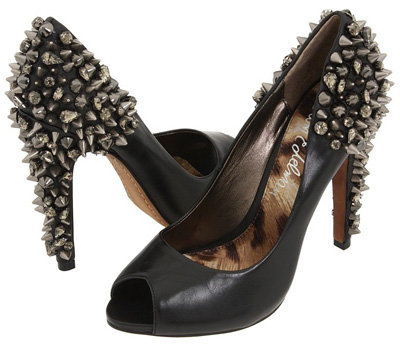 Price: $200. 95 zappos.com
OK, now Sam is just being silly. There are SPIKES on this Lorissa heel, which… wow! Totally badass. But could you imagine the tears and snags in your tights? The slicing of your ankles or thighs when crossing your legs? Standing in close quarters in elevators and commuting across multiple buses, platforms, stops and what-not. On second thought, maybe Edelman is on to something…
---
6

L.a.M.B. Caitlyn
Price: $375.00 zappos.com
I imagine myself in these wedges. And I probably look all kinds of stylish and trendy. Yet, I cannot walk – it's more like a shuffle. Which, in this city, will get you nowhere fast. And that is why these Caitlyn heels from L.A.M.B. look best when standing perfectly still.
---
7

Charlotte Olympia Paloma Pumps
Price: $840.00 net-a-porter.com
A major swoon-worthy moment in shoe mythology. While the heels are seemingly as high as heaven, I'm certain the platform on these Charlotte Olympia heels will render my balance – and Goddess worshipping – useless. I suppose, then, that is what the wings are for on the back of the shoe?
I swear that I could obsess over "shoes I will never own" all day. Once you get to my age, you know what works – and what is very, very wrong. And while I wouldn't hesitate to use (and max) a credit card on all of these heels, I already know that I would never be able to pull off my sexy strut. And what good is a shoe, if you can't feel sexy in it. Let alone walk.
Which amazing heels have you found that you already know are JUST good for looking at?
More
---
Comments
Popular
Recent