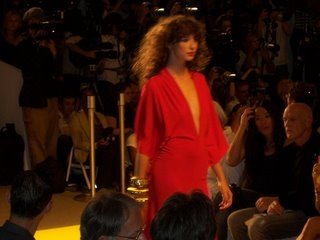 This was my first show of the day, and as I sit here writing this post I can't even get my mind around the best way to organize the coverage. Let's give this a spin and see how you like it:
The Clothes Bouwer showed a sizable collection, in three distinct "acts," each with swimwear and gowns. The swimwear focus was definitely on cutouts **and **one-shouldered pieces; the major trends in gowns were defined waists, lace or sheer overlays, and fitted busts with some embellishment (especially in the second act).
While Bouwer's gowns may not exactly break new ground or push the envelope in terms of design, the man clearly knows how to design for a woman's body, and it shows. Everything he sent down the runway was flattering with good fit and drape. As usual I'm sure we'll be seeing some of his creations on the red carpet come award show season.
The three portions of the show brought us: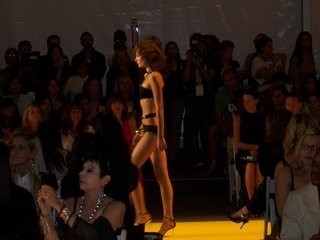 (1) Black and white, in wavy stripes and black-on-black polka dots. I loved the basic black swimwear with cutouts and gold hardware detail (left). The gowns were pretty but not remarkable; there were better ones to come.
(2) Updated neutrals; snakeskin print Lurex swimsuits, leopard prints, and pale nude gowns with black lace overlay. Three standout gowns from this section: deep fuschia with a black lace overlay, a slim black dress with cap sleeves and separate long sleeves (like gloves), and a deep chocolate dress covered in paillettes, which looked amazing on Alek Wek.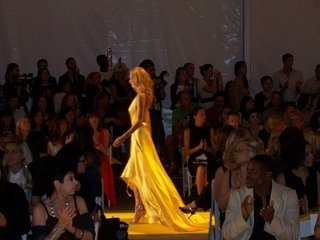 (3) BRIGHTS. Major brights. Things started to go a little weird here - like BCBG prom dress territory - but there were still some gems to be had. There was a fuschia and orange rose print swimsuit that I thought was utterly hideous, but then Bouwer quickly redeemed himself with a lovely cerise colored gown with a printed overlay. Two more standouts: a **canary yellow gown with a train (below; someone will definitely be wearing this one on the red carpet), and a **Grecian-style gown in matte/shiny apricot.
The Makeup Across the board it was smokey charcoal eyes with a touch of pink on the browbone, fuschia lips, and - gasp - matching blush. It worked; I actually loved it. The face was a study in pinks without going overboard. Oh, and it was matte, matte, matte. We already know we're saying goodbye to shimmer for fall and it looks like we'll be packing it away for spring as well! (NOTE on beauty photos: (I am still waiting to get detail shots and will post them ASAP.)
The Hair Messy, fluffed up curls that reminded me of a photo of Kate Moss in Kevyn Aucoin's Making Faces. The models wore their hair in tight rollers until just before the show, when it appears that the rollers were taken out and the hair was simply "messed up" and set with a little spray.
The People I spotted **Patrick McDonald**, Illeana Douglas and Ivana Trump in the front row. Ivana is so very tiny, but has such an imposing presence that I could not look at her for more than a second. Her gaze is icy. Fierce! And as for the models, can I just sound like a frat boy for a moment and say that Alek Wek has a slammin' bod? Some of the other girls are skin and bones, but when Alek struts the runway you can actually see her muscles rippling.