I have a few friends that I wish would invest in some of the following 7 apps to prevent drunk dialing. I've received some interesting text messages and phone calls from these individuals! A link with more information about the following apps, as well as the price for each one, are also provided in the list below.
---
7

Drunk Driver for Android – by Dan Schroeder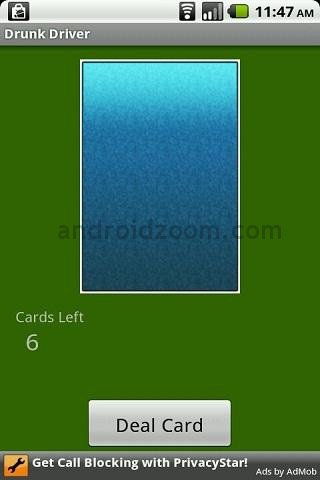 Price: FREE at androidzoom.com
Even though this is an app that doesn't block you from calling people on your contact list, maybe it will keep you busy enough that you won't even think about calling your friends while you are drunk. I don't really understand how the name of this app fits the idea behind it, but I wasn't the one who named it. This app is a basically a card game and it tells you when to drink and how many drinks to take, depending on which card shows up on your phone's screen.
---
6

DrunkBlocker for Android – by Oscar Andersson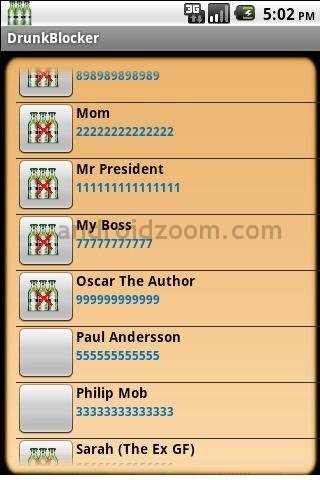 Price: FREE at androidzoom.com
Download this app if you are notorious for drunk dialing friends. This app replaces all the phone numbers on your list of blocked contacts with a string of different numbers. If you decide you really want to call this person, then you can try to pass the sobriety test that the app offers. In order to try your hand at the sobriety test, you will need to open the DrunkBlocker app up.
---
5

Drunk Text Preventer for Android – by JARA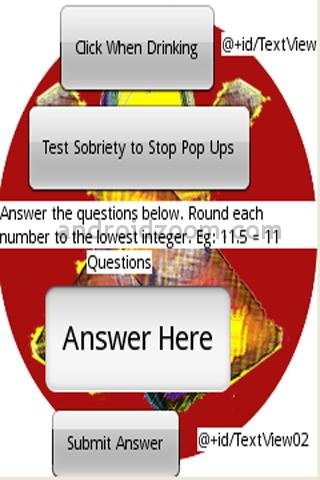 Price: FREE at androidzoom.com
In case you are more of a drunk texter than a drunk dialer, this is the app for you. For this app to work properly, you will need to click on the button that says 'Click When Drinking'. The button needs to be clicked before you even start drinking. If you do try to text someone while you have put this app into motion, you will be required to answer a question within 10 seconds. If you pass the test question, then you can use the phone for 30 minutes or tell the app you aren't drinking any more.
---
4

IDrunk Dialer for IPhone – by Bearded Pony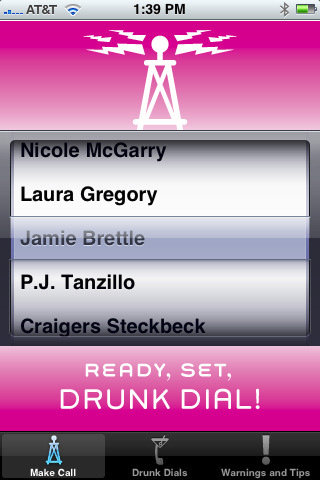 Price: $0.99 at itunes.apple.com
This app actually encourages drunk dialing, but only to the individuals on your contact list who will get a kick out of getting a rambling message from you when you are three sheets to the wind. You can place a number of contacts on the list who wouldn't be offended if they received a phone call from you while you're drunk. Some of the features on this app include animation and sounds to add to the phone call to make it more fun, etiquette tips for drunk dialing properly, and the ability to set the conversation length.
---
3

Designated Dialer for IPhone – by Phase2 Media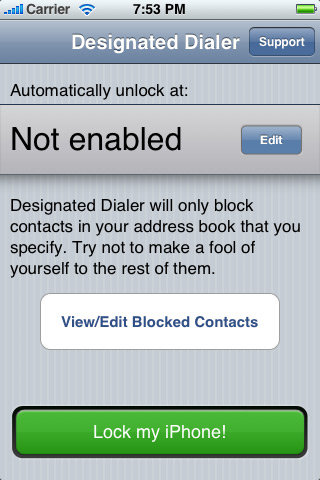 Price: $0.99 at itunes.apple.com
You can set this app to block your choice of contacts. All you do is click on 'Lock my phone' and the app is set into motion. If you do try to call someone on the blocked list, you will end up calling the toll-free number for the creator of the app. There is a recorded message reminding you that you shouldn't be calling this particular person from your list of blocked contacts. Before the app can be turned off, there is a coordination test that must be passed.
---
2

Don't Dial for IPhone – by Cuttlefish Industries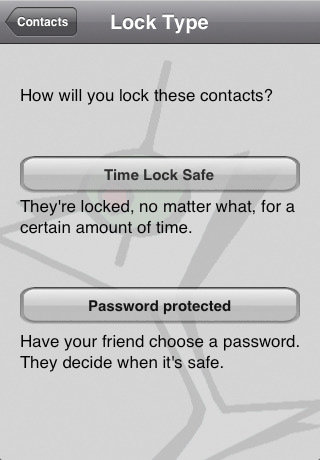 Price: $0.99 at itunes.apple.com
Certain contacts on your list can be blocked for up to a total of 24 hours; it's your choice. If you don't trust yourself with using the timer on this app, then you can have a friend enter a password to keep certain contacts blocked. A clock is displayed on the screen when the app is in use. The clock is a timer counting down the minutes left until you will be able to access your blocked contact list.
---
1

Bad Decision Blocker for IPhone – by John Genest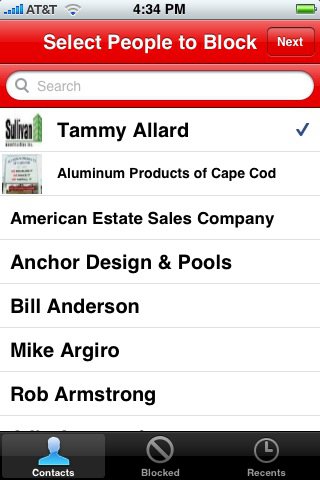 Price: $0.99 at itunes.apple.com
When you know you are heading out with a group of friends for a wild night on the town, why not use this app to protect yourself (and others) from the possibility of you engaging in drunk dialing. This app allows you to block any emails, text messages, or phone calls going out to the people you choose. You are the one who chooses the time frame for the app to work. Once the allotted time has expired, the contact information of the selected individuals will show up again.
Do you think any of these 7 apps to prevent drunk dialing would work for you or your friends? Feel free to offer information on any other drunk dialing apps you've heard about.
More
Comments
Popular
Recent