1

What Is Whey Exactly?

Most people know whey as a byproduct of normal milk production. Whey is really high in protein, aids muscle growth and recovery and therefore found it's way into the world of sports. It has been the major player when it comes to protein powders in today's sports nutrition world. With growing environmental awareness, dietary issues around lactose and the rise of animal-free diets, more and more plant-based

protein alternatives

made a name for themselves.
2

What Are The Options?

Today, you have a way wider choice of options like hemp, rice, soy or even pea. Major downfall of these alternatives is usually the taste which can be very earthy and chalky. At the same time the bioavailability of these proteins to the human is lower than whey protein. That simply means that your body cannot make as much use of the protein to support muscle recovery or growth.
3

Finally, Protein That Delivers

California Performance Co. wanted to find a way to create a protein which combines the same smoothness, creaminess and taste of whey protein as well as the strong performance properties but doesn't have any of the environmental and animal-cruelty downfalls because of its origin in dairy farming.
4

Animal-Free Whey Protein and Its Technology

And that's where we come back to "animal-free whey protein" – the future of sports nutrition. With a revolutionary new production process California Performance Co. found a way to use microflora that receives the DNA blueprint of a cow to produce actual real dairy whey molecules. There are no animals involved at any step of the production process, even the DNA string of the cow is simply taken from an online database and printed onto the microflora.

Those small organisms are simply exposed to plant sugars within big fermentation tanks and transform these plant sugars in whey molecules. The result is the purest whey protein the world has seen. It is lactose-free, hormone-free and gluten-free. The production process produces 97% less greenhouse gas emissions compared to regular dairy production and uses 99% less water as well as 60% less non-renewable energy. It is an overall win for the world and all whey protein users. The best thing is, the taste is incredible.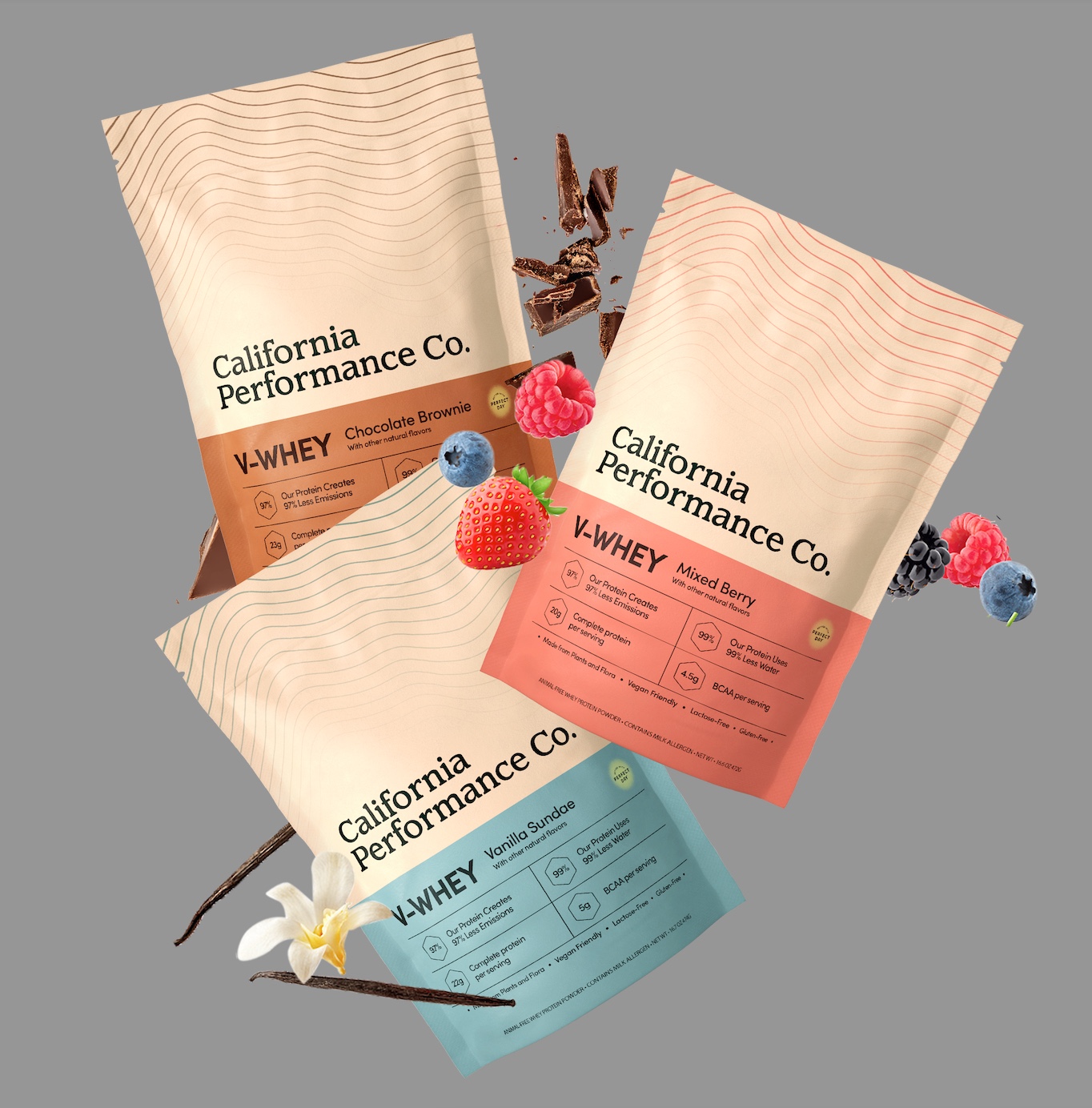 5

Vanilla, Chocolate or Mixed Berry?V-Whey Vanilla Sundae

and

V-Whey Chocolate Brownie

taste like your favorite ice-cream milkshake, are super smooth and bring you up to 23g of protein per serving.

V-Whey Mixed Berry

is like a refreshing juice that is best mixed with water and equally gives you 20g of protein per serving. All three flavors also give a whooping 4.5g of BCAAs per serving which are the building blocks of your muscles and help them rebuild after intense training sessions.
6

Perfect Protein for Vegans

The revolutionary production process makes V-Whey vegan-friendly as there are no animals involved. However if you are vegan because you do have an actual dairy allergy (allergic to beta-lactoglobulin) V-Whey is not for you. It is still a real dairy whey protein and does have a milk allergen that is clearly marked on the packaging. If you are however concerned about the future of our world, love dairy creaminess and amazing taste and care about animals like we do,

V-Whey should be your preferred choice

. It is the perfect way to bump up your protein intake during the day or help your body recover after an intense workout.
7

California Performance Co. Means Quality

Any of the plant-based alternatives we have highlighted are not able to compete on taste or the actual nutritional profile.

California Performance Co

. is also NSF certified for their safe quality food program which gives absolute peace of mind when it comes to the highest quality production processes and food quality management. If you want to find out more about the microflora California Performance Co. uses or the production process in detail, do not hesitate to visit their blog that explains everything in even greater detail at

California Performance Co Blog

.

Equally if you are interested in V-Whey, please check-out Californiaperformance.co . You can also try all flavors in their brand-new sample pack of 6 which they are offering for only $11.99.

They even got you covered if you still need a shaker cup. Their shaker is made from stainless steel which again makes it way more environmentally friendly than the traditional plastic alternatives in the market.