9 Tips to save Money on Your Wedding ...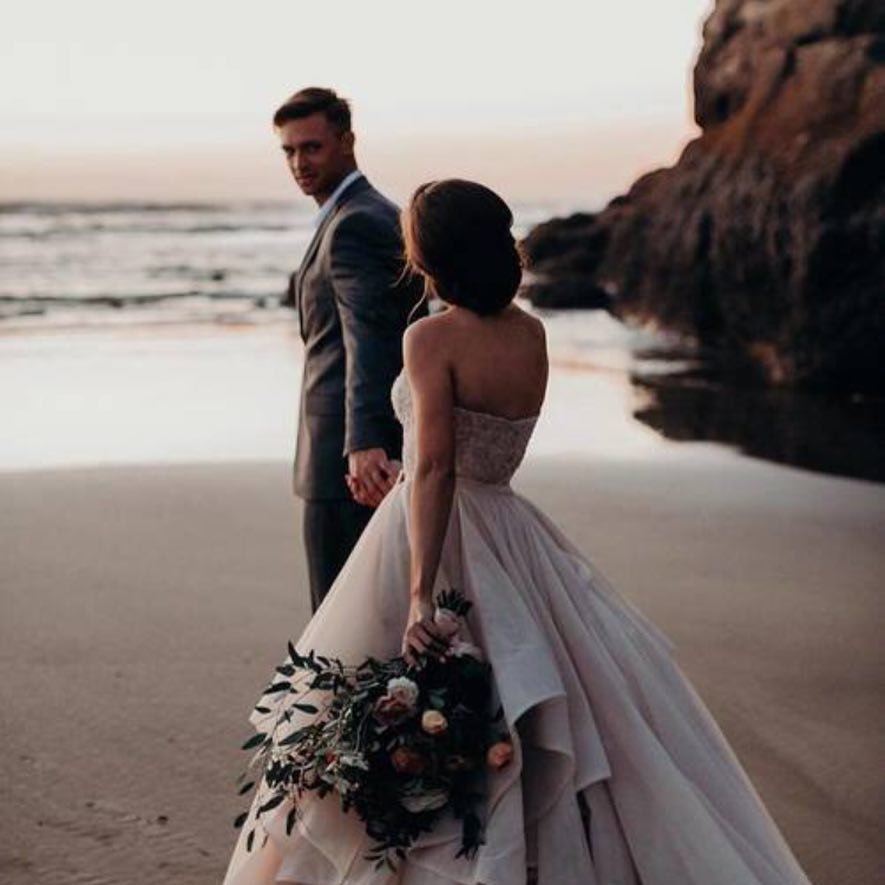 If you have a friend or a relative that's already been married, chances are, you know how expensive weddings can be! What starts out as a small, intimate gathering suddenly blows up into a huge, formal affair that ends up costing way more than you ever intended! I am in the process of planning my own wedding and I've discovered this for myself! However, it doesn't have to be quite as expensive as you might think. There are many different ways to save money! Here are 9 tips to cut the cost and still get what you want!
1.

Buy a Secondhand Dress
Photo Credit: Sebastien LABAN
There's no need to buy the most expensive designer dress. Before you order a designer dress, look in second-hand stores. Many brides donate theirs after their wedding and you can get it for a steal! Remember, you can always have it altered by a tailor if you don't like one or two things about it. Another option is to see if your mom or grandmother would like to let you wear her dress!
2.

Use Artificial Flowers
Photo Credit: Keith Kerr
I really wanted to have real flowers at my wedding, but after I checked out prices, I was more than willing to go with artificial flowers! If you have a friend or family member who is talented at arranging flowers, skip the florist and have your loved one help you pick out and arrange flowers one day! You can do your own centerpieces too!
3.

Have a Friend Take the Pictures
Photo Credit: Cristiano Carli
So many people are getting into photography lately, you should probably know at least one person who would take the pictures for you! Don't expect them to do it for nothing, you should at least tip them, but if you can save, then by all means go for it! You could probably even have a friend video the wedding and skip hiring a videographer.
Photo Credit: los_angeles_wedding_photographer
Depending on where you have your ceremony, there will most likely be a sound system. You can create a mixed CD to play at both the ceremony and the reception! Arrange for a friend to play and pause it at the right times and you're all set to go!
5.

Have Your Bridesmaids Wear off the Rack
Photo Credit: boncyboutique.com
No need to order expensive dresses for your girls to wear! Did you know if you buy off the rack, you can usually save a lot of money? The only drawback is that you need to have them all with you so they can try them on, but it's worth it considering the money you will save! Another option is to head to a store such as Macy's and buy formal dresses in matching colors and styles.
6.

Do Your Own Hair and Makeup
Photo Credit: paulretherford
Check out videos on YouTube for ideas on how to do your hair and makeup and get together with a friend who will give you an honest opinion. Practice out your look for the big day until you get it just right! You can save over $100 by doing your own hair and makeup. Just make sure you practice first!
Photo Credit: Rouvelee's Creations
Don't order a big expensive cake from a bakery. Instead, have a small two or three tiered cake made for pictures and for you and him to cut and feed each other. Then, have several smaller sheet cakes made up and have them pre-cut and on small plates on the table so your guests can simply come up and take one as they want it. No one will be the wiser and you have saved your pennies!
8.

Don't Rent Tuxedos for the Groomsmen
Photo Credit: jaki good
Unless you are dead set that your groomsmen where a tux, then here's an idea for you. Have your groomsmen wear a dress shirt and pants and tie. Or skip the tie for a casual/dressy look. Either way you go it will be suave and it will save you wads!
Photo Credit: sweetpea515
If your wedding is at 12:00 pm or 5:00 pm, then people will expect a meal. Have it later in the evening or around 1:00 so that you can get away with serving finger foods. You can have family and friends help you make lots of cookies and vegetable trays and mints. Your guests will love it!
If you use these tips and ideas, you will be amazed at the bundle of money you'll save! Saving money simply comes down to one thing: practicality. Decide what you can skimp and save on and what you can't. Then work with what you have. And remember, it's not about the day, it's about who you are spending it with! Good luck!
Top Photo Credit: Kris Kros
{{#comments_count}} Show Commnents ({{comments_count}}) {{/comments_count}}