Ah, awards season. That time of the year when we live for red carpet photos and wait for cringe-worthy acceptance speech moments. That time of the year when we shamelessly copy the way a favorite star poses on the red carpet. Of course, she's wearing a designer gown while you just draped a curtain around your body. It's okay, you are not alone. Let's start with the lovely ladies in jewel tones at the recent Golden Globes, shall we?
---
1

Angelina Jolie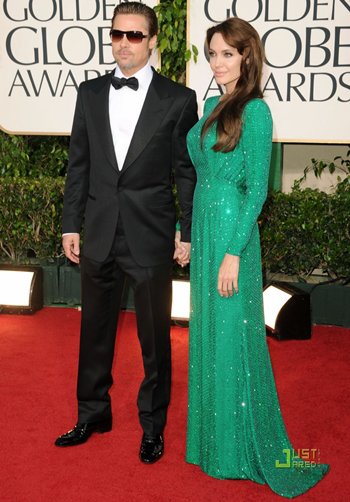 She was the inspiration behind this post so it's only natural that she be number 1. How gorgeous was her Atelier Versace gown? I am not liking this style of hair for her (it bothered me while watching The Tourist) but the color is lovely. Of course, the presence of Brad Pitt beside her does not hurt. In fact, he is the perfect accesory.
---
2

Catherine Zeta-Jones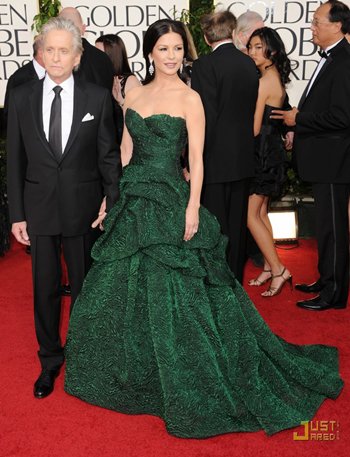 Is it just me or does this remind you of a dress that Scarlett O'Hara wore? I am talking about the re-fashioned curtain. Forgive my apparent obsession with curtains. Back to the dress...it's undoubtedly beautiful but the winner here is her hair and lovely makeup. How old is she again?
3

Amy Adams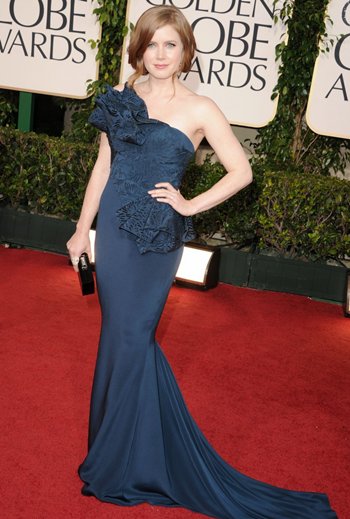 Hmm I remember that the last time she posed for the red carpet, she was VERY pregnant. And now she got her healthy and sexy body back. She wore a one-shoulder Marchesa gown. The laser cut details are beautiful!
---
4

Sofia Vergara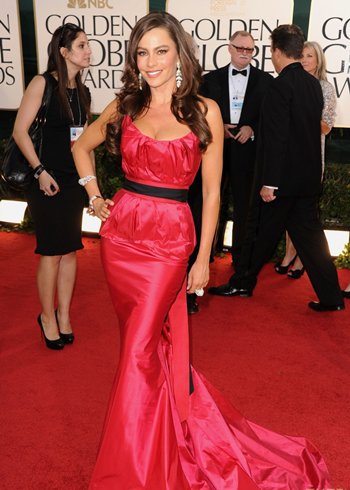 The luscious mama from Modern Family wore a Vera Wang dress and bling by David Webb. While the fabric of this dress is kinda too stiff, you have to admit that Sofia looks drop dead gorgeous. Look at those curves! I guess I should not be surprised since she's always sexy on Modern Family.
---
5

January Jones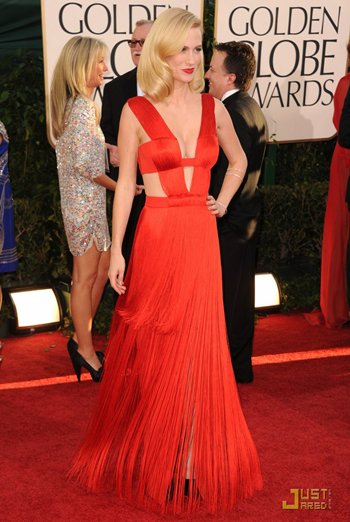 I am on the fence about this dress. The color has the right oomph but the overall design is too "Fifth Element" for my taste. But the hair is just PERFECTION. She pulls that off flawlessly, doesn't she? For those who are curious, January wore a Versace gown.
---
6

Jenna Ushkowitz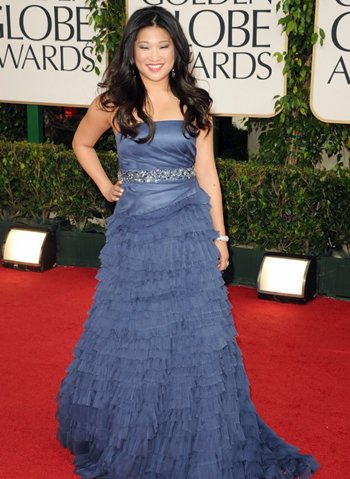 Dear Jenna, I want your dress. Also, you are my favorite Glee character. I think the best part of this beautiful Rebecca Taylor dress is the layered bottom. Switch the color to white and you got yourself a gorgeous wedding gown! How I wish she can be this glamorous and seductive on Glee even for just a single episode. It would be a fun change.
---
7

Elisabeth Moss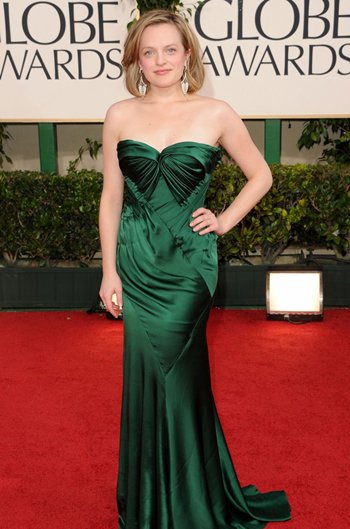 Oh look at Peggy looking so lovely! The color is definitely something I've love to drown in. Just looking at it makes me feel calm. I bet if I can touch it, I'll be in heaven. That sounds weird but not if you consider that I sew and I'm a fabric addict. The bust detailing of the gown looks great, too. This dress is Donna Karan. Elisabeth paired it with Lorraine Schartz bling.
---
8

Mila Kunis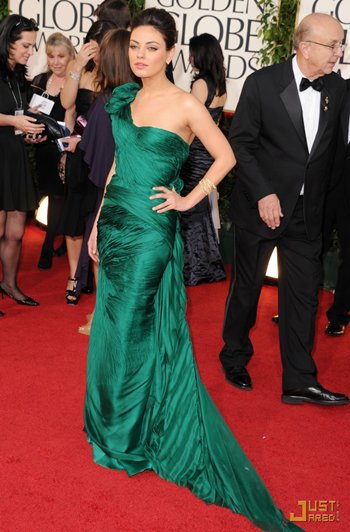 My best-dressed of the night. The color is definitely the top reason for my choice. This emerald green beauty is by Vera Wang. From the shoulder knot to the drapes to the train, this dress is simply fabulous. I love the updo and Mila's makeup, too.
These dresses do not cover all jewel tones but we really can't do anything about that. We can only hope that there would be a red carpet event where all stars wear the color we assign. That would be something. So tell me, which of these dresses do you love?
More
---
Comments
Popular
Recent