Christmas is almost here and I'm sure most of you are as busy as a bee on a summer day but take a little breather and help us decide which celebrities wore it better. Six celebrities, three looks and you pick the winners. Go!
---
1

Elle Fanning V/s Fan Bingbing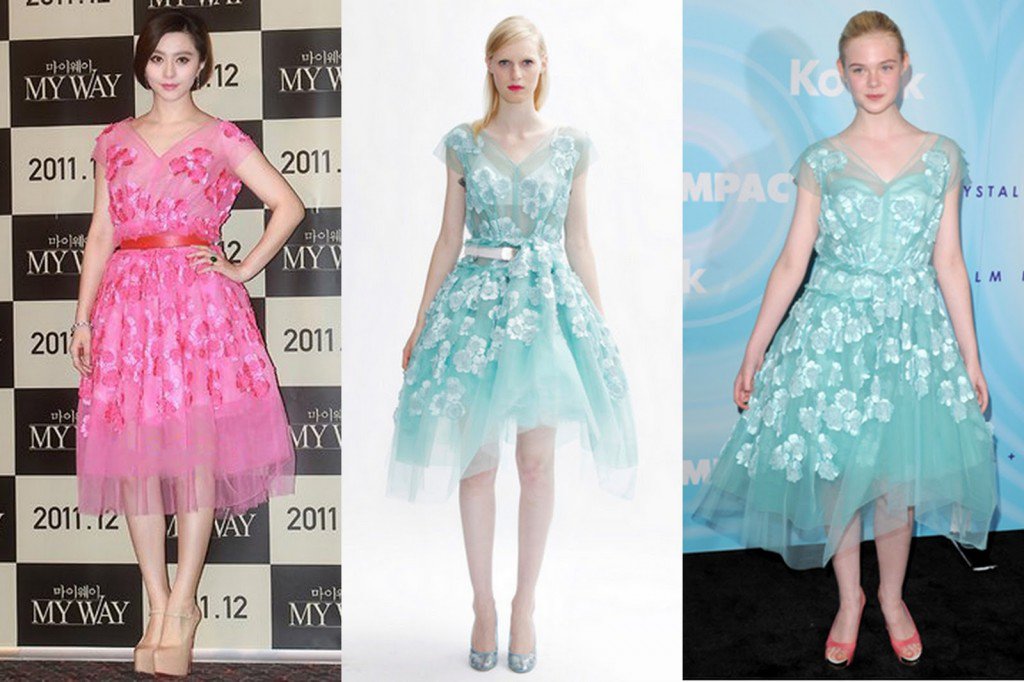 The adorable Elle Fanning wore this dreamy Marc Jacobs Spring 2012 dress to the 2011 Women in Film Crystal + Lucy Awards. There's little Elle can do wrong and while I love her au naturel look, non fussy hair and coral Chanel peep-toes, it does look like she's swimming a little in that dress. Fan wore her bubblegum pink dress to the press conference of her new movie, 'My Way'. She added a red waistband, which I don't mind but I'm not a fan of those shoes. They're way too harsh for this look. Who to pick, who to pick. I think Fan wins this one for me.
[polldaddy poll=5784782]
---
2

Emma Stone V/s Kimberly Perry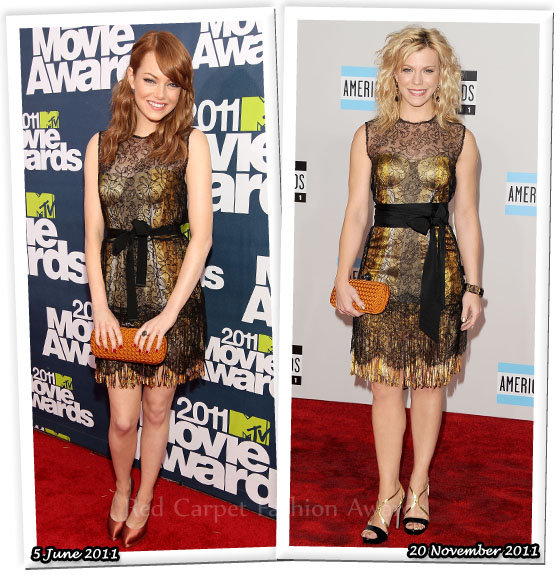 My girl crush Emma wore this Bottega Veneta dress to the MTV Movie Awards earlier this year while Kimberly Perry wore hers to the AMAs last month. Firstly, I think the dress itself is fabulous and fun and while both look gorgeous, I can't help but think Emma rocks this better. I can't say much for the Bottega Veneta clutch since they both carried the exact same thing but Emma did wear this look first. I also prefer Emma's shoes and daintier waistband compared to Kimberly's gold and black sandals and obi-style belt. Yep, Emma definitely wins this one as far as I'm concerned. What do you think?
[polldaddy poll=5784800]
---
3

Olivia Wilde V/s Jennifer Hudson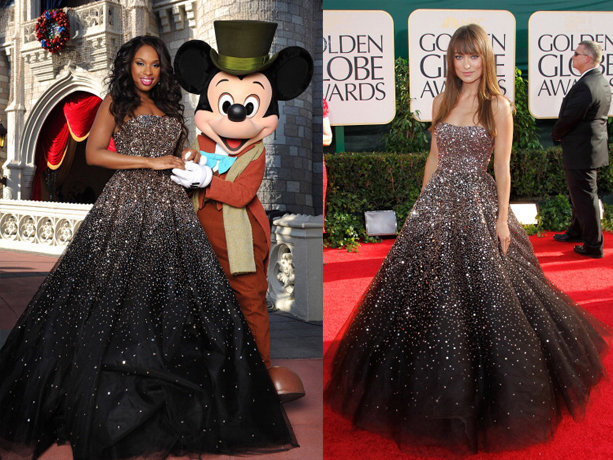 I remember gasping when I saw Olivia at the Golden Globe Awards and can you blame me? This Marchesa gown is just that amazing! I also remember looking at Olivia's shoes and thinking okay those are special but maybe a little OTT for this dress. Then Jennifer Hudson wore the same dress while taping the 'Disney Parks Christmas Day Parade' TV special at the Disneyland Resort. While Olivia stuck to straight sleek hair with blunt bangs, Jennifer played up the "princess factor" with curls and bright pink lips. Somehow I prefer Olivia's look despite the shoes (which would have been divine on the right dress). Your turn!
[polldaddy poll=5784829]
---
Comments
Popular
Related
Recent