Can you imagine spending $1 million dollars on a week's holiday, or $35,000 on a luxurious hotel? Well, for most of us, if we came into riches we'd have many other ideas on how to spend that money, but for some people it's the reality. Want to peek into how they live? Here are ten of the most amazing luxury boats on the water, and exactly how much they'd set you up...
---
1

Eclipse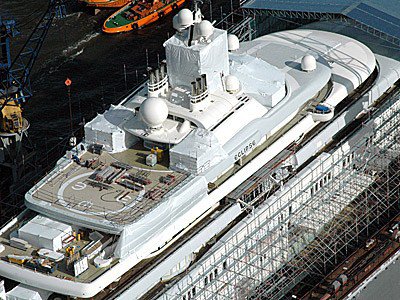 Chelsea owner Roman Abramovich's boat, Eclipse, really is amazing. It has two helipads, two swimming pools, a missile defence system, a mini submarine, and a system which shoots light at camera flashes meaning that no pictures will be usable. It's massive, at 167m long, so there is plenty of room for sunbathing! Roman hasn't picked his amazing boat up yet, but costing a reported $500 million, I'm sure he'll be checking it out very soon. I'd love to go with him!
2

Motor Yacht a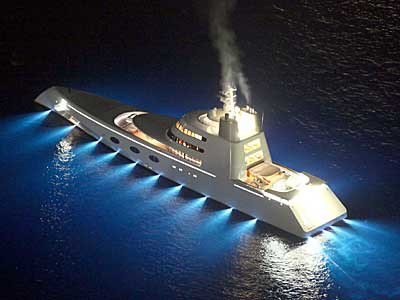 While this might not be the biggest yacht, a lot of time has been put into designing it, and it certainly looks the part! It uses typical submarine design features to make it functional while looking great, and has a helipad and a swimming pool, as well as doors which open to reveal two ten-metre speed boats. Perfect for a James Bond-esque weekend! Want one? It'll set you back around $300 million...
---
3

MS Europa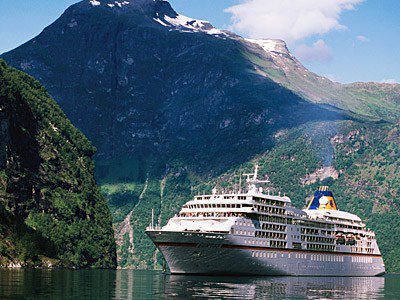 This is the regular favourite, topping the best cruise ship for its five star service. The rooms are all suites, with separate bedrooms and bathrooms, and walk in wardrobes, and the TVs all have the latest movies. There is a lounge especially for cigar smoking, a piano bar, a golf simulator, a spa with massage facilities, a swimming pool and a hot tub. And the final fact? They employ 280 staff members, for just 400 guests. It really is an immense, and luxurious, experience!
---
4

Savarona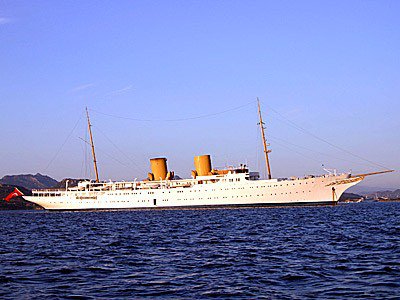 This amazing 80 year old boat is still one of the longest yachts, at 136 metres long. Launched in 1931 as a gift to an American princess, and sold to Turkey in 1937, it's been completely renovated. It has 17 luxury suites, with 260 tonnes of polished marble being used, as well as hundreds of gilded mirrors, bronze and a Jacuzzi. And if you can't resist, you can now charter her out, and take your own dream trip on the old girl!
---
5

Maltese Falcon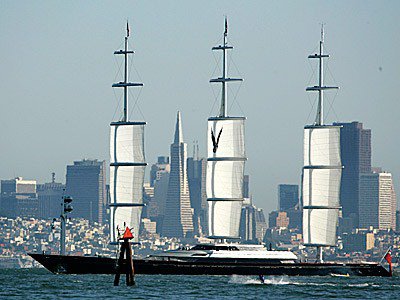 Everyone has a superyacht, but a super sailing yacht? This is a gorgeous boat, and a magnificent design! Don't think you'll be working, though, as it has 15 computer controlled sails, which cover the same area as half of a football pitch. They rotate automatically, and are made of carbon fibre which is bang up to date in the sailing world. Want one? It costs $120 million, although at present its not for sale. Just imagine entering a sailing race in this...
---
6

Octopus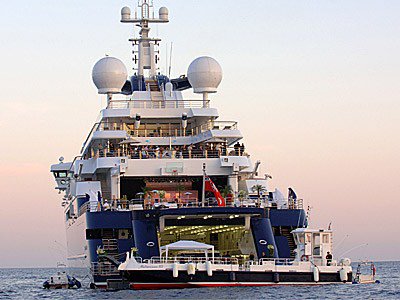 This $200 million superyacht is owned by a co-founder of Microsoft, and looks very impressive. Just imagine the amazing holiday photos! It's not just a pretty face, though, with two helipads and hangers, a ten man yellow submarine which can last under the water for two weeks! There's jet skis with launch pods, and for after your day adventuring, there is a spa with massage facilities to enjoy as it goes dark. And the length? 126 metres, meaning it's in the top ten longest boats!
---
7

Oasis of the Seas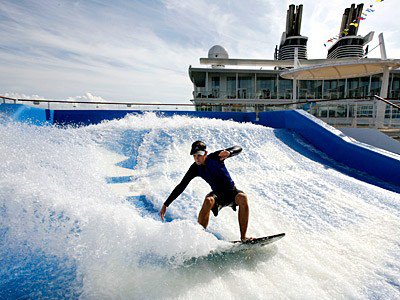 This one can't fail to impress everyone. It's the size of a small continent...360 metres long, and 72 metres above water. It has 16 decks, and can hold 6,000 passengers. It has a large 'Central Park' styled park in the centre, which has more than 56 trees and 12,000 plants, a surf simulator, and a 750 seater outdoor amphitheatre with a huge swimming pool! What.A.Boat.
Are you longing for a huge boat now?! I'd love to borrow Roman's yacht, or have my own Oasis of the Seas...I'd even settle for an Octopus. I'd just love to be able to set sail to distant shores, in utter luxury...hey, we can all dream! Have you got a favourite luxury yacht, or do you own a boat? I'd love to hear about it!
Top Photo Credit: B℮n
---
Comments
Popular
Related
Recent