Photo images have massive visual power – not only on social media but in interior design too. And your best pictures deserve better than a few Instagram likes and Facebook shares. So have you ever thought about bringing your photos to life in print as custom home decor? It's a wonderfully creative way to tell your own story right there in the design scheme of your home.
We've selected 9 great home decor solutions that don't call for large-scale projects or advanced DIY skills – explore our list and learn how to dress up your home with personal photos! And be sure to read till the very end, where you'll find a special discount code that will help you cut costs on your future design solutions!
---
1

One Statement Print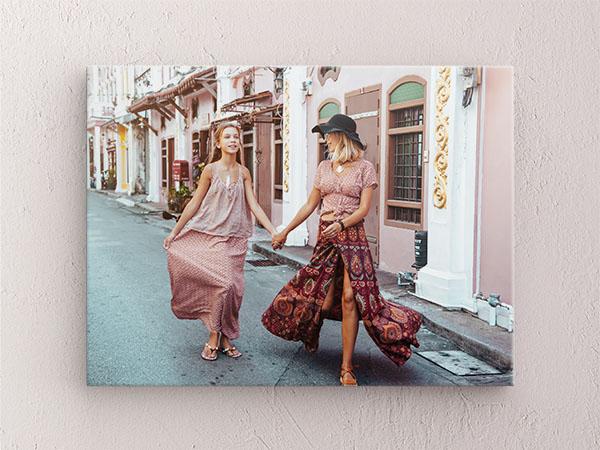 Perhaps the easiest and most impactful decor solution is to hang one extra-large print in the middle of an otherwise empty wall. If you want to print just one image from your archives, we recommend going big – these days you can nearly always print photos in XL sizes with no loss of quality.
There are just two things to bear in mind. First, the digital image itself needs to be big enough that it still looks crisp when blown up large. Second, statement prints look best on a wall that's otherwise completely bare. If your home doesn't have one, a big expanse of wall space above a couch, bed or dinner table should work well for king-size prints too!
---
2

Paired Photos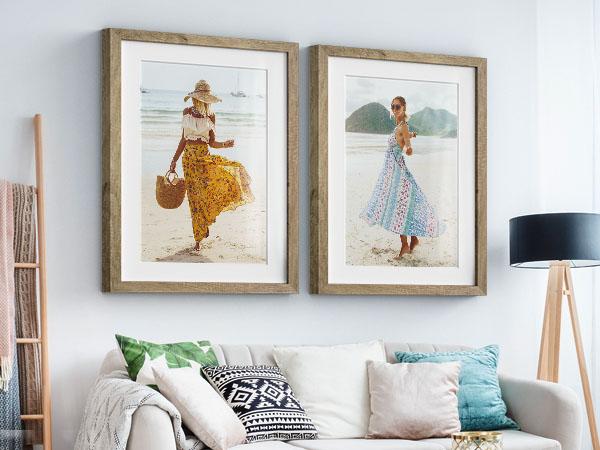 People are naturally attracted to symmetry – our brains instantly recognize well-balanced objects and patterns as aesthetically pleasing. And this means that a pair of matching prints on the wall will be a suitable decor solution for just about any home!
A two-piece wall decor set can feature two images that make up a cohesive whole – one failsafe solution is to divide a large picture into two equal pieces, print each piece separately, and display the two prints next to each other. Another option is selecting two different images that have a similar style, character, and color range.
---
3

Wall Art Cluster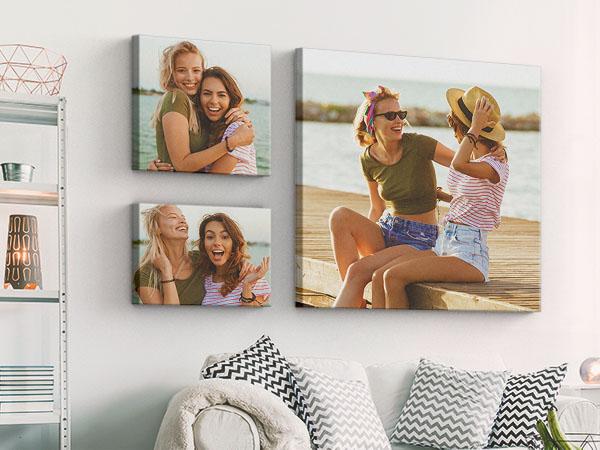 Looking for more informal, intuitive designs? Then display your photos in a wall art cluster that features various prints in a freestyle layout.
To make the print cluster even more aesthetically pleasing, select a unifying theme for the whole display. And be sure to leave a bit of breathing space between all the elements – as a rule you should leave 3-6" of free space between prints.
---
4

Gallery Wall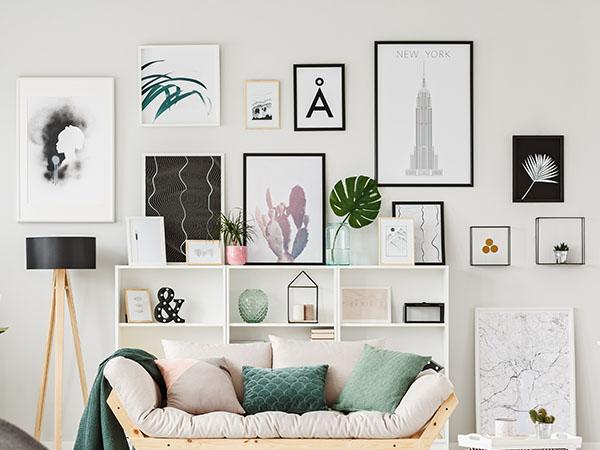 A gallery wall is basically an expanded wall art cluster filled out with other decor features. These can be postcards, dried leaves, signs, handcrafted items…anything you can fix to the wall that follows the same unifying theme and also fits the general atmosphere of the room.
It's a good idea to experiment with the layout on the floor before you get the drill out. Another design lifehack is to start by making newspapers cuttings the same size as your wall elements then sticking them to the wall with tape. This way you can see how your layout will look – and make corrections until you're completely happy with the result!
---
5

Collection of Custom Throws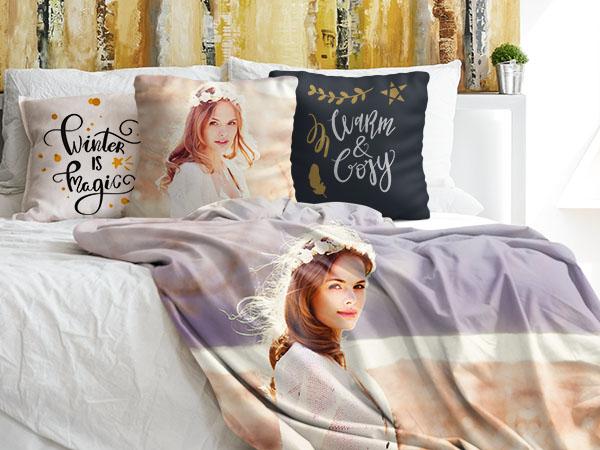 One of the main aims of interior design is to create a room full of depth and richness. That's why designers use layering – the art of mixing different colors, textures and shapes in a room's decor scheme. Even if you don't have much experience in design, you can experiment with layering too – all you need is a printed custom blanket and a pair of toss pillows.
Soft and cozy home textiles are essential for creating a comfortable interior – and why go for bland mass-produced items when you can use blankets and pillows to showcase your own photos? Wrapping yourself in memories has never been easier.
---
6

Photo Blocks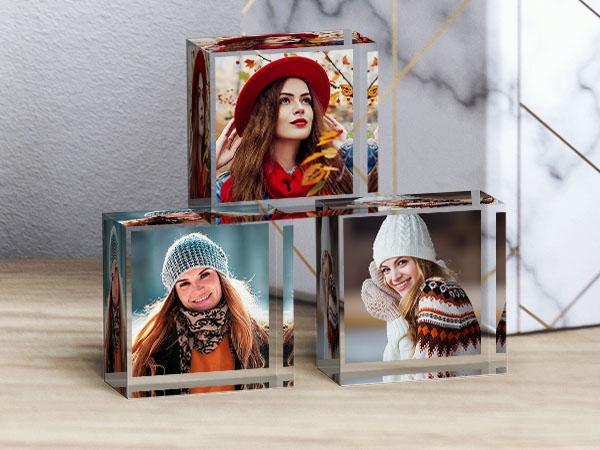 When people want to display their favorite pictures on a work desk or mantelpiece, they tend to buy standing photo frames. But there are other ways to display images on a horizontal surface – for example, have you heard about photo blocks?
These free-standing items are a wonderful alternative to traditional photo frames. They're usually made from acrylic glass, and the crystal-clear material gives photos a unique depth effect – making this a decor solution that's guaranteed to draw the eye!
---
7

Adhesive Photo Tiles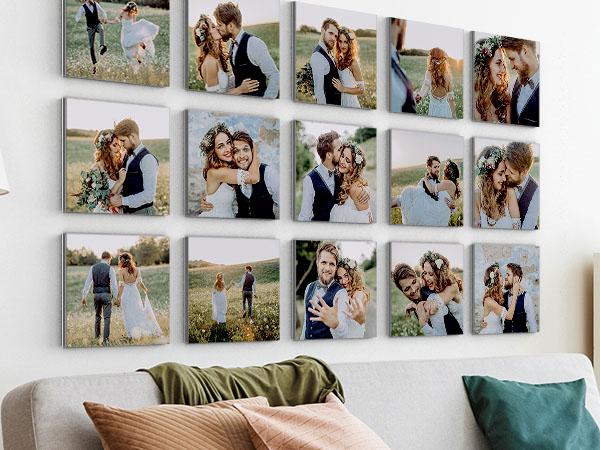 Another tool-free option for photo display is adhesive lightweight photo tiles. You can hang just a couple of tiles on their own, use them as elements in a gallery wall, or create a fully-fledged wall art feature with multiple tiles – as many as you want!
CanvasDiscount.com are a respected custom print provider who sell photo tiles under the name MIXPIX®. The tiles are made from a special lightfoam material, keeping weight to a minimum – and each one comes with handy reusable adhesive pads, so you can pull them off the wall and restick them in a different position whenever you like.
---
8

Photo Puzzle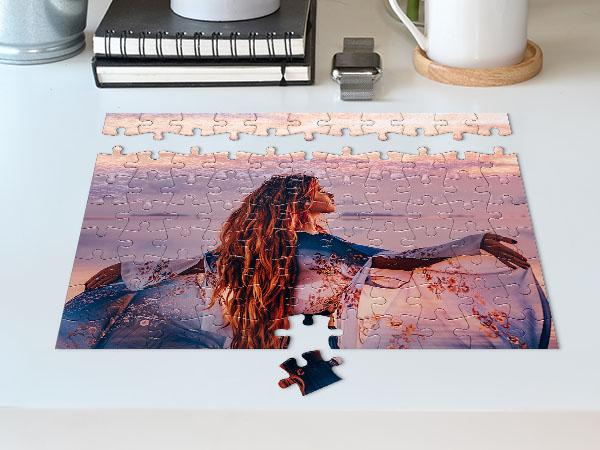 Fun, creative and entertaining, a personalized photo puzzle is a decor piece and a tabletop game in one. It's also a perfect gift that will work for just about any occasion, perfect for bringing the whole family together.
By the way, photo puzzles also work great as wall art – once you've assembled the image, why not attach it to a piece of cardboard and then display it on the wall? Just be sure to keep the puzzle out of direct sunlight to avoid unwanted reflections.
---
9

Photo Mugs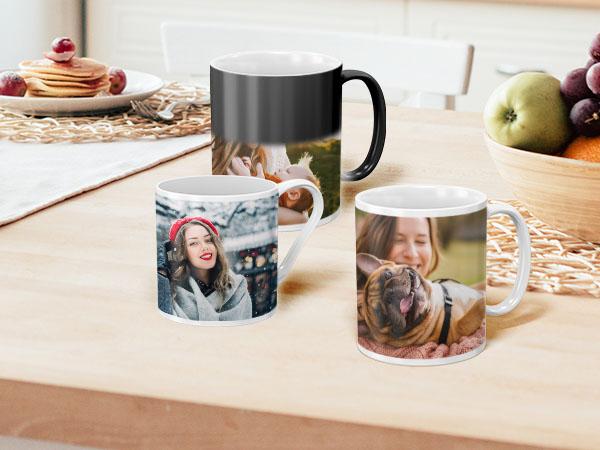 Yes, we know what you're thinking. Decorating with mugs? Really? But personalized photo mugs can bring a real sense of style and symmetry to your kitchens, living room, or even home office. You can display several mugs with matching designs in a row, fill empty shelf space, or use mugs printed in striking colors to add vibrant accents to the breakfast table.
---
10

Decorate Now and Save More!

Ready to try out your interior designer skills? Then head to CanvasDiscount.com now, because they're offering AllWomensTalk readers an exclusive 25% discount on their already discounted products.

Use code ALLWOMENSTALK25 at checkout and get an extra 25% off orders above $50*!

*discount doesn't apply to face masks and MIXPIX®
More
---
Popular
Recent