We all have that Little Black Dress (or maybe two of them) that we can rely on to flatter us and make us feel like a million dollars, the one that always snags tons of compliments and even makes our legs look good. But this season, it's not just about the dress. It's also about the accessories that make it your own… like a few of these. Here are 9 unique ways to accessorize your LBD.
---
1

Superstar Power Tights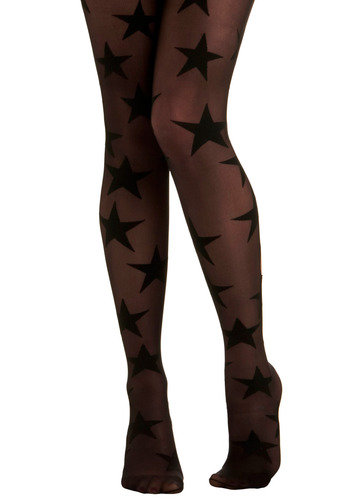 Price: $27.99 at modcloth.com
House of London has nailed the perfect accessory for an out-of-this-world LBD — these tights are truly stellar! They're sheer black, covered in constellations of tonally-matched stars. They're sassy but still subtle, suitable for wearing to formal or casual events.
---
2

Va Va Voom Earrings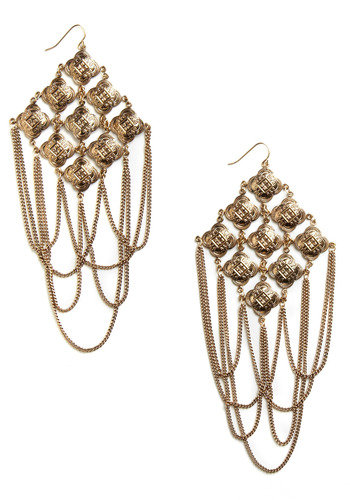 Price: $11.99 at modcloth.com
Dazzle with these dangles, paired with your best LBD and a pair of gold platforms. They're made for pierced ears, with French hooks, and are made of a lead-free and nickel-free gold-tone metal. I love the loops of chain… gorgeous!
---
3

Pronto Pizzazz Belt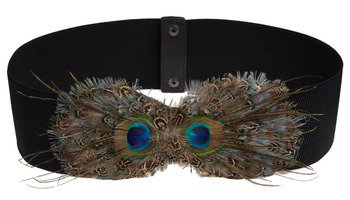 Price: $17.99 at modcloth.com
Define your waist and add some very visual interest to your LBD with this spectacularly gorgeous belt! It's wide, which makes the most of your hour-glass figure, and at the front clasp, it boasts a few fine peacock feathers. Wear it, of course, with your LBD, but wear it again with skinny jeans and a tunic for extra pizzazz!
---
4

Chain Art Necklace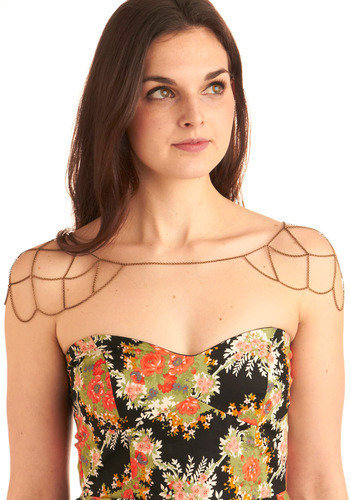 Price: $99.99 at modcloth.com
If your best LBD happens to be strapless, this is the accessory for you! It's a truly unique necklace, made to fit across your shoulders, or to be draped down our back, or worn as a traditional necklace. With so many ways to wear it, you'll want to add it to nearly all of your outfits!
---
5

Laugh on Tights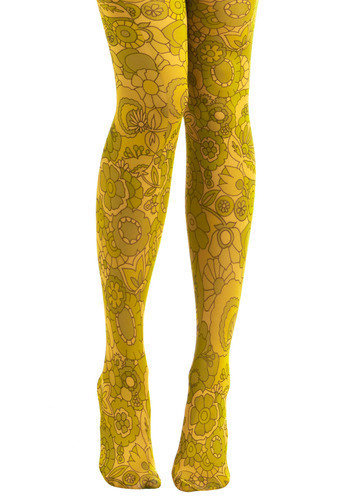 Price: $29.99 at modcloth.com
Though I've already included a pair of tights on this list, I had to add these, too… they're so pretty, and so original! I love the sunny-yellow color and the flower pattern is so sweet! Pair them with a tiered LBD and patent pumps for a look that's sure to help you stand out in a crowd!
---
6

Cocktail Reception Headband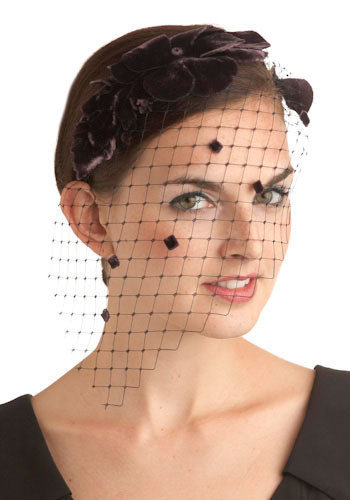 Price: $64.99 at modcloth.com
Fascinators are an excellent accessory for an LBD, sophisticated and elegant, with a distinctly vintage feel. This one's particularly beautiful, and easy to wear, being attached to a wide fabric-covered headband rather than a hat. The color is so pretty, too, a deep amethyst… so pretty!
---
7

Arabian Bazaar Bracelet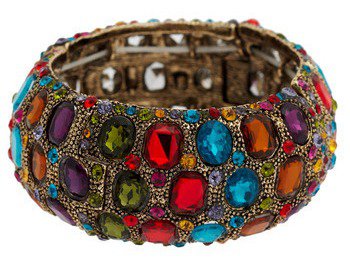 Price: $17.99 at modcloth.com
Add major glam to your LBD with this gorgeous bangle bracelet covered in a rainbow of exotic-looking gems. It's completely adjustable, so you won't have to worry about it slipping off, and it's so glittery and pretty! I wonder how this would look with the earrings from Item 2?
---
8

Spring in Your Step Heel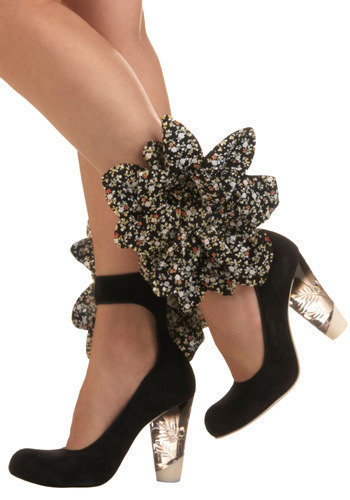 Price: $153.99 at modcloth.com
Let's not forget the shoes, for what LBD would be complete without them? This par is insanely unique, with a corsage at the ankle and patterned clear acrylic heels. You almost wouldn't need another accessory for your LBD with these! But wait til you see the next pair… keep reading!
---
9

Ready, Let's Indigo Wedge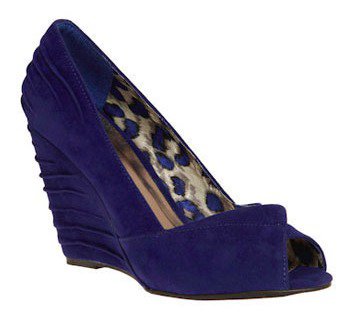 Price: $39.99 at modcloth.com
If those black shoes by Irregular Choice didn't strike your fancy, or if they were just a little too much, then give these a go! They're a brilliant blue faux suede, divinely rich, with a peep toe. Pair with the stars tights above, and your favorite LBD, and add a floral-print beaded bag, and you're set!
I absolutely ADORE that gem-encrusted bracelet, and those yellow tights are fab! Which of these ways do you think you'd like to accessorize your LBD, or is there another amazing accessory you already adore?
Top image source: data.whicdn.com
More
Popular
Recent