I have a weakness for darling dresses and fetching frocks this spring. Can you blame me? There are so many of them to choose from, and they're all gorgeous! All of my favorite shops are filled with them, so I've had to start making my own categories and ranking them in order of desirability. To that end, here are 7 gorgeous one-shoulder dresses.
1

Licuado De Papaya Dress

Price: $64.99 at modcloth.com
If the hue of this luscious coral-colored dress isn't enough to make you swoon, then perhaps the ruffled neckline, cream-colored edging and belt, or floaty fabric will do the trick. Isn't it gorgeous! All you need is a pair of platform wedges and a few gold bracelets to complete the look.
2

Royal Wave Dress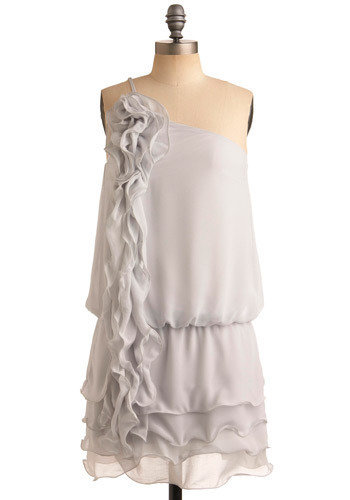 Price: $59.99 at modcloth.com
How spectacularly gorgeous! This fancy frock is all foamy, frothy frills, much like your favorite coffee drink or dessert. It's ideal for the hot summer months, with one slim strap on the right shoulder and a line of ruffles cascading down the side.
3

The Future is Back Dress

Price: $109.99 at modcloth.com
What a stunning little dress! The one-shoulder strap is detachable, making this a very versatile frock. I love the deep blue color against the bright red trim along the hem and bodice, made of eco-friendly fabric by designer Skunkfunk. If you have matching red heels, wear them! If not, pair with silver or black ankle booties.
4

I'll Be True Dress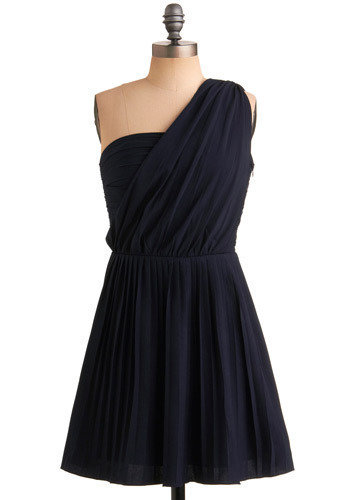 Price: $9.99 at modcloth.com
The pleated skirt of this sweet navy blue dress looks flat on the hanger, but pull it over your head and watch as it floats out and away with every twirl you turn. It's flattering cut and fabric add to the elegance and flirty fun. Add a simple ivory wrap and golf flats or sandals… gorgeous!
5

Pet Elephant, Please Dress

Price: $42.99 at modcloth.com
If, while everyone else in your kindergarten class longed for a pony, you wanted an elephant for a pet, then this is the dress for you! Look closely… those dots are actually multi-hued pachyderms, frolicking across this one-shoulder, tie-belted mini-dress. Add a pair of lace anklets and heeled Mary Janes… so cute!
6

Green Streak Frock

Price: $147.99 at modcloth.com
There are so many things I love about this LBD I don't know where to start… the shimmery crinkle-silk fabric? The bright green sash at the waist? The flattering pone-shoulder cut? The handy side pockets? All of them together make up my new favorite frock for the season. All that's missing is a pair of patterned tights and a pair of heels.
7

Dianthus Fields Dress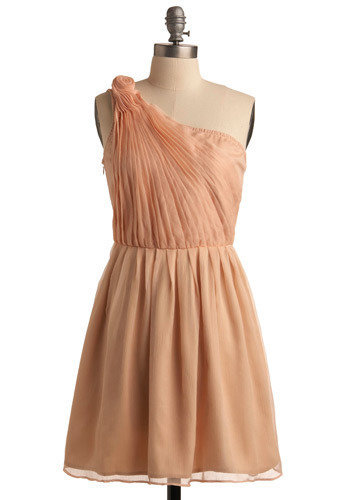 Price: $89.99 at modcloth.com
If you have a garden party or beach wedding to attend this season, chances are you'll need a new dress to wear, and this ephemeral, floaty one-shoulder dress might be the one. The color is a complexion-friendly pale pink with a tiny rosebud on the shoulder and a softly pleated bodice. Pair with gold shoes and accessories… so pretty!
See what I mean? Aren't all of these one-shoulder dresses just so fabulous? I especially love the last one… and the one with the little elephants on it! Which of these pretty one-shoulder dresses do you like best, and how would you wear it?
Top image source: data.whicdn.com