This is a Sponsored Post written by me on behalf of Glidden. All opinions are 100% mine.
Which color paint would look better in your living room, Peach Puff, Peach Smoothie, or Peach Fuzz? All three match your couch and curtains, at least according to that little cardboard paint chip you got from Home Depot... but it's so hard to tell which looks best! Wouldn't it be helpful if you could apply a little of all three colors of actual paint to the wall, without having to buy a quart of each, or worse, buying two gallons to paint your living room only to discover Peach Puff is a little too... peachy?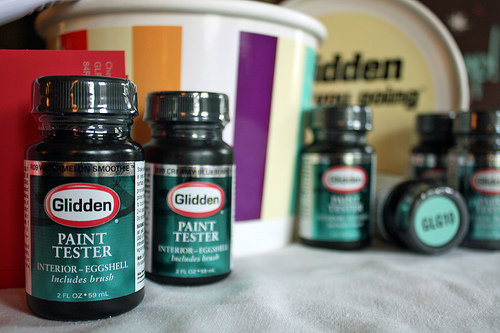 Glidden knows exactly how you feel, so they've come up with a way to test any of their 282 gorgeous colors without spending a lot of time or money on paint. They've developed a paint tester, a small bottle of paint with a built-in brush - enough paint to cover about 3 square feet of your living room wall with Peach Puff to see if it's exactly the shade you're looking for. The best part? Each paint tester is less than $3.00, so you can gain color confidence without spending a fortune on paint! And o can buy them in any Glidden color at your local Home Depot store, or online at HomeDepot.com.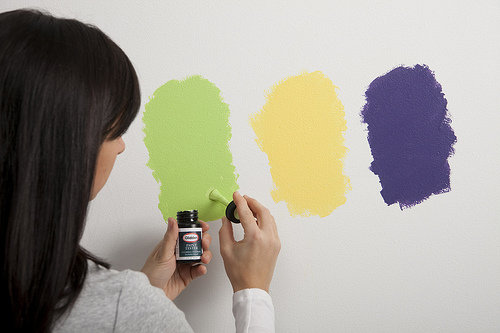 The testers are remarkably easy to use, With screw-on caps with a built-in brush. The paint inside glides on (something Glidden paint is famous for), and the colors are just as vibrant as their big-brother 1-gallon can versions. Of course, you'll want to wait about an hour for the paint samples to fully dry before you decide which of the colors you sample is the perfect one for the room... but this is such a marvelous idea! So much more accurate and easy to use than those cardboard paint chips... why hasn't anyone thought of this sooner?
And if you're looking for more inspiration and help choosing a great color, there are lots of tools at the Glidden website, including online color palettes, lists of the most popular colors, and even a tool that helps you pick the right finish for your project.
So the next time you're stuck in a color dilemma, solve your quandary quickly with a few Glidden paint testers... you'll be glad you did!